From Sept. 1 through May 31, all commercial vehicles traveling on I-70 between the Dotsero exit (mile point (MP) 133) and the Morrison exit (MP 259) must carry sufficient chains to be in compliance with the Colorado chain law.
Chains help commercial vehicles traverse the steep climbs often present in the high country. Without chains, vehicles often become disabled, causing traffic delays and sometimes road closures. For the safety of the traveling public, it's critical to use chains to be in compliance with Colorado's chain law.
Colorado's chain law applies to all state, federal and interstate highways, and was initially enacted in 1996. Colorado's chain law defines commercial vehicles as being used in commerce to transport passengers or property and fitting into one of the following categories:
 gross combination weight rating of 16,001 or more pounds, inclusive of a towed unit, which has a gross vehicle weight-ration of more than 10,000 pounds
 gross vehicle weight rating of 16,001 or more pounds
 designed to transport 16 or more passengers, including the driver
A chain law restriction for vehicles weighing less than 16,001 pounds—including passenger vehicles, crossovers, SUVs and small trucks—can be put into effect in Colorado at any time when weather conditions are severe, primarily on roadways with significant ascending and descending grades.
Stay in Compliance!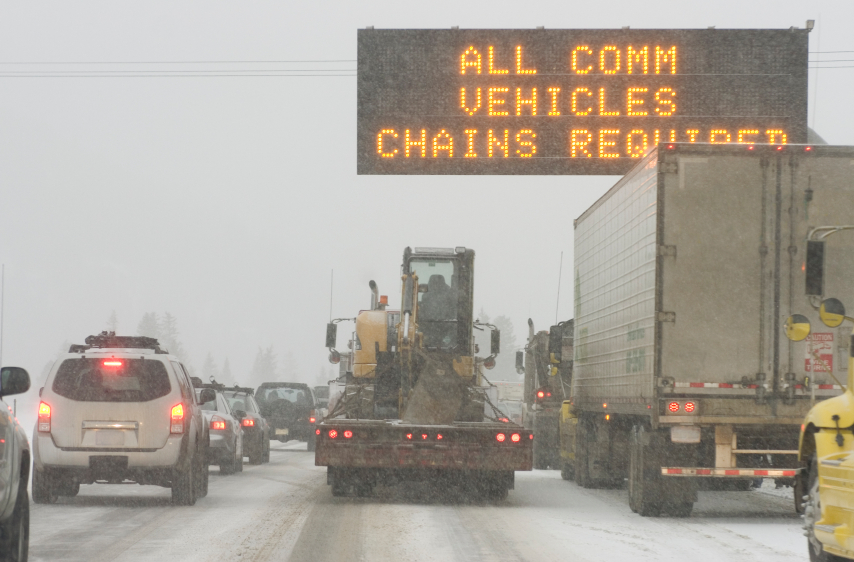 Sign up for sign up for email and text message alerts to stay informed about road conditions, road closures and chain laws.