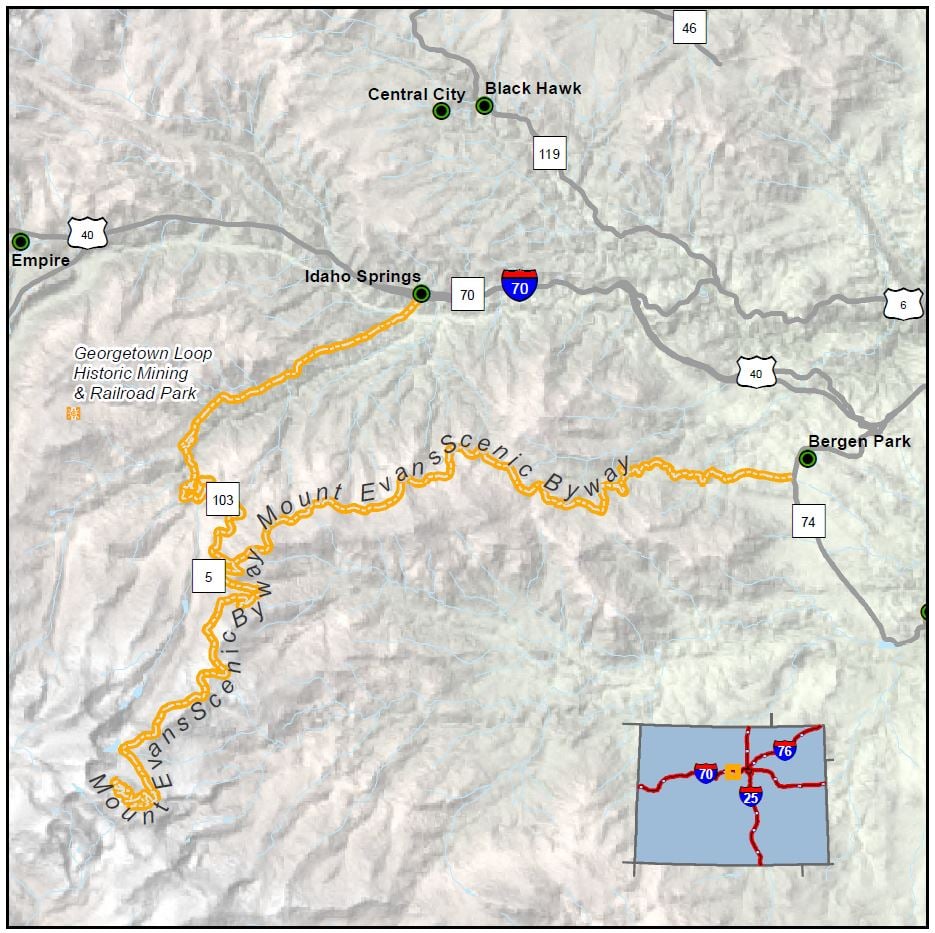 Length: 49 miles
Driving time: 2 hours
The Mount Evans Scenic Byway climbs more than 7,000 feet in just 28 miles, reaching an altitude of 14,130 feet. At the summit you'll enjoy the big picture - the entire Front Range sprawls at your feet - but don't overlook the details. This highest of Rocky Mountain highs brings you to the rarefied world above timberline, a singular amalgam of hardy wildflowers, lichens and grasses, furry mammals like pikas and marmots, rock-jumping mountain goats, and alpine lakes. This is perhaps the best place in Colorado to catch a glimpse of the stately bighorn sheep. The weather is volatile - be prepared for wind, rain, lightning, snow, and hail any day of the year.

A new extension was recently added to the byway from Echo Lake to Bergen Park via Clear Creek County Road 103 and Jefferson County Road 66. The route takes the visitor from open ponderosa and juniper hills and open meadows, up through deep spruce forests and into the magnificent splendor of the alpine environment.
Entry Requirements for Mt. Evans
Reservations are required for vehicle entry at Mount Evans. Go to recreation.gov to create an account and purchase your ticket.
---
Features:
Highest paved road in North America
Mt. Evans Wilderness Area
Local Chamber(s) of Commerce
Byways Corridor Management Plan
Special Considerations:
Bring warm clothing and sunscreen.
Summit open Memorial Day through Labor Day only.
Vehicles over 30' long are not recommended on CO 5 (Mount Evans road) due to the steep, narrow, winding road.
For information, call the USFS Park Ranger at the Idaho Springs Visitor Center at 303-567-4382.