Distracted Driving: Get Turned On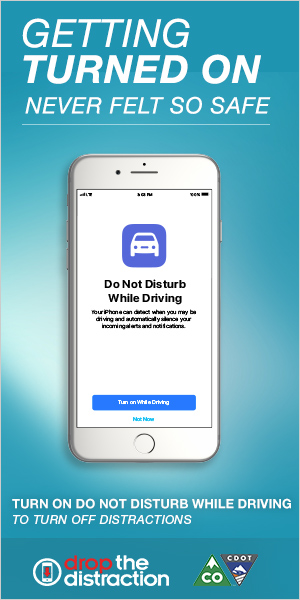 Are you turned on? It's the question CDOT is asking motorists in a new safety campaign to reduce distracted driving. Launched the week of April 25, the campaign urges drivers to turn on the "Do Not Disturb While Driving" feature on their iPhones and to download other apps to prevent incoming distractions.
As National Distracted Driving Awareness Month wrapped up in April, CDOT is providing resources for Coloradans to drive distraction-free, year-round. Have you made your commitment to avoid distractions behind the wheel?

Through online video ads, gas station TVs and digital ads airing across Colorado, CDOT's Get Turned On campaign shows where to find the "Do Not Disturb While Driving" setting on an iPhone and how to enable it. When activated, "Do Not Disturb While Driving" will mute incoming text messages, phone calls and notifications. For text messages, there is an option to send an automatic reply to your contacts that tells them you're driving and will respond later. In an emergency, a person who tries to contact you via text can write "urgent" to push the message through.
CDOT's campaign also features victims of distracted driving sharing their stories. Robye Nothnagel is one of those victims. Her life was changed in February 2017, when a driver who was texting struck Robye as she was using a crosswalk—breaking her pelvis in four places and shattering her tibia.
"Because she was texting, she didn't see me until I hit her windshield," Nothnagel recalls. "It was a second and my life changed, drastically."