Before You Go, Know: Campaign Recap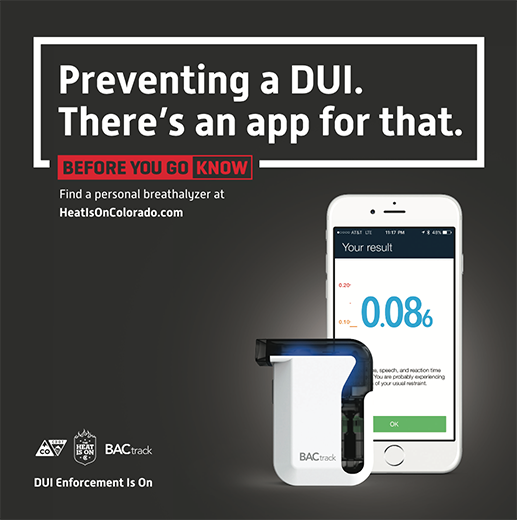 In 2017, CDOT introduced the Before You Go, Know campaign, with the goal of increasing the use of personal breathalyzer devices and decreasing the number of DUI-related fatalities and offenses.
CDOT teamed with BACtrack, the maker of trusted and accurate personal breathalyzer devices, in a statewide campaign targeting Coloradans ages 21-39 to encourage them to visit CDOT's HeatIsOnColorado.com to receive a 20 percent discount on BACtrack's personal breathalyzer devices. Campaign assets included digital banners, billboards, bus queens, liquor store assets and social media content and activities, and a total of 534 devices were sold using the CDOT promo code.
As part of the campaign, CDOT also attended a Colorado Springs Sky Sox game to test people's perception of the effects only a limited number of drinks could have on their blood alcohol content (BAC). Interviews were conducted on-field and in the concourse, where fans were asked to guess—and test—their BAC after having what they considered a "normal" amount to drink at a ballgame.
The results were surprising, and the video, along with the rest of the creative assets, communicated that you should never rely on a guess when it comes to planning a sober ride home.

Throughout the summer, Before You Go, Know received high visibility on traditional media and through community engagement.
Community outreach began at the campaign launch press conference on The Tavern Denver Downtown's rooftop, with a beautiful view of Coors Field in the background, connecting the campaign launch back to the sports-themed creative.
CDOT also brought the breathalyzer message to Colorado Springs for two Sky Sox baseball games. At the booth, attendees had the chance to test the BACtrack breathalyzer, learn more about the campaign and were provided a code to purchase their own device.
Later, in partnership with CSU Athletics, the breathalyzer message was brought to Fort Collins for a CSU football game. CDOT's message was heard on local radio and seen on social media. CDOT also reached out to local multimedia outlets to garner media coverage in conjunction with the community events.