It's Not Complicated

Many people spend an enormous amount of energy trying to convince themselves they are okay to drive after drinking. Unfortunately, magic solutions like the "chug-two-glasses-of-water" don't exist. The truth is, if you've been drinking, you're not okay to drive.
CDOT's It's Not Complicated campaign aims to inform Coloradans that no matter how many alcoholic beverages they've had, it's never okay to drive. It's that simple. The campaign features radio ads, social media, billboards, video ads and messaging in liquor stores, all showcasing flow charts and graphs to illustrate that no matter the circumstance, it's never okay to drive after drinking. Many Coloradans will be on the road to celebrate the holidays this year. CDOT wants those who are to keep themselves and others safe by not drinking.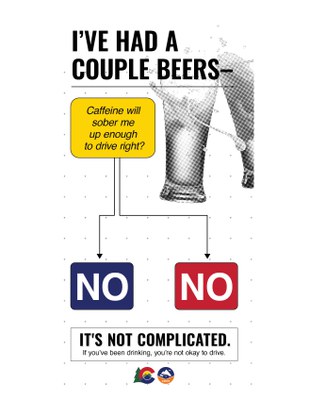 A study conducted by CDOT among people given a smartphone breathalyzer to see their blood alcohol levels while drinking, often underestimated their level of impairment. They were also unaware that they could be arrested for a DUI with a BAC below 08.  You can find CDOT's full study here.
Since many people aren't aware of the dangers (and legal consequences) of driving after consuming even small amounts of alcohol,  the message is simple—if you have been drinking, don't drive.
The Heat Is On
The CDOT Highway Safety Office provides funding to Colorado law enforcement for impaired driving enforcement, education and awareness campaigns. The Heat Is On campaign runs throughout the year, with 16 specific high-visibility impaired driving enforcement periods centered on national holidays and large public events. Enforcement periods can include sobriety checkpoints, saturation patrols and additional law enforcement on duty dedicated to impaired driving enforcement.
Resources
Remember these safety tips to keep yourself and others safe:
Plan to Drink?
Plan a sober ride home before heading out.
Consider getting a sober ride to your destination so you won't be tempted to later drive impaired. Options available include taxis, Uber, Lyft and public transit.
If you have a designated driver, ensure they are truly sober, not simply more sober than you are. Buzzed driving is still drunk driving.
If you're ever unsure whether you are safe to drive, always err on the side of caution and find a sober ride home.
Hosting a Party?
Encourage your guests to designate a sober driver or plan for a safe ride home before heading over.
Create an Uber or Lyft group ride code for your party and share with your guests.
Provide plenty of food and non-alcoholic drinks and encourage your guests to bring their favorites to keep everyone fed and hydrated throughout the party.
Don't forget that, as a host, if you serve a guest alcohol and he or she gets in a crash, you could be held liable.
Offer guests a night on your couch if a sober ride home is unavailable.
Are You the Designated Driver?
If you're driving, do not drink. Your responsible choice can save lives.
Offer safe rides to those who may not have prepared a sober ride home.
Buckle up for safety and require all your passengers to do the same when it's time to head home.
Even after only one or two drinks, some people may be close to or exceed Colorado's DUI and DWAI limits.

05 Percent BAC for DWAI (Driving While Ability Impaired)
08 Percent BAC for DUI (Driving Under the Influence)

Even if your BAC is less than 0.05 percent, you can still be arrested for a DUI if an officer notices signs of impairment. The only absolute way to ensure you are safe to drive is to have a BAC of zero.
When considering fines, legal fees and increased insurance costs, a DUI can add up to more than $13,500.
BAC Factors
When calculating your BAC, you may find your level of impairment increases or decreases based on these factors:

Number of standard drinks
How quickly you drink
Gender
Body weight
How much food you've eaten
Body type
Fatigue
Hydration
Whatever ride-sharing service you prefer, make sure to request a sober ride before driving impaired.
Lyft is a ride-sharing service that dispatches the nearest available driver to your current location based on your phone's GPS. Simply download the mobile app to request a ride with the tap of a button.
---
Wherever you're headed, with just the tap of a button, you can get a safe ride with Uber.