Technology Overview
The concept behind the Colorado Remote Tower Project is the first of its kind to integrate both satellite-based aircraft surveillance technology together with ground-based video technology. This advanced technological approach is designed to give air traffic controllers a comprehensive view of air traffic on the airfield and in the airspace surrounding an airport - all from a remote location, and only when operational demands necessitate this level of air traffic control. 
The Colorado Remote Tower Project adapts the same satellite-based technology developed for the Colorado Mountain Radar Project in 2005. This Colorado Mountain Radar Project helped solve issues associated with radar coverage of aircraft operating in and out of Colorado's busy ski country airports. The result of this endeavor successfully implemented Wide Area Multilateration (WAM) technology, giving air traffic controllers the ability to "see" aircraft throughout the entire aircraft arrival and departure sequence at Colorado's major ski destination airports despite the lack of traditional radar coverage.
 How it Works
The Camera System
The Remote Tower Project is made possible through a network of three 360 degree panoramic video and static cameras. For the test scenario at the Northern Colorado Regional Airport (FNL), these cameras are securely mounted atop steel masts that will rise between 22 (end cameras) and 56 (central camera) feet above the ground. Each of the camera masts are erected on either end of the main runway (15/33) and one mast centrally-located near the A3 taxiway connector. This camera arrangement gives air traffic controllers a full 360-degree view of the airfield, simulating the same view one would expect if looking from a physical air traffic control tower.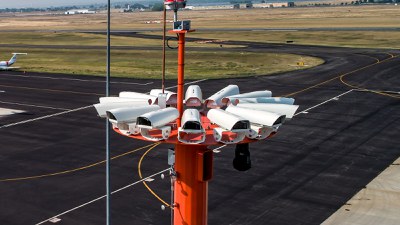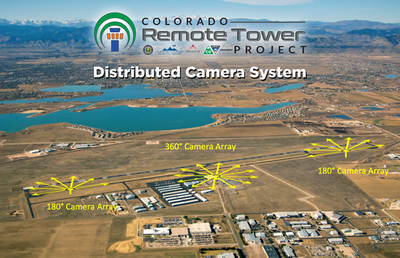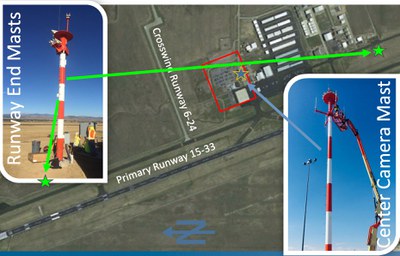 The Control Room
The camera and satellite-based surveillance data will be fed to a remotely-located control center. During the test and assessment phase of this project, the control room will reside on airport property, but will accurately simulate a remote scenario. The Northern Colorado Regional Airport (FNL) test control room provides a video wall with a 360-degree view of the airport's movement areas and airspace.  The control room accommodates three controller positions and camera interface panels that display a radar feed, radio communications, and current weather information.