On the first or second Tuesday of every month CDOT hosts an informational coffee with changing discussion topics. The intent of these meetings is to foster communication between CDOT environmental staff and consultants working on (or potentially working on) CDOT projects. It is a way for CDOT to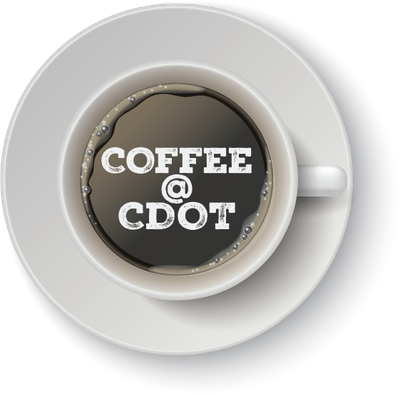 give updates on policies, regulations, processes, issues, statutes, work plans, etc. Participants should bring discussion items related to the topic. Coffee and snacks will be supplied by members of the American Council of Engineering Companies (ACEC).
Date:         1st or 2nd Tuesday of each month
                  Sept 2023 - June 2024
Time:         8:30 to 10 a.m. unless stated otherwise
Contact Troy Halouska with any questions: [email protected].
If you are a member of ACEC, please contact Rhonda Scurek, [email protected] to be added to their distribution list for Coffee @ CDOT, which includes links to join the sessions virtually.
---
2023-2024 Schedule
Date

Topics

Location

9/12/2023

Air Quality 
Greenhouse Gas

CDOT HQ / R1, South Platte River Trail Room 231
10/03/2023

Noise
Innovative Mobility

CDOT HQ / R1, 1st floor, T-REX Room 105
11/07/2023
NEPA
Planning & Environmental Linkages (PEL)
FHWA Updates


CDOT HQ / R1, Auditorium West, Room 159
12/05/2023

Cultural Resources

CDOT HQ / R1,

Auditorium East, Room 162

1/09/2023
Water Quality


CDOT HQ / R1, Auditorium West, Room 159
2/06/2023

Landscape Architecture
Visual Impact Assessment (VIA)
Geographic Information Systems (GIS)
CDOT HQ / R1, Auditorium West, Room 159
3/05/2023
Title VI
Equity
Environmental Justice
Public Involvement
CDOT HQ / R1 Auditorium West, Room 159
4/02/2023

Wetlands
Wildlife

CDOT HQ / R1, 1st floor, T-REX Room 105
5/07/2023
Transit
CDOT HQ / R1,

Auditorium West, Room 159

6/04/2023

Recreational Resources
Hazardous Materials
CDOT HQ / R1, Auditorium West, Room 159