Can Do Colorado Community Challenge
The Can Do Community Challenge, an extension of the Can Do Colorado campaign that is spotlighting innovative businesses finding ways to keep going through the COVID-19 response, is asking local communities and their resident businesses to find new opportunities to restart commerce in ways that are safe and sustainable.
Lessons learned from the rapid adoption of teleworking and the ensuing benefits from better air quality and reduced traffic can help businesses and commercial centers reopen safely, sustain some telework practices, extend the benefits of reduced air pollution and traffic for everyone, and find innovative ways to reuse public spaces and help more businesses thrive in a world of social distancing.
Departments and organizations throughout state government are offering a wide array of resources, including at least $5 million in grant funding and expert technical assistance to help reopen the economy safely while making progress towards important health and community vitality goals. Additional efforts are focused on helping essential workers, who were often underpaid and underappreciated, find safe and sustainable ways to continue their heroic work for us all. 

CDOT Grant Programs
The Colorado Department of Transportation (CDOT) is launching two small grant programs to help support this initiative. Applications for the second round of Telework Grants will be available in mid-December 2020. Learn more about our two programs below:
Revitalizing Main Streets
The Revitalizing Main Streets program was developed to support infrastructure projects that provide open spaces for mobility, community activities and economic development in the wake of the COVID-19 emergency. These quick-win activities will improve safety and create new community spaces to encourage healthy activity and mobility in Colorado's towns and cities.
CDOT's streetscape challenge will offer small-scale grants that support creative uses of public infrastructure in both cities and small towns across the state. Expenses incurred before contract execution are not eligible for reimbursement.
Revitalizing Main Streets Grant Application
Revitalizing Main Streets Frequently Asked Questions
Revitalizing Main Streets Winter Guide
---
Example:

Downtown Fort Collins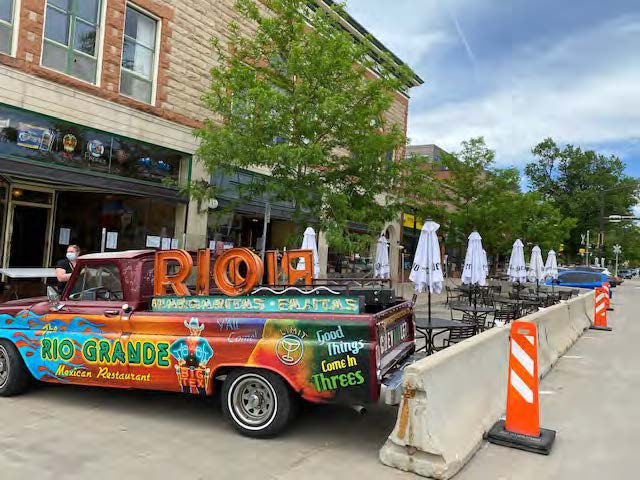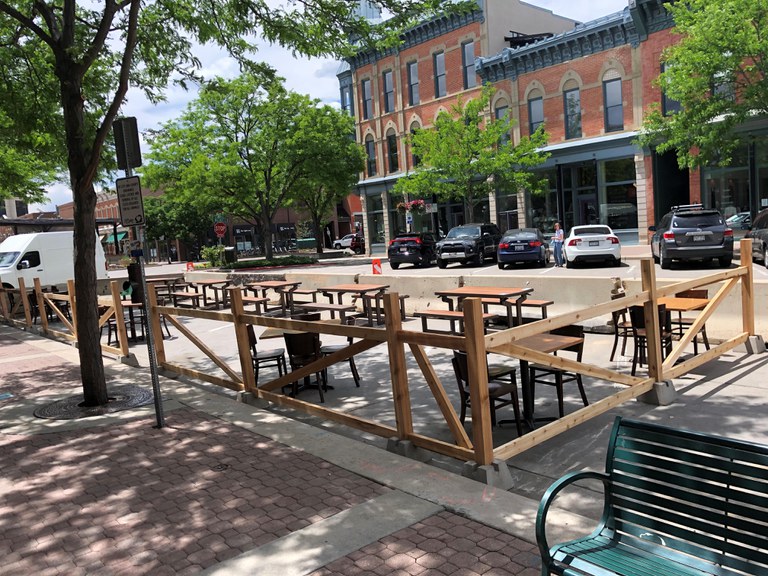 Fort Collins businesses are utilizing their on-street parking spaces to make way for bump-outs, which will allow businesses to use parts of the thoroughfare for shopping and dining during the age of social distancing.
CanDo Community Telework Program
The CanDo Community Telework Program was developed to support communities in the creation of innovative Transportation Demand Management (TDM) programs and tools that draw from the lessons learned during the COVID-19 pandemic and past TDM work. Leveraging these lessons, the program intends to promote innovative tools that encourage practices - such as social distancing and teleworking - that can be further integrated into basic work practices and standards on a statewide level.
Program Goals
Coloradans must work together to protect health and improve the economy, air quality, equity and quality of life as we come out of the Stay at Home and Safer at Home Orders and seek to prevent recurrences for the next year or more while vaccines or other solutions are being developed. This program builds those efforts to help Colorado communities provide safe economic opportunities, including:
Protect public health by encouraging social distancing and the implementation of TDM strategies.
Support economic development by increasing the normalcy of telecommuting as a best work practice for employers.
Foster the creation of innovative technologies and solutions that meet the intent of TDM.
Provide safe access to economic opportunity and mobility for people of all ages, incomes and abilities -- including vulnerable users.
Community Telework Program Application
Can Do Grant Awardees To Date
Interim Report: June-September 2020
Please view the map below and learn more about the Can Do grant awardees throughout the state by clicking on the dots on the map below.
Map Key:
Revitalizing Main Streets awardees are in blue

Telework awardees are in orange
---
Partnerships & Programs


Partnering departments and organizations are listed below. Details about each of the specific programs by these organizations and the types of assistance available are detailed in the Can Do Colorado Community Challenge fact sheet here. As additional information becomes available about these programs, please visit CanDoColorado.org for updates.