Colorado's overall seat belt usage rate at 88.6%, the highest on record
September 5, 2023 - Statewide Safety News - Results from the 2023 seat belt study show improvement in statewide usage
Haga clic aquí para ver este comunicado de prensa La tasa general de uso del cinturón de seguridad en Colorado se ubica en el 88.6 %, la más alta registrada en español.
Statewide — On the heels of a record year for traffic deaths, there is some good news. Coloradans are buckling up more than ever before. The recent State of Colorado Statewide Seat Belt Survey, which can be found by clicking here, shows that the statewide usage rate is 88.6%, a 1.6% increase from 2022. This is the highest usage rate on record, according to CDOT.
Completed annually, the study provides a detailed summary of seat belt use in five vehicle categories - cars, vans, SUVs, passenger trucks and commercial vehicles. Almost 100,000 vehicles were observed in 26 counties in the state. Of the counties studied, 13 reported seat belt usage rates above 90%. In 2020, only six counties reported usage rates that high.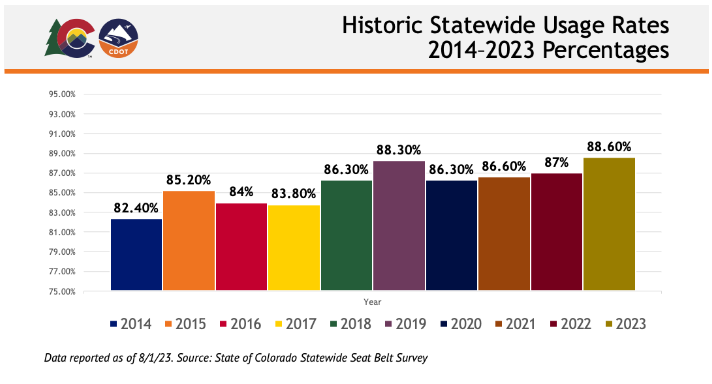 The five counties reporting the highest usage rates were Arapahoe County (98.16%), Garfield County (97.38%), Douglas County (96.82), Grand County (96.73%) and Park County (95.82%).
Three large counties in the state ranked at the bottom of the list, all below 80%. Jefferson County ranked the lowest, with a seat belt usage rate of just 73.5%. This is a 7% decrease from 2022. Pueblo County also ranked below 80%, at 74.46% (a 7% increase from the previous year). Finally, El Paso County was the third lowest in the state at 79.35%, a decrease from 86.7% last year.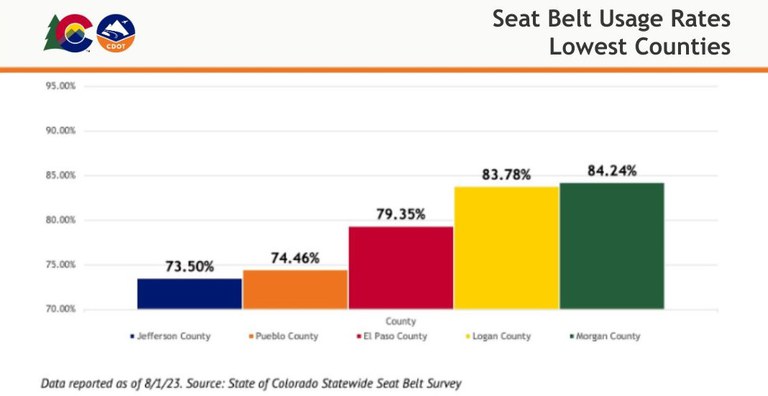 In the past, pickup trucks have typically ranked lower than other vehicle categories in seat belt use; however, this year pickups had the most significant rate increase to 82.9%. This is a 4.4% increase from last year and a 14.5% increase from 2014. SUVs ranked the highest among the five vehicle categories (91.4%), and commercial vehicles ranked the lowest (71.9%).
The report also revealed that passengers tend to buckle up less frequently than drivers. Also usage rates were lower on secondary roads but higher on highways.
"Well done, Colorado! It is great to see so many people taking charge of their safety by buckling up," said Col. Mathew C Packard, chief of the Colorado State Patrol. "Seat belts are the single most effective way to protect yourself in a crash, so if you know someone who is still not using a seat belt, tell them how much you care. Ask them if they'd join you in buckling up for the ride."
Despite the improvement, Colorado still lags far below the national average of 92%. Other states, such as California, Hawaii, Iowa and Oregon, as well as Washington D.C., have achieved seat belt use rates over 95%.
"The good news is that a huge majority of Coloradans follow the law and buckle up. However; there is still more work to be done," said CDOT's Office of Transportation Safety Director Darrell Lingk. "To the remaining 11% of motorists not wearing their seat belt, remember that there is a simple solution to ensure you get home safely to your loved ones — buckle up."
Proper seat belt use remains the first and most important choice a driver or passenger can make for their own safety, whether in the front seat or back seat. In the event of a crash, being properly restrained reduces your risk of injury by 50% and death by up to 65%. Buckle up, Colorado.
Last year 763 people were killed on Colorado roads. The most in the state's history. Of those killed, 236 were not buckled.
Colorado's seat belt laws
Adults — Colorado has a secondary enforcement law for adult drivers and front-seat passengers. Drivers can be ticketed for violating the seat belt law if they are stopped for another traffic violation.
Teens — Colorado's Graduated Drivers Licensing (GDL) law requires all drivers under 18 and their passengers, regardless of their age, to wear seat belts. This is a primary enforcement, meaning teens can be pulled over simply for not wearing a seat belt or having passengers without seat belts.
Children — Colorado's Child Passenger Safety law is a primary enforcement, meaning the driver can be stopped and ticketed if an officer sees an unrestrained or improperly restrained child under age 16 in the vehicle.