Mount Evans Highway and Independence Pass are open for the 2023 season
May 26, 2023 - Central/Northeastern Colorado - Both mountain passes are officially open for the season as of 8 a.m. on Friday, May 26.
Clear Creek, Lake, & Pitkin Counties - Mount Evans Highway (CO 5) and Independence Pass (CO 82) are both open to the public for the 2023 season. Please read below for specific details about each highway.
Independence Pass Information
CDOT crews unlocked seasonal closure gates at Independence Pass at noon on Thursday, May 25, reopening CO 82 on each side of the pass to vehicles.
In order to reopen the road for the 2023 season, crews conducted avalanche mitigation, cleared snow, fixed potholes and guardrail, and repainted (striped) the roadway. Cracked or loose rock is common along CO 82 on Independence Pass and can develop due to regular and frequent freeze/thaw cycles in mountainous locations with year-round winter weather. Like previous years, CDOT crews worked with the Colorado Avalanche Information Center to perform avalanche mitigation before reopening.
CDOT reminds motorists that commercial and recreational vehicles 35 feet or longer are prohibited. The restriction is due to tight curves, steep inclines and narrow lanes on some sections of the pass, and applies to vehicles and trailers with a combined length of more than 35 feet. Motorists should plan for the restriction to be in place on CO 82 between Mile Point 47.2 (west side, near Aspen) and MP 84.2 (east side, near Twin Lakes/Leadville and about one mile west of the junction with US 24).
Mount Evans Highway Information
CDOT crews opened Mount Evans Highway at 8 a.m. on Friday, May 26. Crews worked throughout the month of May plowing and clearing snow and ice along the 15-mile highway from the gates at Echo Lake Lodge to the summit of Mount Evans (14,264 feet), which is the highest paved road in North America. CDOT crews also conducted road maintenance on Mount Evans Highway, such as pothole repairs and fixing signage and delineation markers (the posts marking the edge of the roadway).
Please note, the United States Department of Agriculture (USDA) Forest Service is requiring motorists to Mount Evans Recreation Area to make reservations through Recreation.gov. Reservations are required if planning to park and visit one of the three developed sites (Mount Goliath Natural Area, Summit Lake Park, or the Mount Evans Summit) between 8 a.m. and 6 p.m.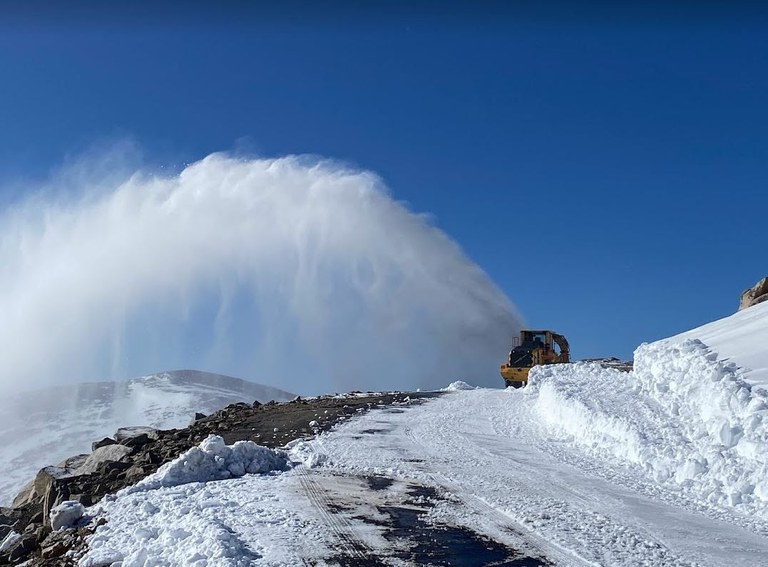 Know Before You Go
Travelers are urged to "know before you go." Gather information about weather forecasts and anticipated travel impacts and current road conditions prior to hitting the road. CDOT resources include:
Download the COtrip App!
The new free COtrip Planner mobile app was designed to meet the growing trend of information on mobile and tablet devices for the traveling public. The COtrip Planner app provides statewide, real-time traffic information, and works on mobile devices that operate on the iOS and Android platforms. Visit the Google Play Store (Android devices) or the Apple Store (iOS devices) to download!