Military Access, Mobility & Safety Improvements Project
May 9, 2023 - Southeastern Colorado - Ribbon cutting signifies completion of first project
Colorado Springs —­­ On Monday, May 8, the Colorado Department of Transportation (CDOT) and contractor, SEMA Construction, hosted a ribbon cutting to celebrate the completion of Charter Oak Ranch Road improvements, a part of the Military Access, Mobility & Safety Improvement Project (MAMSIP). Charter Oak Ranch Road is accessible off Interstate 25 via Santa Fe Avenue (US 85) and is the only access to Fort Carson's Gate 19, the region's largest employer.

Fort Carson Garrison Commander Col. Sean M. Brown, along with representatives from CDOT and local officials gathered for the ceremonial ribbon cutting on the newly constructed roundabout at Santa Fe Avenue and Charter Oak Ranch Road. The project was funded by CDOT, El Paso County, the Pikes Peak Rural Transportation Authority, and a federal BUILD grant.
Improvements include:
New roundabout, replacing a four-way stop
Reconstructed and widened Charter Oaks Road between the roundabout and Gate 19
New curbs, gutters, and sidewalks
New turn lanes, improving access to Fort Carson and area businesses
Drainage improvements, including water quality/detention features
Construction of retaining walls and associated embankments
Improving traffic access to Gate 19 gives Fort Carson soldiers an easier and more direct route to the Wilderness Road area where the 2nd Stryker Brigade Combat Team and the 4th Combat Aviation Brigade work and train and where Butts Army Heliport is located. This is approximately 6,400 soldiers or almost 25 percent of the Fort Carson soldier population.
"Fort Carson began the journey to build Gate 19 in 2005. It's only through our strong partnerships with the Colorado Department of Transportation, El Paso County, and the City of Fountain, that I can stand here today witnessing the completion of an 18-year effort with extensive improvements to Charter Oak Ranch Road," said Fort Carson Garrison Commander Col. Sean M. Brown.

"These areas have experienced unprecedented growth over the past 13 years consisting of the construction of dozens of new facilities and the complete upgrade of the heliport," he said. "Fort Carson traffic studies estimated improvements to Charter Oak Ranch Road and Essayons Road, the northern extension, the on-post connection to Gate 19, will shift approximately 20 percent of the trips from Fort Carson's Gate 20, increasing safety along the Interstate-25 corridor and generating time savings for the post's 65,000 military personnel and family members."

Due to the poor quality of Charter Oak Ranch Road, it was not used heavily by personnel entering Fort Carson; rather, motorists were using Gate 20 (approximately four miles north). The disproportional use of Gate 20 created backups, which regularly extended to the I-25 off-ramps. El Paso County estimates that improving Charter Oak Ranch Road will remove approximately one fourth of the trips to Gate 20, improving safety along the I-25 corridor and generating time savings for the post's personnel.

"The safety of the traveling public is our primary objective and it will be improved through these enhancements," said Regional Transportation Director for CDOT's Region Two Shane Ferguson. "The cooperation between CDOT and Fort Carson was excellent. We appreciate their patience and assistance and efforts at communicating the project's impact during construction to their base personnel."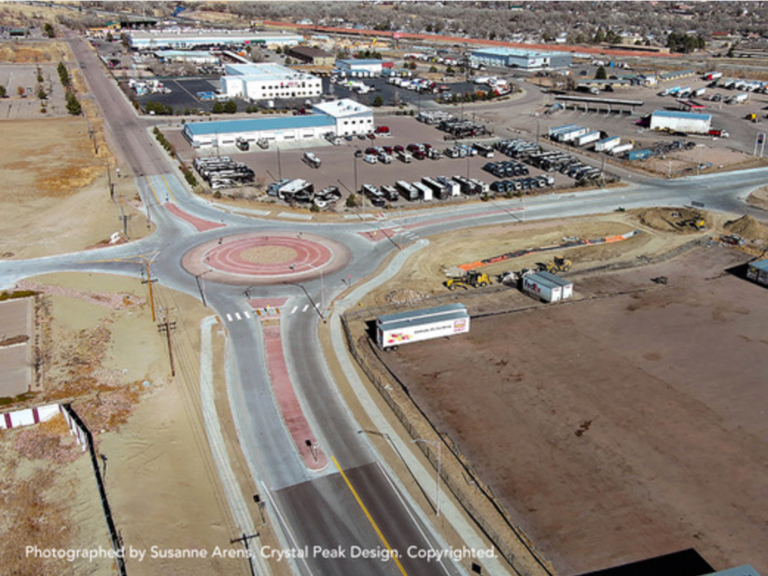 Work continues on the other components of the MAMSIP project which includes the Interstate-25 Rehabilitation, I-25 Bridges over South Academy Boulevard and widening of South Academy Boulevard. "Thank you to the local community for their cooperation and patience as we continue to progress on these components of MAMSIP," Ferguson stated.

Undertaking these improvements will effectively improve mobility and safety outcomes along one of the state's busiest interstate corridors and the connected transportation system while concurrently ensuring economic vitality is maintained. Over the next twenty years, the project is estimated to result in fewer fatalities, injuries, and crashes on the four MAMSIP corridors.
Project Information
Email:

[email protected]

Hotline: 719-800-2162
Register for Alerts: Text MAMSIP to 888-970-9665
About the Military Access, Mobility & Safety Improvement Program Build Grant
Colorado Department of Transportation (CDOT) has initiated a program to deliver more efficient and safer mobility along I-25, Colorado Highway 94, South Academy Boulevard, and Charter Oak Ranch Road, enabling economic stability and development. The Military Access, Mobility & Safety Improvement Program is partially funded through an $18 million BUILD grant award from the US Department of Transportation. The delivery of these improvements will strengthen and enhance the redundancy of strategic movement between the nationally significant El Paso County military installations of Fort Carson, Peterson Space Force Base, Cheyenne Mountain Space Force Station, and Schriever Space Force Base.