Improvements coming soon to Eldorado Park-n-Ride in Boulder
March 30, 2023 - Northern Colorado - Project beginning as early as April 3
Boulder - Starting as early as April 3, the Colorado Department of Transportation, the City of Boulder and Boulder County will install several new safety improvements at the Eldorado Park-n-Ride near the Marshall Mesa Trailhead south of Boulder.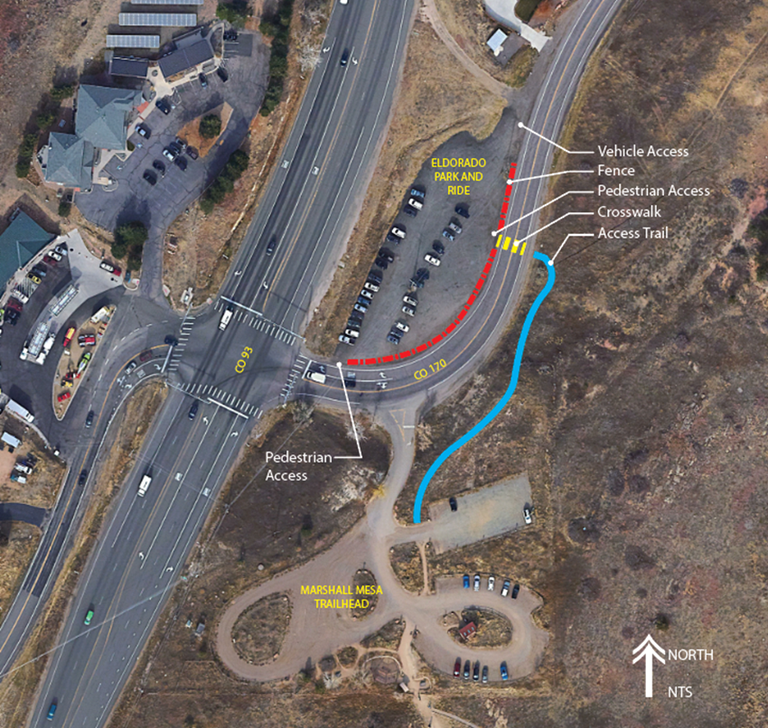 New safety improvements at the Park-n-Ride seek to increase pedestrian safety, as well as improve traffic circulation to and through this popular recreation area.
Improvements will include:
Consolidating access to the Eldorado Park-n-Ride lot at the northeast corner of Colorado Highway 93 and Colorado Highway 170 to a single access point for motor vehicles and two access points for bicyclists and pedestrians.
A new access trail from the Park-n-Ride lot between CO 170 and the Marshall Mesa Trailhead for bicyclists and pedestrians to access the Marshall Mesa open space managed by City of Boulder Open Space and Mountain Parks.
A new crosswalk across CO 170 linking the Eldorado Park-n-Ride parking area and the new access trail.
Together, these improvements will help reduce safety concerns that can occur between pedestrians, bicyclists and motor vehicles accessing the Marshall Mesa Trailhead. These new features also will help advance CDOT, the City of Boulder and Boulder County's safety and Vision Zero goals, which call for eliminating serious injuries and fatal traffic crashes.
These planned safety improvements are interim and designed to only be in place a few years. A larger scale renovation of the Marshall Mesa Trailhead will begin in late 2024.