El Paso County "Surge Enforcement Team" aims to purge dangerous drivers
March 7, 2023 - Southwestern Colorado - Law enforcement agencies come together for intense, 24-hour enforcement period focused on speeding and aggressive drivers
Haga clic aquí para ver este comunicado de prensa "Equipo de vigilancia máxima" en el condado de El Paso busca depurar las carreteras de conductores peligrosos en español.
El Paso County — Law enforcement agencies in El Paso County are joining forces for a concentrated, 24-hour effort to remove dangerous drivers from roads in the greater Colorado Springs area. Starting at 5 a.m. on Friday, March 10, the Colorado State Patrol, Colorado Springs Police Department, El Paso County Sheriff's Office, Fountain Police Department and Monument Police Department will be heavily patrolling specific areas of I-25 for speeding, distracted, aggressive and impaired drivers.
"The Surge Enforcement Team" is in response to an increase in speeding and risky driving behaviors in El Paso County. According to data from CDOT, El Paso County had the most road fatalities of any Colorado county in 2022. In addition, El Paso County has had the highest amount of speeding citations in all of Colorado over the past three years, according to CSP data. El Paso County was also among the counties with the highest number of impaired-driving fatalities last year.
"The goal of any traffic enforcement operation is to change a person's behavior, especially if it is unsafe to other motorists and pedestrians," stated Captain Scott Hophan, Colorado State Patrol. "Speed, unsafe lane changes, road rage and other aggressive behaviors should never be the norm. You'll see us out in force to remind you to make responsible choices behind the wheel."
In 2022, 28% of all roadway fatalities in El Paso County involved speeding. Between 2021 and 2022, the county saw a 57% increase in speeding-related fatalities.
"Something is going on in El Paso County. We're seeing a lot more speeding, a lot more aggressive drivers, and a lot more high-risk driving in general," said Lt. Christopher Gonzalez of the El Paso County Sheriff's Office. "We want to not only remove these drivers from the road but also raise awareness to hopefully shift these trends and prevent more fatalities in our community."
This will be the first of four high-intensity Surge enforcement periods in El Paso County this year. The March 10 patrols will focus on I-25 between mile points 116-163, from approximately Wigwam to Monument. The next Surge enforcement will occur in June.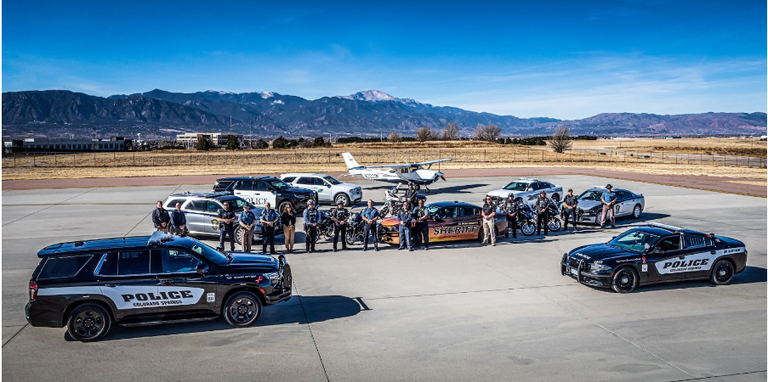 "While it is a one-day, focused enforcement period, speeding, aggressive, distracted, and impaired drivers are what our officers are patrolling for every day," said Commander Dan Thompson of the Colorado Springs Police Department. "This is about bringing awareness to how dangerous and preventable these behaviors are. Our neighbors, friends, and family members are being killed due to the poor decisions of reckless drivers."
Last year, Colorado lost 752 lives to traffic fatalities, the most since 1981. For every fatality, there are five serious injuries caused by crashes on Colorado roads.
"We're seeing some disturbing trends statewide and in El Paso County in particular. This is why CDOT is providing funding to support the Surge Enforcement Teams efforts," said Darrell Lingk, safety director for CDOT's Office of Transportation Safety, which is providing a portion of the funding for The Surge Team enforcement. "We commend the teams in El Paso County for organizing this heightened enforcement to improve safety and visibility of the critical need for drivers to slow down, drop distractions, drive sober and follow the rules of the road that are in place to keep everyone safe."
With St. Patrick's Day just around the corner, CDOT and law enforcement agencies are also gearing up for a statewide, heightened DUI enforcement surrounding the holiday. CDOT is partnering with the Governor's Highway Safety Association (GHSA) and Responsibility.org to encourage sober rides and give out Lyft rideshare credits. A total of 1,000 $10 ride credits are available and can be redeemed by using the code "SPDSAFE" in the promotions section of the Lyft app. The code is valid through March 23.