Car seat technicians in training to keep Colorado's little ones safe
March 22, 2023 - Statewide News - Weeklong course will increase number of child passenger safety technicians and reduce the 66% of improperly installed car seats
Haga clic aquí para ver este comunicado de prensa Capacitación de técnicos en asientos de seguridad procura mantener a salvo a los niños de Colorado en español.
Statewide — As a mother, grandmother and former foster care parent, Beth Schlauch has installed more than a few car seats in her day. But when her youngest granddaughter was born, she was surprised at how complicated it felt to install a new, high-tech car seat for the newborn. Her mind immediately went to the foster parents she works with at Lutheran Family Services: "If I'm still having trouble installing car seats, do our foster parents know how to do this?" That is why she's becoming a certified car seat safety technician in Colorado.
Data from 2022 showed a concerning 66% car seat misuse rate in the state — which means approximately 3,000 of Colorado's children are left vulnerable in the event of a crash.
This week, Beth and 15 individuals — including members of law enforcement, fire and emergency response teams, and community groups, are doing their part to protect Colorado children by becoming certified car seat safety technicians. The course is administered by Car Seats Colorado and SafeKids Worldwide. Once certified, these individuals will add to a growing list of technicians who provide free and much-needed car seat safety inspections and caregiver training statewide.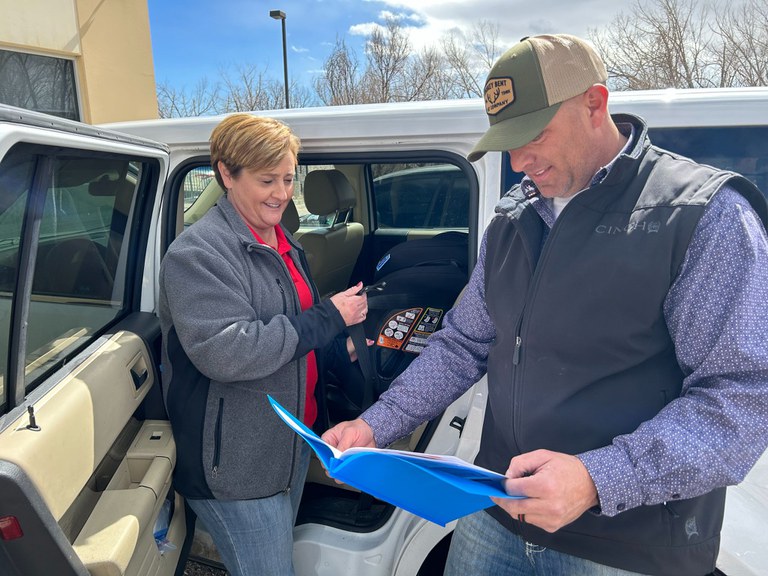 Car crashes are a leading cause of death among children under the age of 13. Proper use of car seats significantly reduces the risk of injury and death in the event of a crash. However, many parents and caregivers struggle with installing and using child safety seats correctly.
"Using car seats correctly — whether it's infants in rear-facing seats or tweens using boosters — can be complicated," said Trooper Timothy Sutherland, Colorado State Patrol. "Parents are often doing their best but sometimes need a little help and education."
Common car seat mistakes include improperly installing the car seat, selecting a car seat that is not appropriate for the child's height and weight, and not harnessing the child properly, said Angel Giffin, a Child Passenger Safety Technician Instructor for Car Seats Colorado.
The four-day certification course teaches students important information that all parents should ultimately know as well, including:
How to select an appropriate child car seat, booster seat or seat belt
How to properly harness the child in their car seats
How to properly install cars seats into vehicles
Once trained, the technicians become part of a statewide network of approximately 100 car seat check stations. Car seat check stations are commonly located at hospitals, fire stations, police stations or community organizations like Lutheran Family Services. Click here to find a car seat check station near you.
"Our data shows that parents are having a lot of trouble installing seats correctly. The more technicians we can have working in our communities, the more parents we can educate. This means more kids kept out of harm's way," said Sam Cole, CDOT Communications Manager. "We hope we can continue to get more nurses, firefighters, cops, and anyone engaged in their community to participate."
Last year was another fatal year on Colorado roadways, with 757 lives lost. Seven of those deaths were children traveling unrestrained. Car Seats Colorado is on a mission to ensure that every child is properly restrained. All Colorado parents and caregivers are encouraged to check that their children are properly secured and to seek assistance if they have any questions or concerns about car seat safety.
"Kids are our most precious cargo," said Beth. "Getting certified through this program will give me the confidence to educate parents and caregivers, and ultimately, protect parents and children against one of the biggest tragedies any family could face."
About Car Seats Colorado
Car Seats Colorado is a joint effort of the Colorado State Patrol, CDOT, local car seat technicians, law enforcement, emergency services and other professionals who are dedicated to implementing child passenger safety programs and encouraging parents to take the necessary steps to protect their children when in vehicles. Learn more about how to keep children safe in vehicles and download informational resources at CarSeatsColorado.com.