Pedestrian fatalities hit all time high in 2022
June 28, 2023 - Statewide Traffic Safety - CDOT calls for heightened awareness during summer - Pedestrian fatalities still increasing
Haga clic aquí para ver este comunicado de prensa Las muertes de peatones alcanzaron su máximo histórico en 2022 en español.
Statewide — With summer's arrival, more people are getting out of their cars and walking. As pedestrian traffic increases, so does the need for drivers and pedestrians to stay alert to avoid injury.
The reminder comes as Colorado hits its highest level of pedestrian fatalities on record. In 2022, 111 pedestrians were killed on Colorado roads, representing 15% of the state's total traffic fatalities.
This year is also seeing an increase in the number of pedestrian deaths. So far in 2023, there have been 51 pedestrian fatalities in Colorado - up 14% from this time last year. Denver (9), El Paso (7), Arapahoe (7) and Jefferson (7) counties have seen the most pedestrian fatalities so far in 2023 among all Colorado counties. Typically, the vast majority of the pedestrian fatalities occur at night.
El Paso and Jefferson counties have seen alarming increases this year, each with seven pedestrian deaths so far in 2023, compared with just one for each county at this same time last year.
"There is no contest between a vehicle and a person on foot, bicycle, skateboard, or scooter. Drivers have to stay alert and watch for the unexpected," said Col. Matthew C. Packard, chief of the Colorado State Patrol. "Pedestrians also need to unplug, look up and follow traffic safety rules. When we all share the same roadways, we all share the same responsibility."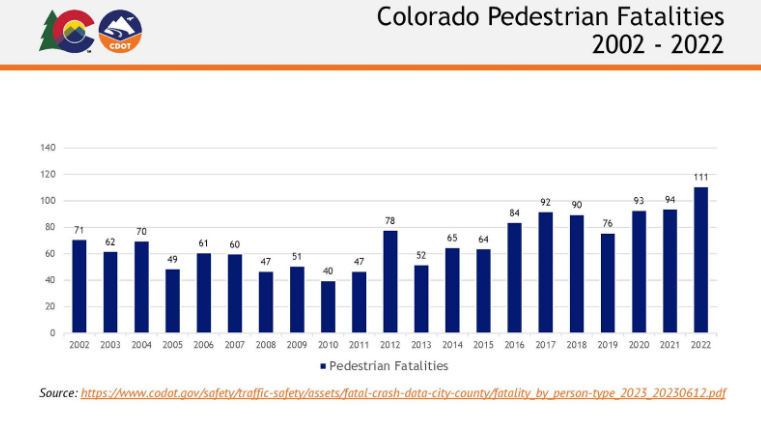 Source: https://www.codot.gov/safety/traffic-safety/assets/fatal-crash-data-city-county/fatality_by_person-type_2023_20230612.png
CDOT offers the following reminders for pedestrians to stay safe:
Walk on sidewalks whenever they are available
Cross streets at crosswalks or intersections
Look for cars in all directions, including those turning left or right
Stay off your phone when crossing the street
Avoid alcohol and drugs when walking; they impair your judgment
For drivers, CDOT recommends:
Follow the speed limit, especially around people on the street, in school zones and in neighborhoods
Look out for pedestrians and bicyclists at all times
Stop before a crosswalk, not in it
Slow down and be prepared to stop when turning or otherwise entering a crosswalk
When the light turns green, go slow, check your surroundings and proceed with caution
At night, reduce your speed and make sure your headlights are on
Respect pedestrians as equal roadway users
"We urge both pedestrians and drivers to use caution and obey traffic laws," said Darrell Lingk, director of the Highway Safety Office at CDOT. "Our state's population has grown significantly, and with more people out walking this time of year, the need is greater than ever to be alert at all times."
More fatal crashes happen on Colorado roads during the three months between Memorial Day and Labor Day than any other time of year — a period known as the 100 Deadliest Days of Summer. An increase in cars on the road, motorcyclists and teen drivers, and a historic increase in impaired driving are all factors contributing to a spike in motor vehicle fatalities this time of year, and pedestrians are also at a higher risk. In 2022, pedestrian fatalities more than doubled between May and September — rising from 26 at the beginning of May to 58 by September 1. CDOT urges drivers to be vigilant and use caution behind the wheel.
About the Bicycle and Pedestrian Program
Walking and bicycling can be a fun and healthy way to enjoy our beautiful state, and CDOT encourages residents to make bicycling and walking a part of their regular routine. For more information on safety practices for pedestrians and drivers or how to get involved with programs like Safe Routes to School or Colorado's annual Bike to Work Day, visit www.codot.gov/programs/bikeped
Please say "crashes" not "accidents"
Crashes are not accidents - they are preventable.