Military Access, Mobility & Safety Improvements Project
June 23, 2023 - Southeastern Colorado - Ribbon cutting signifies completion of second project
Colorado Springs —­­ The Colorado Department of Transportation and prime contractor SEMA Construction celebrated the completion of the CO 94 safety improvements project Thursday.

CDOT Executive Director Shoshana Lew, along with representatives from the Federal Highway Administration, area military installations and elected officials gathered for the ceremonial ribbon cutting near the newly constructed project at Blaney Road and CO 94. The $10 million project was funded by CDOT, El Paso County, the Pikes Peak Rural Transportation Authority, and a federal DOT BUILD Grant (Better Utilizing Investments to Leverage Development).

"When we began the ten-year planning process about four years ago, this stretch of CO 94 was one of the first areas of concern raised to us by a community — it made an impression on CDOT that our defense partners had struggled to garner attention for a modest sized project like this one," said CDOT Executive Director Shoshana Lew. "Seeing it fixed today is an example of the ten-year plan having impact."
Improvements include:
A one mile passing lane on westbound CO 94 at mile point (MP) 5.5, improving the sight distance for drivers and allow vehicles to safely pass slower moving vehicles
An eastbound turn lane between North Franceville Coal Mine Road and Blaney Road
A signalized "jug handle" intersection at Blaney Road, removing slow moving traffic from the passing lane, and greatly improving efficiency and traffic flow
Prior to the project, daytime traffic on eastbound Highway 94 experienced recurrent congestion due to steep grades, limited opportunities for passing, and a high volume of slow-moving heavy vehicles traveling to the Waste Management Landfill. The heavy vehicles tended to queue up in the left passing lane of eastbound CO 94 beginning more than a mile before the turn off to the landfill on Blaney Road. Limited sight lines due to queuing of heavy vehicles, coupled with steep grades led to frequent crashes.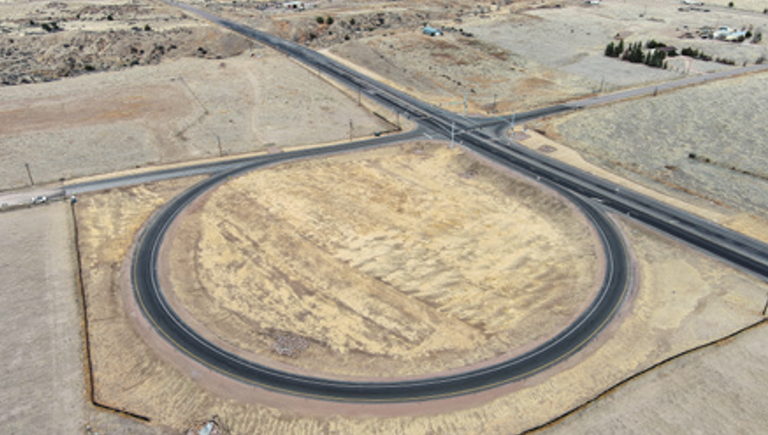 This is the second of four phases of the Military Access, Mobility & Safety Improvement Project (MAMSIP). The project benefits the traveling public and supports the missions of two nationally significant military installations connected by CO 94 – Peterson and Schriever Space Force Bases. Both are home to the global headquarters of the North American Aerospace Defense Command, the Department of Defense operational Center for the Global Positioning Systems, and the provisional Headquarters of US Space Command. Together, the installations employ approximately 15,000 military and civilian personnel.

Work continues on the remaining components of the MAMSIP project: Interstate-25 Rehabilitation, I-25 Bridges over South Academy Boulevard, and widening of South Academy Boulevard.

"Thank you to the local community for their cooperation and patience as we continue to progress with MAMSIP," said CDOT Region Two Transportation Director Shane Ferguson.
Undertaking these improvements will effectively improve mobility and safety outcomes along one of the state's busiest interstate corridors and the connected transportation system while concurrently ensuring economic vitality is maintained. Over the next twenty years, the project is expected to reduce fatalities, injuries, and crashes on all four MAMSIP corridors.
Project Information
Email:

[email protected]

Hotline: 719-800-2162
Register for Alerts: Text MAMSIP to 888-970-9665
About the Military Access, Mobility & Safety Improvement Program Build Grant
Colorado Department of Transportation (CDOT) has initiated a program to deliver more efficient and safer mobility along I-25, Colorado Highway 94, South Academy Boulevard, and Charter Oak Ranch Road, enabling economic stability and development. The Military Access, Mobility & Safety Improvement Program is partially funded through an $18 million BUILD grant award from the US Department of Transportation. The delivery of these improvements will strengthen and enhance the redundancy of strategic movement between the nationally significant El Paso County military installations of Fort Carson, Peterson Space Force Base, Cheyenne Mountain Space Force Station, and Schriever Space Force Base.