Improvements ahead for two Colorado National and Scenic Historic Byways
June 26, 2023 - Southwestern Colorado - Federal Highway Administration's National Scenic Byways Program grant allows for much-needed enhancements
Denver - Two of the state's southwestern byways will be getting some much-needed enhancements after receiving a $640,250 grant from the Federal Highway Administration's National Scenic Byways Program.

Several improvements are planned for the Alpine Loop Byway, connecting Lake City, Ouray, and Silverton, and the Silver Thread Byway, between Blue Mesa Reservoir and South Fork, including:
An open-air picnic pavilion (Silver Thread)
Eleven toilets (seven double ADA vault toilets; three composting vault toilets; one single ADA vault toilet) (Alpine Loop/Silver Thread)
Safety pullouts on Engineer Pass and Cinnamon Pass (Alpine)
Additional safety pullouts between Eureka and Animas Forks (Alpine)
Installation of an open-deck Dark Skies observatory and interpretive site on
Slumgullion Pass in the decommissioned Slumgullion Campground (Silver Thread)
The grant application was a collaborative effort between four counties, four municipalities, two ranger districts, one Bureau of Land Management field office, and several nonprofit organizations.

"Our region is experiencing a steady increase of tourism in this scenic and historic region," said Hinsdale County Commissioner Kristie Borchers. "We are pleased to accept this grant award for vital upgrades to infrastructure."

Both also are designated as Colorado Electric Byways, requiring each route to have sufficient charging infrastructure in place for electric vehicles to complete the entire length of the byway. Fourteen of the state's byways are designated Electric Byways. More information is available at: https://oedit.colorado.gov/electric-byways-tourism-toolkit.
FHWA awarded $21.8 million to 33 byways in 29 states, including five Tribal lands. These are the first National Scenic Byways Program grants awarded since 2012.

Thirteen of Colorado's 26 byways, including Alpine Loop and Silver Thread, are designated as America's Byways®, meaning they are nationally recognized by the U.S. Secretary of Transportation for their outstanding scenic and historic attributes. Colorado has the most nationally designated byways in the U.S. The collection also includes 10 National Forest Scenic Byways and two Bureau of Land Management Back Country Byways. Learn more about these scenic and historic road trips that preserve the state's culture, history and natural wonder by visiting: www.ColoradoByways.org.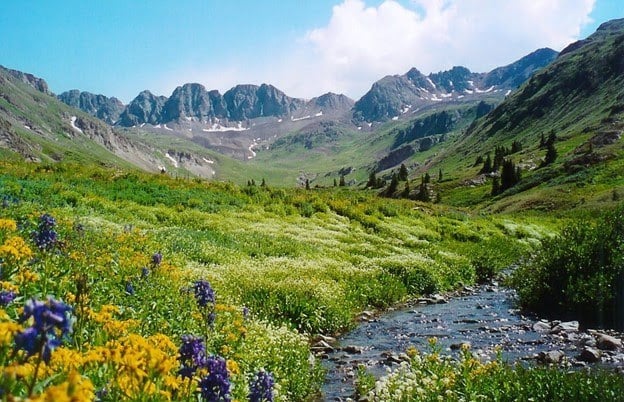 CDOT established the Scenic and Historic Byways program in 1989. In addition to supporting the state's 26 byways, the program includes two All-American Roads, 10 National Forest Scenic Byways, and two Bureau of Land Management Backcountry Byways. The statewide system is comprised of nearly 2,600 miles of roadway through 48 of Colorado's 64 counties. More information is available at: https://www.codot.gov/travel/colorado-byways.
Know Before You Go
Travelers are urged to "know before you go." Gather information about weather forecasts and anticipated travel impacts and current road conditions prior to hitting the road. CDOT resources include:
Download the COtrip App!
The new free COtrip Planner mobile app was designed to meet the growing trend of information on mobile and tablet devices for the traveling public. The COtrip Planner app provides statewide, real-time traffic information, and works on mobile devices that operate on the iOS and Android platforms. Visit the Google Play Store (Android devices) or the Apple Store (iOS devices) to download!