CO Highway 17 travelers will encounter two stops just north of the New Mexico state line
June 29, 2023 - Southwestern Colorado - Motorists should allow themselves additional travel time, especially with increased traffic over the Fourth of July weekend
Southwest Colorado ― Travelers will encounter two brief stops on CO Highway 17 near the New Mexico state line this summer. Vehicles will be guided by a portable light signal through one-lane alternating traffic configurations at two locations where road and culvert damage has occurred.
Locations
Site 1: approximately one-third of a mile north of the CO-NM state line at Mile Point 0.3
Site 2: three miles north of the border and one mile south of the Cumbres Pass railroad station at MP 3
In anticipation of increased traffic volumes over the July Fourth holiday weekend, motorists should allow themselves additional travel time. Travelers should also be aware of the newly decreased speed limits of 25 mph as they approach light signal sites.
Maintenance and engineering officials with the Colorado Department of Transportation have inspected the road damage sites and are continuing to explore repair options.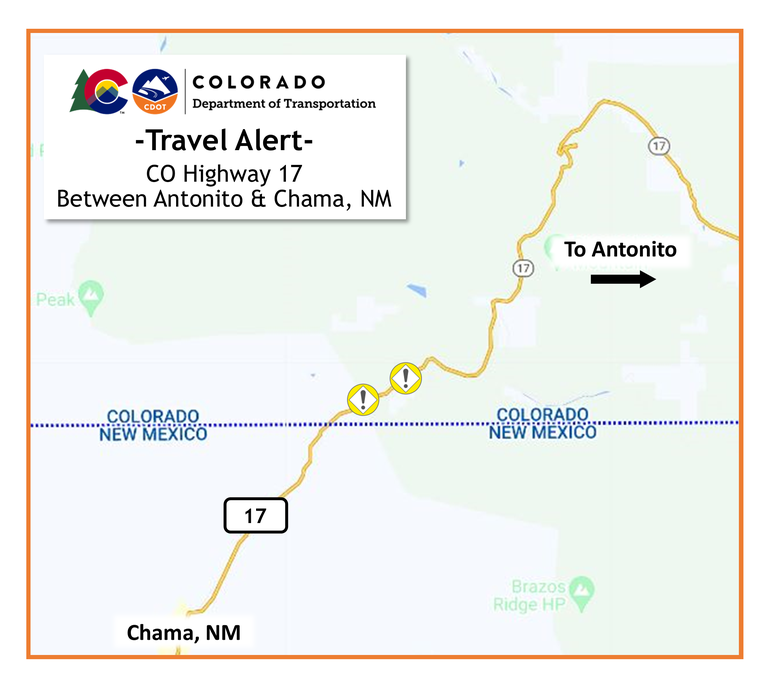 Traffic Impacts
Travelers will encounter full stops guided by a portable light signal at two locations just north of the state line
Speed limit reduction of 25 mph is in place at the two sinkhole locations
Motorists should slow down and obey all traffic signs
Motorists are urged to use extreme caution when driving through the section of highway
Allow for extra travel time
Know Before You Go
Travelers are urged to "know before you go." Gather information about weather forecasts and anticipated travel impacts and current road conditions prior to hitting the road. CDOT resources include: