CDOT's hearse procession highlights grave consequences of not buckling up
June 16, 2023 - Statewide Traffic Safety - Annual study of seat belt use begins this month
Haga clic aquí para ver este comunicado de prensa La procesión de carrozas fúnebres de CDOT resalta la consecuencia grave de no abrocharse el cinturón de seguridad en español.
Statewide — This afternoon, the Colorado Department of Transportation held a funeral hearse procession in Denver to bring attention to the importance of wearing a seat belt. Last year 236 unbuckled drivers and passengers were killed on Colorado roadways. Colorado also has a seat belt usage rate below the national average. The hearse procession, held in high-traffic areas throughout Denver, serves as a somber reminder of what could be a person's final journey if they fail to buckle up.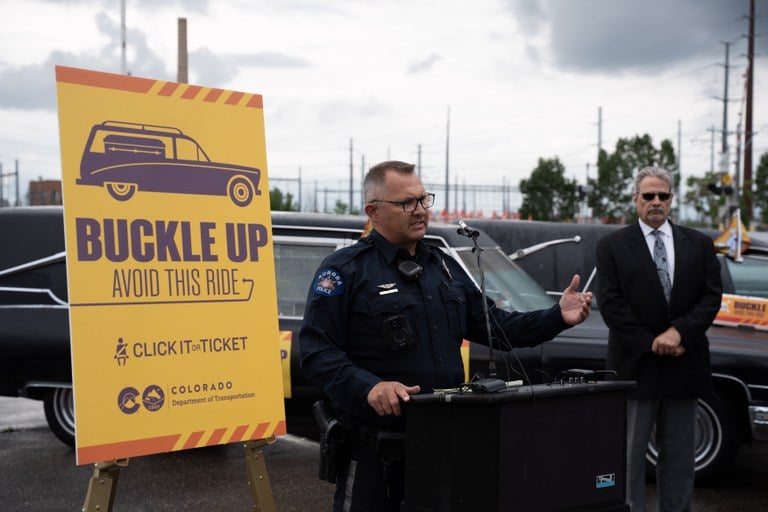 Today's demonstration is being held in conjunction with CDOT's annual statewide seat belt study, which is underway until June 24. Last year's survey, which can be found by clicking here, included 744 locations in 26 counties across the state. The study found that just 87% of people buckle up, far below the national average of 92%. The survey tracked seat belt use across five vehicle categories — SUVs, vans, cars, commercial vehicles and passenger trucks.
The lowest seat belt usage rates by county in 2022 were:
Weld County (80.1%)
Fremont County (78.1%)
Chaffee County (69.2%)
Pueblo County (67.6%)
The counties with the highest seat belt usage in 2022 were:
Grand County (96.3%)
Garfield County (96.3%)
Arapahoe County (93.8%)
Denver County (93.6%)
The rolling display underscores the consequences of not buckling up and encourages people to take personal responsibility for their own safety. Increasing public awareness of the safety benefits of seat belts can help improve seat belt use.
CDOT's Office of Transportation Safety Director, Darrell Lingk, emphasizes the significance of this initiative, stating, "Hearses make a powerful statement about the potential consequences of not wearing a seat belt. We hope this memorable visual will serve as a stark reminder of what could happen in the event of a crash and encourage Coloradans to buckle up."
The hearses, provided by Sendak Hearse Rental, joined forces at CDOT headquarters before commencing their route through Denver, passing notable landmarks and neighborhoods such as Denver Union Station, Ballpark District, River North, Five Points, and South Broadway. The convoy, featuring hearses adorned with messages like "Buckle Up: Avoid This Ride" and "Click It or Ticket," garnered attention from onlookers.
"I have seen the consequences of driving unbuckled. Aside from being illegal, you are putting yourself at risk of injury and death" states Paul Timmons of the Aurora Police Department. "Please buckle every time you get behind the wheel, and ensure everyone in your vehicle is buckled too, so you can avoid an ambulance or hearse being your next ride."
In 2022, there were 236 unbuckled fatalities in Colorado. The counties with the highest number of unbuckled fatalities were Adams (27), El Paso (22), Pueblo (22), Weld (22) and Denver (21).
"Wearing a seat belt significantly improves your ability to survive a crash," said Colorado State Patrol Chief Matthew C. Packard. "Clicking your seat belt is such a small effort that pays off tremendously — it can save your life. Seat belts are often the difference between life or death."
CDOT and law enforcement partners across Colorado recently concluded the Click It or Ticket May Mobilization seat belt enforcement period, citing 1,548 unbuckled drivers, including 120 drivers with an improperly restrained child in their vehicle under the age of 15.
Proper seat belt usage significantly reduces the risk of injury or death in a crash. Without a fastened seat belt, occupants can be ejected from a vehicle and killed. The Click It or Ticket campaign encourages people to buckle up to avoid a citation and, more importantly, get home safely to their loved ones.
The National Highway Traffic Safety Administration (NHTSA) estimates that seat belts reduces the risk of:
Front seat passenger car occupant deaths by 45%
Front seat passenger car occupant moderate to critical injuries by 50%
Front seat light truck occupant deaths by 60%
Front seat light truck occupant moderate to critical injuries by 65%
NHTSA also estimates that about 230 lives are saved annually by seat belts in Colorado.
Vehicle collisions are a leading cause of death for children ages 1 to 13. Last year, 66% of car seats weren't properly installed out of 5,000 that were checked in Colorado. Parents and caregivers can learn more about Colorado child passenger safety laws, recommendations and recalls at CarSeatsColorado.com.
Colorado's seat belt laws
Adults — Colorado has a secondary enforcement law for adult drivers and front seat passengers. Drivers can be ticketed for violating the seat belt law if they are stopped for another traffic violation.
Teens — Colorado's Graduated Drivers Licensing (GDL) law requires all drivers under 18 and their passengers to wear seat belts. This is a primary enforcement, meaning teens can be pulled over simply for not wearing a seat belt or having passengers without seat belts.
Children — Colorado's Child Passenger Safety law is a primary enforcement, meaning the driver can be stopped and ticketed if an officer sees an unrestrained or improperly restrained child under age 16 in the vehicle.
About Click It or Ticket
Click It or Ticket is a nationwide campaign from NHTSA. Since Click It or Ticket was introduced in Colorado in 2002, statewide seat belt use has increased from 72% to 86%. For more information about seat belt safety and enforcement citation numbers, visit SeatBeltsColorado.com.