Westbound I-70 closed in Glenwood Canyon due to multiple vehicle crash
January 17, 2023 - Northwest Colorado - Motorists on northern alternate route must plan for weather and additional travel time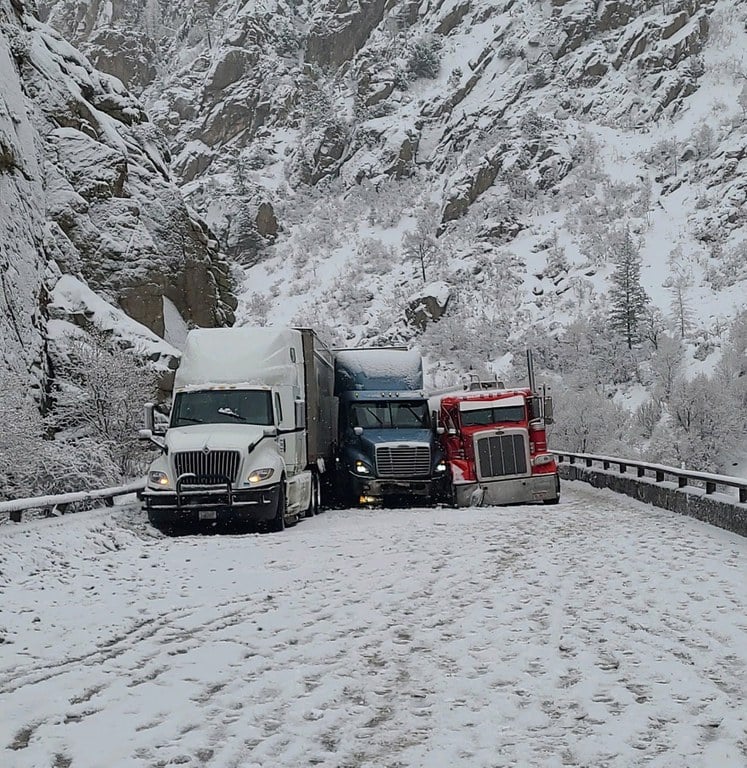 Glenwood Canyon - A safety closure is in place for westbound Interstate 70 in Glenwood Canyon at exit 133 (Dotsero) due to a multiple vehicle crash located further west at Mile Point 122.9. Motorists should anticipate the westbound safety closure being in place until at least this evening. Westbound motorists are being routed onto the northern alternate route. The alternate route will add at least 2.5 hours travel time. Please see below for more info about the northern alternate route. Eastbound I-70 remains open. All updates will continue to post to COtrip.org. More pictures will be posted on the CDOT Facebook page and the media kit folder as they become available.

Four commercial vehicles were involved in the crash. Crews are working as quickly and safely as possible to remove the vehicles. One vehicle is a tanker carrying gasoline. In order to clear the crash, crews are draining the remaining 7,000 gallons of gasoline into another tanker. Draining into the second tanker is anticipated to require at least four hours. The tanker spilled 3,000 gallons of gasoline after the crash. The spill has been stopped and a hazardous vehicle crew is overseeing clean up.
Northern Alternate Route
It is very important to check COtrip.org and weather forecasts before traveling on the northern alternate route. It is a more remote route with limited cell service and services. Smartphone users can also use CDOT's free COtrip Planner mobile app.

To use the northern alternate route, westbound motorists from the Denver metro area will exit I-70 at exit 205 (Silverthorne) and travel north on Colorado Highway 9 towards Kremmling. At Kremmling, travelers will continue west on US Highway 40 until the intersection with Colorado Highway 13 in Craig. Turn south on CO 13 to complete the alternate route and return to westbound I-70 at Rifle (exits 87 or 90). Motorists should be prepared for icy and snowpacked areas along this route and are encouraged to drive for the conditions.
Know Before You Go
Travelers are urged to "know before you go." Gather information about weather forecasts and anticipated travel impacts and current road conditions prior to hitting the road. CDOT resources include:
Download the COtrip App!
The new FREE COtrip Planner mobile app was designed to meet the growing trend of information on mobile and tablet devices for the traveling public. The COtrip Planner app provides statewide, real-time traffic information, and works on mobile devices that operate on the iOS and Android platforms. Visit the Google Play Store (Android devices) or the Apple Store (iOS devices) to download!