CDOT to begin improving the US 287 and CO 52 intersection on Jan. 9
January 3, 2023 - Northeastern Colorado - Motorists can expect lane closures and short travel delays during this 10-month project
Boulder County – Starting on Jan. 9, the Colorado Department of Transportation will begin safety and traffic flow improvements at the intersection of US Highway 287 and Colorado Highway 52 in Boulder County. Changes in land use and traffic congestion have increased in recent years, straining existing infrastructure in the region.
The goal is to improve safety and mobility by transforming this junction into a safe, pedestrian friendly, signalized intersection that supports all modes of transportation. Villalobos Concrete, Inc. has been selected as the prime contractor for this project.
This state and federally funded project will increase capacity at all four corners of the intersection. Work includes widening CO 52 on the north and south sides to accommodate an additional left turn lane and create a 6-foot bicycle lane for both eastbound and westbound traffic. US 287 will be widened to the east to accommodate an additional left turn lane for both northbound and southbound traffic. Traffic signal poles, pedestrian poles and ADA ramps will be installed, and new culverts and roadside ditches are planned to support drainage improvements.
"This type of safety improvement project is critical for intersections such as this one that support a high daily volume of traffic," said CDOT Regional Transportation Director Heather Paddock. "This is an excellent example of how CDOT's traffic safety and curb ramp upgrade initiatives are prioritizing and benefiting all modes of travel."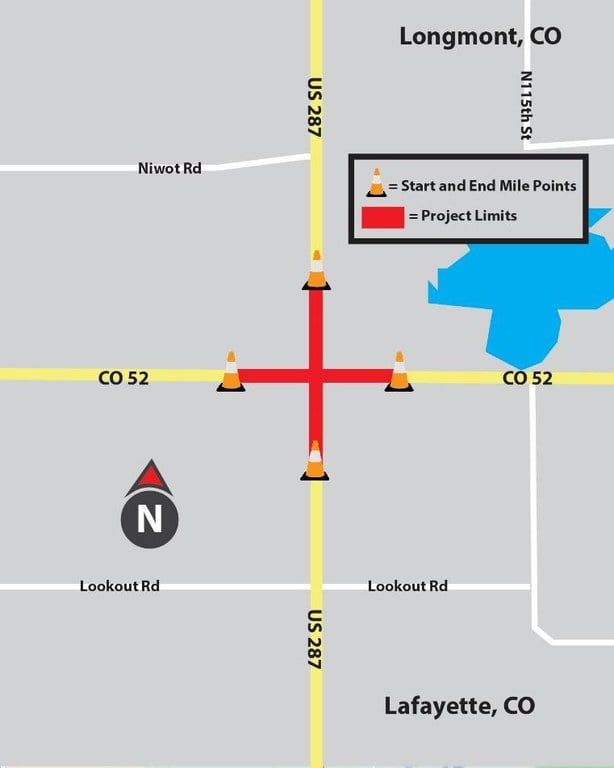 Project Location
The project is located at the intersection of US 287 and CO 52 between the cities of Longmont and Broomfield in Boulder County The work zone on US 287 extends north/south from MP 310.140 to MP 310.670. The project limits on CO 52 extend east/west from MP 4.350 to MP 5.00. Advance warning signage will be posted to alert motorists to the presence of road work and lane closures.
Schedule & Working Hours
The project begins on Monday, Jan. 9 and will last until October. Working hours are 7 a.m. to 7 p.m. Monday to Friday, unless otherwise approved by the CDOT Project Engineer. No weekend or observed holiday work is expected.
Traffic Impacts
Starting on Monday, Jan. 9, motorists can expect daytime single left lane closures on both US 287 and CO 52 at the intersection
These closures will be in place from 9 a.m. to 4 p.m. Monday to Friday
The right turn lanes in all directions will be fully closed after Jan. 11 until further notice
Uniformed traffic control personnel, flaggers, signs, and construction devices will be present to manage traffic flows
Motorists can expect short delays up to five minutes during traffic holds
Full access to roadways, area businesses and driveways will be maintained
Lane closures and other traffic notices are posted weekly to COTrip.org
All construction schedules are weather dependent and subject to change
Project Contact Information
For additional information about this project, contact the project team.
Know Before You Go
Travelers are urged to "know before you go." Gather information about weather forecasts and anticipated travel impacts and current road conditions prior to hitting the road. CDOT resources include:
Remember: Slow For The Cone Zone
The following tips are to help you stay safe while traveling through maintenance and construction work zones.
Do not speed in work zones. Obey the posted speed limits.
Stay Alert! Expect the unexpected.
Watch for workers. Drive with caution.
Don't change lanes unnecessarily.
Avoid using mobile devices such as phones while driving in work zones.
Turn on headlights so that workers and other drivers can see you.
Be especially alert at night while driving in work zones.
Expect delays, especially during peak travel times.
Allow ample space between you and the car in front of you.
Anticipate lane shifts and merge when directed to do so.
Be patient!
Download the COtrip App!
The new FREE COtrip Planner mobile app was designed to meet the growing trend of information on mobile and tablet devices for the traveling public. The COtrip Planner app provides statewide, real-time traffic information, and works on mobile devices that operate on the iOS and Android platforms. Visit the Google Play Store (Android devices) or the Apple Store (iOS devices) to download!