CDOT will shift traffic onto the new westbound I-70 bridge over 32nd Avenue during overnight hours Feb. 21
February 21, 2023 - Central/Eastern Colorado - This shift onto the new westbound I-70 bridge over 32nd Avenue signifies the completion of a major milestone for this project
Jefferson County — As part of the Colorado Department of Transportation's I-70 over 32nd Avenue Bridge Replacement Project, motorists can expect a traffic shift during overnight hours on Tuesday, Feb. 21 onto the newly completed westbound bridge structure.
Westbound I-70 traffic has been under a temporary shift east since last September while crews removed and replaced the westbound bridge. This shift onto the new westbound I-70 bridge over 32nd Avenue, which moves westbound traffic back onto mainline I-70, signifies the completion of a major milestone for this infrastructure improvement project.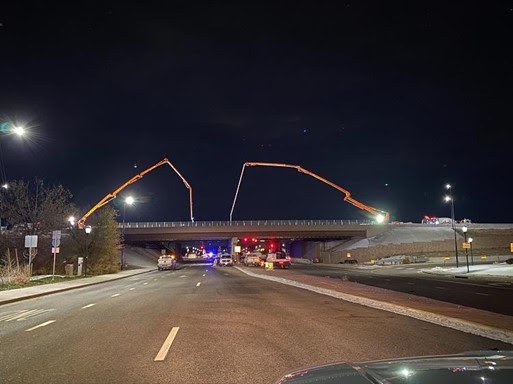 Traffic Impacts
Work for the Feb. 21 traffic shift will include removing existing barriers, restriping the lanes, and realigning traffic directly onto lanes of the new westbound bridge.
The lanes will be temporarily reduced in width to 11-feet with 2-foot shoulders
Motorists can expect to encounter double lane closures and short delays on westbound I-70 during the overnight shift between 9 p.m. and 6 a.m.
Once the overnight shift is implemented, three lanes of traffic will be maintained in each direction of I-70 through the work zone
Motorists are urged to heed the posted speed limits and drive cautiously through the work zone
The schedule could change depending on weather conditions. COtrip.org will have the latest information
Upcoming Work
Removal of the existing eastbound I-70 bridge over 32nd Avenue is expected to begin by mid-March. This will entail shifting eastbound traffic outward, and removing and replacing the eastbound bridge in stages to minimize traffic impacts.
The project consists of replacing both I-70 bridges over 32nd Avenue which have exceeded their lifespan for optimal safety and longevity. Work began in February 2022 and is expected to be complete by December.
Project Information
For additional information about this project:
Know Before You Go
Travelers are urged to "know before you go." Gather information about weather forecasts and anticipated travel impacts and current road conditions prior to hitting the road. CDOT resources include:
Remember: Slow For The Cone Zone
The following tips are to help you stay safe while traveling through maintenance and construction work zones.
Do not speed in work zones. Obey the posted speed limits.
Stay Alert! Expect the unexpected.
Watch for workers. Drive with caution.
Don't change lanes unnecessarily.
Avoid using mobile devices such as phones while driving in work zones.
Turn on headlights so that workers and other drivers can see you.
Be especially alert at night while driving in work zones.
Expect delays, especially during peak travel times.
Allow ample space between you and the car in front of you.
Anticipate lane shifts and merge when directed to do so.
Be patient!
Download the COtrip App!
The new FREE COtrip Planner mobile app was designed to meet the growing trend of information on mobile and tablet devices for the traveling public. The COtrip Planner app provides statewide, real-time traffic information, and works on mobile devices that operate on the iOS and Android platforms. Visit the Google Play Store (Android devices) or the Apple Store (iOS devices) to download!