Fans don't let fans drive impaired: DUI enforcement kicks off game weekend
February 9, 2023 - Statewide - 150 Lyft credits available for game weekend celebrations
Haga clic aquí para ver este comunicado de prensa Los fanes no dejan que otros fanes manejen borrachos o drogados: empieza la vigilancia de DUI del fin de semana del Super Bowl" en español.
Statewide — The biggest game in football is almost here, but the players aren't the only ones with a big responsibility this weekend. Fans should never let other fans drive impaired. The Colorado Department of Transportation, the Colorado State Patrol and more than 40 local law enforcement agencies are participating in the Super Bowl Weekend DUI enforcement period from Feb. 9-14. Regardless of whom you root for, a DUI will put a definite end to any party plans.
"Whether you're a football fan or just watching for the halftime show, make a driving plan before heading out to view the game. We'll have extra state troopers on our roads looking for impaired drivers," said Col. Matthew C. Packard, chief of the Colorado State Patrol. "Our goal is to have everyone arrive home safely, so be a good sport and get a sober ride."
To continue providing Coloradans with safe rides home, CDOT is providing 150 Lyft credits for the big game weekend. Coloradans can redeem a $10 credit using the code "KickoffSafe" in the promotions section of the Lyft app. Ride credits are available statewide and can be redeemed anytime from Feb. 8 at 5 p.m. to Feb. 15 until 11:59 p.m. Click here to apply the credit directly to the Lyft app from a mobile device. The promotion is part of an extended partnership with Lyft and Responsibility.org, funded by a grant CDOT received from the Governors Highway Safety Association (GHSA).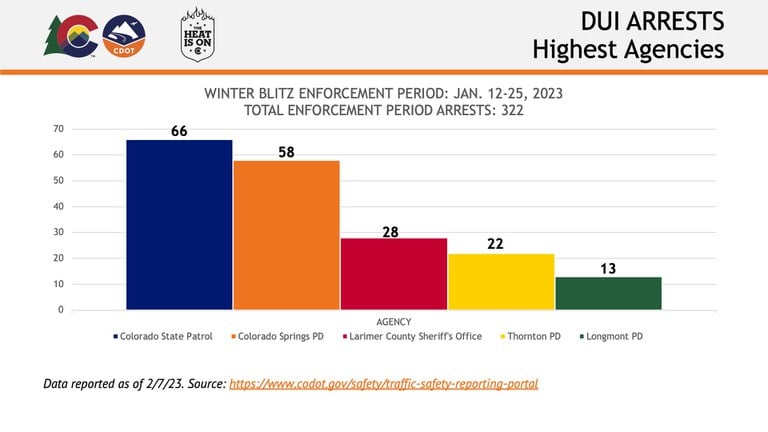 The recent Winter Blitz enforcement period saw 322 arrests across 72 participating agencies, concluding the first DUI enforcement of 2023. The agencies with the highest number of arrests were Colorado State Patrol (66), Colorado Springs Police Department (58) and Larimer County Sheriff's Office (28). In 2022, the Super Bowl Weekend enforcement period resulted in 156 arrests, averaging two arrests per hour for all three enforcement days.
"If you're hosting a party, make sure all your guests get to and from the celebration safely," said CDOT's Office of Transportation Safety Director Darrell Lingk. "List out the options for them — spend the night, call a ride-hailing service or designate a sober driver. It all comes down to one decision, don't risk getting a DUI or being involved in a crash where someone loses their life."
The National Highway Traffic Safety Administration (NHTSA) continues to encourage football fans to not drive impaired through its Fans Don't Let Fans Drive Drunk safety effort. The campaign encourages football party goers to keep friends from getting behind the wheel impaired by assigning a designated driver and ensuring that they actually remain sober.
About the Heat is On
The CDOT Highway Safety Office provides funding to Colorado law enforcement for impaired driving enforcement, education and awareness campaigns. The Heat Is On campaign runs throughout the year, with 16 specific high-visibility impaired driving enforcement periods centered on national holidays and large public events. Enforcement periods can include sobriety checkpoints, saturation patrols and additional law enforcement on duty dedicated to impaired driving enforcement.
Find more details about the campaign, including impaired driving enforcement plans, arrest totals and safety tips at

 

HeatIsOnColorado.com.
More information about DUI laws in Colorado can be found at

 

NoDUIColorado.org.
Learn more about CDOT's dedication to keeping Colorado roads safe, including impaired driving enforcement objectives, arrest data and safety information at

 

codot.gov/safety.