Westbound I-70 in Glenwood Canyon Reopens after Vehicle Crash
February 15, 2023 - Glenwood Canyon - Motorists should expect delays Feb. 16, for eastbound travel through Glenwood Canyon as crews recover a rolled over CMV.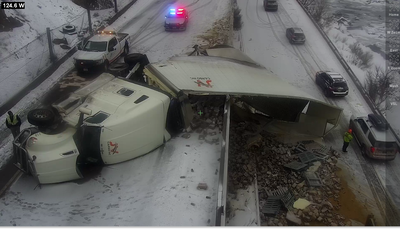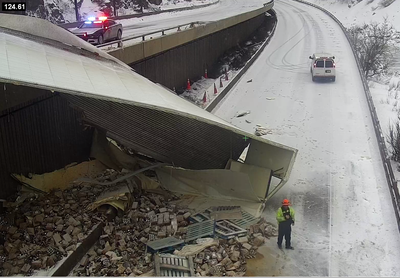 10:30 p.m. Update: Crews have reopened both westbound lanes on I-70 in Glenwood Canyon and one eastbound lane between exit 133 (Dotsero) and exit 116 (Glenwood Springs) after cleaning up a commercial motor vehicle crash earlier in the day. One lane eastbound will remain closed overnight until crews can remove the remainder of the wreckage in the morning (2/16/23).

Glenwood Canyon - A safety closure is in place for Interstate 70 in Glenwood Canyon for eastbound and westbound traffic due to a commercial vehicle crash. The closure is in place between exit 133 (Dotsero) and exit 116 (Glenwood Springs) and is expected to last for several hours. The commercial motor vehicle crash is located at Mile Point 124.6, east of Glenwood Springs, and requires coordinated removal operations. If motorists need an alternate route, CDOT recommends using the southern alternate route (more info below). The route will add several hours of travel time. CDOT strongly advises against using the northern alternate route, due to powerful winter weather conditions and road closures. All updates will continue to post to COtrip.org or the COtrip Planner app. More pictures will be posted on the @ColoradoDOT Facebook page as they become available.
One commercial motor vehicle was involved in the crash, which took place today at the same location as a CMV crash and extended closure on Jan. 30. The crash took place at approximately 4:15pm. The tractor-trailer crashed while traveling westbound, west of Hanging Lake Tunnel. Speed is being investigated as a factor in the crash. Speed limits were lowered in Glenwood Canyon today during winter weather conditions and a slick roadway surface.
Crews are working to clear the vehicle, which was carrying canned beverages. It is possible crews will be able to reopen the roadway this evening with one lane of traffic in each direction. This will depend on how removal operations go and weather conditions. The scene is being evaluated to see if there was a hazardous materials spill. The only hazardous material identified so far is the diesel used to power the vehicle.
Alternate Routes
CDOT strongly advises motorists to check weather and travel conditions before using the southern alternate route. It is very important to check COtrip.org and weather forecasts before traveling. Smartphone users can also use CDOT's free COtrip Planner mobile app. Drivers should anticipate additional traffic on the route.
Southern Alternate Route
To use the southern alternate route, westbound motorists from the Denver metro area can travel on US 285 to US 50, and continue west to Grand Junction. Travelers on I-70 can use CO 9 to US 285 south to US 50, or use CO 91 southwest to US 24 to US 50. Eastbound motorists traveling from the Grand Junction area can use US 50 east to US 285 and continue to Denver and areas nearby.
Know Before You Go
Travelers are urged to "know before you go." Gather information about weather forecasts and anticipated travel impacts and current road conditions prior to hitting the road. CDOT resources include:
Download the COtrip App!
The new FREE COtrip Planner mobile app was designed to meet the growing trend of information on mobile and tablet devices for the traveling public. The COtrip Planner app provides statewide, real-time traffic information, and works on mobile devices that operate on the iOS and Android platforms. Visit the Google Play Store (Android devices) or the Apple Store (iOS devices) to download!