CDOT, CSP urge I-70 drivers in Glenwood Canyon to follow all safety instructions and help prevent more closures
February 17, 2023 - Statewide - CDOT and CSP implemented additional measures this week to reduce the number of closures caused by crashes
Statewide — The Colorado Department of Transportation and Colorado State Patrol (CSP) ask the traveling public to follow the speed limit on Interstate 70 in Glenwood Canyon and drive for the conditions, especially as winter weather continues through the coming weeks and months. Following a series of crashes that have caused extended closures of the interstate, CDOT and CSP are urging all drivers to redouble efforts to follow best safety practices. Driving too fast for conditions has contributed or caused all of the crash closures in the Canyon so far in 2023.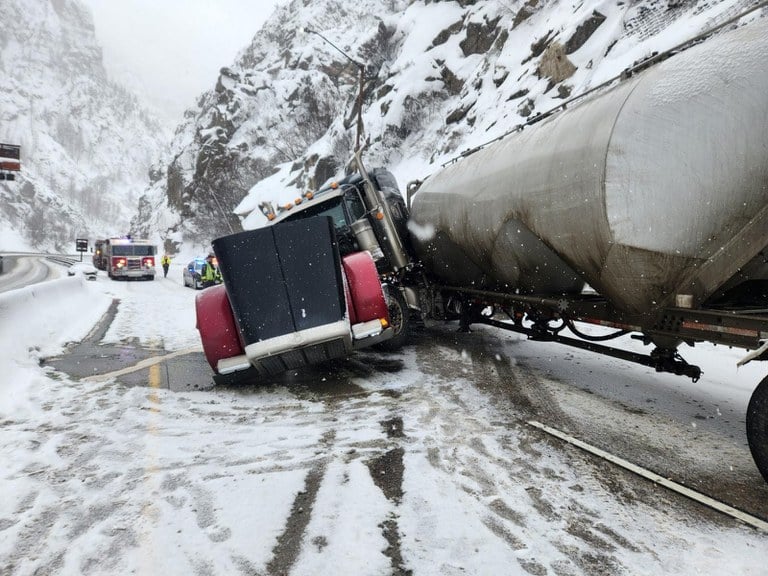 An unfortunate pattern of reckless and unsafe behaviors, primarily speeding, requires the state to consider a full range of solutions to address driver behavior. Unsafe speeds can lead to a number of additional driving errors including the inability to maintain a safe lane position and it reduces the amount of time both the speeding driver and those around them have to brake or move out of the way to avoid a collision.
Colorado's mountain roads are vulnerable to extreme weather and conditions like flooding, mudslides, and rockslides. The twists and curves of I-70 along the floor of Glenwood Canyon make that road even more challenging during weather events, and the limited space along the road's bridges and viaducts can delay crash responses and clean-ups. The impacts of these incidents can be as impactful to commuters and other freight haulers as the unavoidable acts of Mother Nature. Approximately $1 million is lost for every hour that I-70 is closed on the mountain corridor.
CDOT and CSP implemented additional measures this week to reduce the number of closures caused by crashes. Those measures included lowering speed limits through the Canyon; metering traffic by physically slowing traffic down with snow plows; and increasing speed enforcement. Notably, all of these measures were in place when the most recent incidents occurred — including as many as five additional law enforcement checkpoints. On Wednesday and Thursday, for example, the speed limit was reduced to 35 MPH via CDOT's variable speed limit signs, CSP placed additional enforcement points on the Canyon, and CDOT used snow plows driving in tandem to meter traffic at the posted speed limit.
"We all know that Glenwood Canyon is a fragile and complex environment prone to extreme weather and slick conditions in the winter," said CDOT Director Shoshana Lew. "Hard-working highway maintainers, state and local law enforcement officers, and other emergency responders from across the state have dedicated countless hours in recent years managing fires, mudslides, snowstorms and other events in this area. The whole team is working creatively to employ even more strategies and resources like slower speeds, metering traffic, and added enforcement in conjunction with major long-term improvements to resiliency and accelerating alternative routes and we will continue to evaluate all options available. But we need motor vehicle operators to follow traffic safety laws and recognize that their decisions — especially when it comes to large trucks — have far-reaching consequences for the entire region."
CDOT and CSP will be meeting with Elected Officials today, Feb. 17, and the Colorado Motor Carriers Association in the coming weeks to create a viable plan to mitigate this growing issue. Agencies are evaluating a range of options for limiting truck access to the Canyon in certain weather conditions, especially when Wyoming has closed I-80. This includes determining traffic volumes and parking needs for pullovers, and the feasibility of allowing trucks to go through in storms only when escorted by a state vehicle in a convoy. The state is also exploring possible restrictions on trucks using the left lane on difficult segments of I-70, a measure that would require legislation.
CDOT is working on major improvements to secondary routes like CO 13 — the primary access to I-80 on the Western Slope — and safety improvements to US 40 and US 285 are included in the Ten Year Plan, though these routes will require ongoing focus for multiple reasons as the population grows. CDOT has also prioritized design work for improving Cottonwood Pass, and is working closely with the counties on developing a list of near-term fixes to geometry and safety, as well as plans to pave contiguous sections over time. CDOT plans to apply for major federal grants this year to get construction started as soon as design allows.
For all of these efforts by CDOT and CSP to work for the traveling public and local communities, motorists must use common sense and be accountable for the consequences of their behavior, which includes major impacts to the economy and the livelihood of those living in the area.