Volunteers get high to help CDOT and law enforcement improve traffic safety
April 19, 2023 - Central Colorado/Denver - Demonstration educates cannabis industry on signs of impairment
Haga clic aquí para ver este comunicado de prensa Voluntarios consumen productos con cannabis para ayudar a CDOT y a oficiales de la ley a mejorar la seguridad en el tráfico en español.
Denver - On Wednesday, April 19, 2023, the Colorado Department of Transportation gathered volunteers in a local hotel conference room and offered them cannabis edibles — all in the name of science and safety. Audience on-lookers included marijuana industry professionals, law enforcement and state government leaders.
The event was part of a training by CDOT to educate employees of cannabis businesses on the observable signs and symptoms of impairment, specifically, how cannabis impacts a person's ability to drive. The workshop included information on how law enforcement detects impairment and a class on the visible indicators of impairment from cannabis.
Volunteers dosed themselves with cannabis to demonstrate its effects, especially on driving. During the demonstration, volunteers ingested fast-acting THC edibles to varying levels of impairment. The volunteers then underwent a mock roadside sobriety assessment by law enforcement to demonstrate to industry members and others in attendance how officers detect impairment. All attendees were given the opportunity to evaluate the volunteers to highlight their own observations of impairment. The volunteers were given Lyft ride credit to get to and home from the event safely.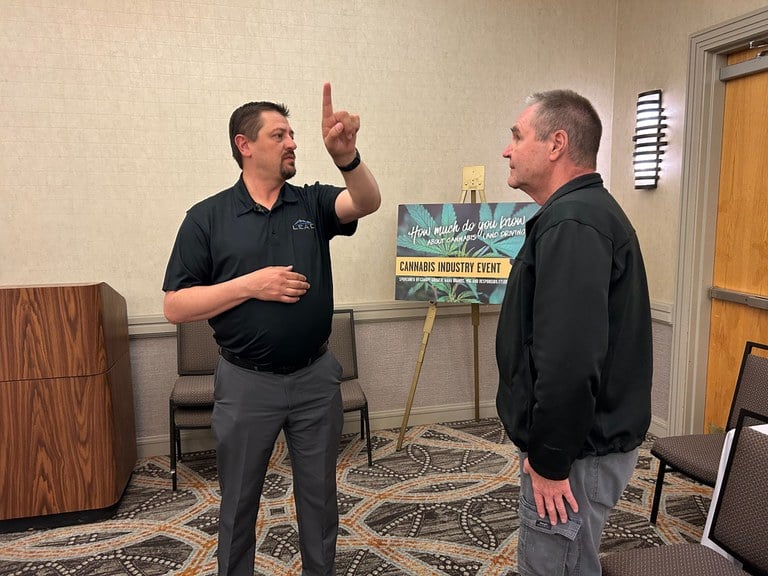 "CDOT deeply values our partners in the cannabis industry and their willingness to work alongside us to help keep Coloradans safe," said Darrell Lingk, director of the Highway Safety Office at CDOT. "Research shows that the cannabis industry has the most positive and significant influence on cannabis consumers, so we felt it was important for them to see firsthand the indications of impairment and how those symptoms can create a dangerous situation on our roadways."
The training workshop comes as drug-impaired driving escalates across Colorado. In 2022, more people were killed on Colorado roads than at any time in recent history with 760 lives lost. About one-third of those deaths involved an impaired driver. While alcohol is usually the most common cause of impairment, drivers involved in fatal crashes who tested above the legal limit for active THC increased from 50 in 2020 to 79 in 2021. Since 2019, deaths involving an impaired driver from all substances have increased by almost 60%.
The workshop was attended by cannabis industry employees and representatives from the Marijuana Industry Group (MIG), Canopy Growth, Responsibility.org, and WanaBrands.
"There are a lot of misconceptions out there when it comes to cannabis-impaired driving," said Glenn Davis of CDOT's Highway Safety Office. "Our goal is to give folks in the industry the knowledge and tools to keep their patrons safe by steering them away from risky behaviors like driving high."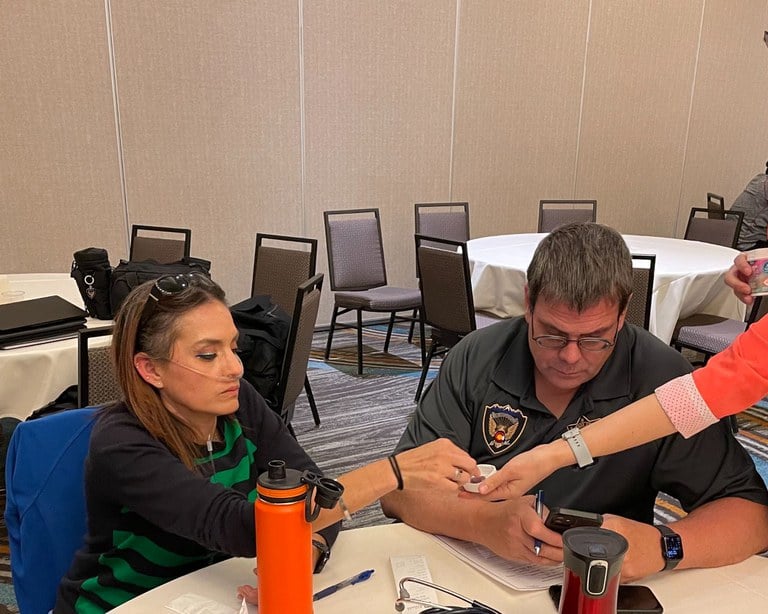 CDOT's cannabis industry training workshop was sponsored by Responsibility.org, Canopy Growth, the Marijuana Industry Group (MIG) and Wana Brands. Wana also provided the THC edibles for volunteers.
On April 12, CDOT also hosted a "Green Lab" cannabis-impairment training for law enforcement. This was the first-ever CDOT ARIDE training with participants who consumed cannabis on hand for law enforcement to evaluate. Seventeen officers participated from agencies including Boulder County Sheriff Office, Brighton Police Department, Colorado State Patrol, Craig Police Denver, Denver Police Department, Douglas County Sheriff's Office, Gilpin County Sheriff's Office, Longmont Police Department, Mesa County Sheriff's Office, and Parker Police Department.
To learn more about cannabis-impaired driving in Colorado, visit the CDOT Drugged Driving webpage, and find the latest cannabis and driving data and cannabis and driving educational resources. CDOT aims to change the norms around driving high, reducing the number of cannabis-impaired crashes and deaths on Colorado roads through research-based awareness and education.