US Highway 6 & 20 Road intersection improvement project begins
April 17, 2023 - Northwestern Colorado - After construction, the intersection will include signals and dedicated turn lanes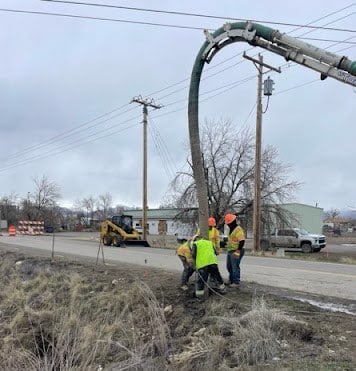 Mesa County — The Colorado Department of Transportation and contractor United Companies have begun widening and the partial reconstruction of the intersection of US Highway 6 and 20 Road near Fruita. The existing intersection is offset, and the new intersection will realign the northbound approach of 20 Rd., also known as Interstate 70 Frontage Road, to US 6 to align with the southbound approach.
After construction, the intersection will be signalized with dedicated turn lanes. Other elements of the project include the reconstruction of a portion of River Road at the tie-in to the intersection. Currently the alignment and high speeds create difficulties for left-turning vehicles.
US 6 serves as a primary connection between local cities and I-70. 20 Road serves local traffic to residential and agricultural areas, as well as providing a bridge over I-70. There is a high volume of vehicles traveling through this intersection due to the bridge crossing that provides access to the south side of I-70. The Union Pacific railroad crosses 20 Road just south of the intersection. This intersection was identified in a 2011 CDOT intersection priority study as needing several safety improvements.
Once complete, the project will improve the drivability for motorists on this busy thoroughfare in Mesa County. US 6 is often utilized as an alternate route for I-70 traffic in the event of a crash or incident on the interstate.
The project is part of CDOT's 10-year plan. It is one of several CDOT roadway improvement projects along the US 6 corridor in Mesa County during the 2022-2023 construction season.
Traffic Impacts
Motorists will encounter road work at the intersection of US Highway 6 and 20 Road near Fruita. Traffic impacts will include:
Work will be performed Monday-Friday, dawn to dusk
Traffic impacts will include closing 20 Road for an extended period of time while the work is completed

The recommended detour in place is 19 Road (north) to J Road (east) to 22 Road (south).

Motorists can expect single lane and shoulder closures in both the westbound and eastbound direction through the project work zone which stretches about ⅛ of a mile at the intersection of 20 Road
12' width restriction for commercial vehicles
Project Information
For additional information about this project:
Know Before You Go
Travelers are urged to "know before you go." Gather information about weather forecasts and anticipated travel impacts and current road conditions prior to hitting the road. CDOT resources include:
Remember: Slow For The Cone Zone
The following tips are to help you stay safe while traveling through maintenance and construction work zones.
Do not speed in work zones. Obey the posted speed limits.
Stay Alert! Expect the unexpected.
Watch for workers. Drive with caution.
Don't change lanes unnecessarily.
Avoid using mobile devices such as phones while driving in work zones.
Turn on headlights so that workers and other drivers can see you.
Be especially alert at night while driving in work zones.
Expect delays, especially during peak travel times.
Allow ample space between you and the car in front of you.
Anticipate lane shifts and merge when directed to do so.
Be patient!
Download the COtrip App!
The new FREE COtrip Planner mobile app was designed to meet the growing trend of information on mobile and tablet devices for the traveling public. The COtrip Planner app provides statewide, real-time traffic information, and works on mobile devices that operate on the iOS and Android platforms. Visit the Google Play Store (Android devices) or the Apple Store (iOS devices) to download!