1,333 drivers cited during April Click It or Ticket enforcement
April 28, 2023 - Statewide - CDOT urges drivers and passengers to buckle up as warmer weather approaches
Haga clic aquí para ver este comunicado de prensa 1,333 conductores multados en la campaña de abril de Abrochado o Multado en español.
Statewide - Spring is in full swing, and as the weather gets nicer, Colorado residents and visitors will be out and about. However, during the recent April Click It or Ticket enforcement period, 1,333 drivers were reminded that it's the law to fasten your seat belt, no matter the time of year.
From April 3-19, the Colorado Department of Transportation, Colorado State Patrol (CSP) and 59 participating law enforcement agencies partnered for the statewide April Click It or Ticket enforcement period. A total of 1,333 drivers were cited during the year's first seat belt enforcement period, including 126 drivers who had an improperly restrained child in their vehicle under the age of 15.
The law enforcement agencies that issued the most citations were the Loveland Police Department (96 citations), Colorado Springs Police Department (82 citations), and Larimer County Sheriff's Office (65 citations). In addition, Colorado State Patrol cited 723 drivers.
"The recent April Wave enforcement period reminded drivers that there is a hefty consequence for not using your seat belt," said Col Matthew C. Packard, chief of the Colorado State Patrol. "These consequences expand beyond paying a ticket. If you don't wear your seat belt and get in a crash, the price you pay could be your life."
CDOT recently completed a second fence-cup installation in Weld County, where seat belt usage rates are among the lowest in the state. The "Buckle Up Weld County" message on the chain-link fence at University High School stresses the importance of fastening your seat belt to both drivers and passengers.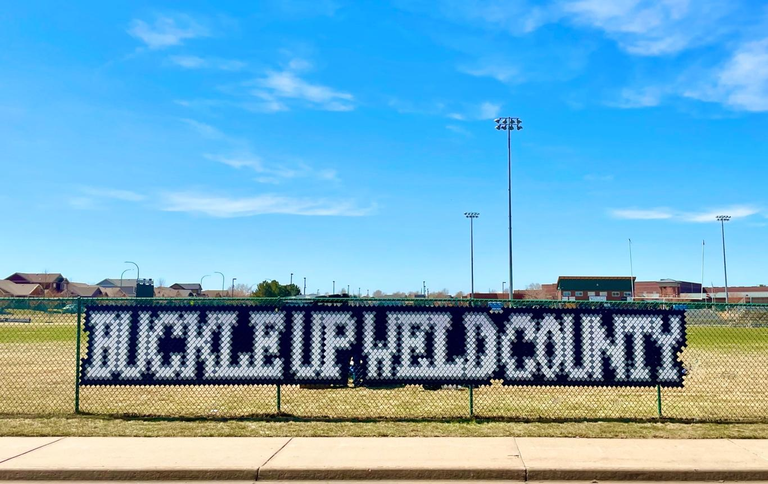 According to the 2022 Colorado Statewide Seat Belt survey, Weld County has the fourth-lowest seat belt usage in the state, with an average of 80.1%. That is 7% below the statewide usage rate of 87%. Fremont (78.1%), Chaffee (69.2%) and Pueblo (67.6%) counties reported the lowest average seat belt usage rates in the state in 2022.
CDOT's fence messages aim to remind drivers and passengers to buckle up for every ride, every time. Throughout all Click It or Ticket enforcement periods in 2022, 2,755 Colorado drivers were issued citations for unrestrained vehicle occupants. According to the recent Colorado Statewide Seat Belt survey, Colorado's seat belt use rate is 87%, below the national average of 91.6%.
"It shouldn't be up for debate whether or not to use your seat belt," said CDOT's Office of Transportation Safety Director Darrell Lingk. "Buckling up is a simple way to lower your chance of injury or death in the event of a vehicular crash. Take two seconds to click it, it could save your life."
Proper seat belt usage is crucial when operating or riding in a vehicle. In the event of a crash, properly wearing a seat belt can reduce your chances of injury or death by 50%. The Click It or Ticket campaign encourages people to buckle up to avoid a citation and, more importantly, get home safely to their loved ones.
The next Click It or Ticket seat belt enforcement period begins May 15 and will run through June 4. CDOT will continue its partnership with CSP and law enforcement agencies statewide to cite drivers who are not buckled up. Fines for not using your seat belt in Colorado start at $65, and parents or caregivers caught with an improperly restrained child can receive a minimum fine of $82.
Vehicle crashes are a leading cause of death for children ages 1 to 13. Last year, out of over 5,000 car seat checks performed in Colorado, there was a 66% misuse rate. Parents and caregivers can learn more about Colorado child passenger safety laws, recommendations and recalls at CarSeatsColorado.com.
Colorado's seat belt laws
Adults — Colorado has a secondary enforcement law for adult drivers and front-seat passengers. Drivers can be ticketed for violating the seat belt law if they are stopped for another traffic violation.
Teens — Colorado's Graduated Drivers Licensing (GDL) law requires all drivers under 18 and their passengers, regardless of their age, to wear seat belts. This is a primary enforcement, meaning teens can be pulled over simply for not wearing a seat belt or having passengers without seat belts.
Children — Colorado's Child Passenger Safety law is a primary enforcement, meaning the driver can be stopped and ticketed if an officer sees an unrestrained or improperly restrained child under age 16 in the vehicle.
About Click It or Ticket
Click It or Ticket is a nationwide campaign from NHTSA. Since Click It or Ticket was introduced in Colorado in 2002, statewide seat belt use has increased from 72% to 86%. For more information about seat belt safety and enforcement citation numbers, visit SeatBeltsColorado.com.