Paving operations to begin on three CO 141 bridges and chip sealing set for CO 97 between Naturita and Nucla
September 20, 2022 - Southwestern Colorado - For all project locations, vehicles will encounter single-lane, alternating traffic intermittently in either direction
Montrose County — The Colorado Department of Transportation continues a bridge rehabilitation project on three structures along CO 141, between Naturita and Gateway. Area maintenance patrols will also perform chip sealing operations along the five-mile stretch of CO 97, from Naturita to Nucla.
CO 141 Bridge Work
Beginning the week of Sept. 26 crews will apply waterproofing membranes and perform paving operations on the bridge structures. The three bridges are located on CO 141 at mile points 59, 74, and 88.
The project includes restoring bridge deck integrity, waterproofing, resurfacing, and pavement markings. The rehabilitation will enhance safety and mobility for the traveling public by restoring the integrity of the bridges. The project is part of CDOT's Bridge Preventative Maintenance Program to extend the service life of bridges and other major structures that the state maintains. KSK, LLC, of Grand Junction, is the contractor for this project. The bridge project began in May and is slated for completion by the end of October.
CO 97 Chip Seal Operations
Highway resurfacing will also happen on CO 97, between Naturita and Nucla (mile points 0-5). The four-day chip seal operations on CO 97 will take place Monday - Thursday (Sept. 26-29). Motorists are urged to drive slowly through the chip seal work zone to avoid damage to vehicles.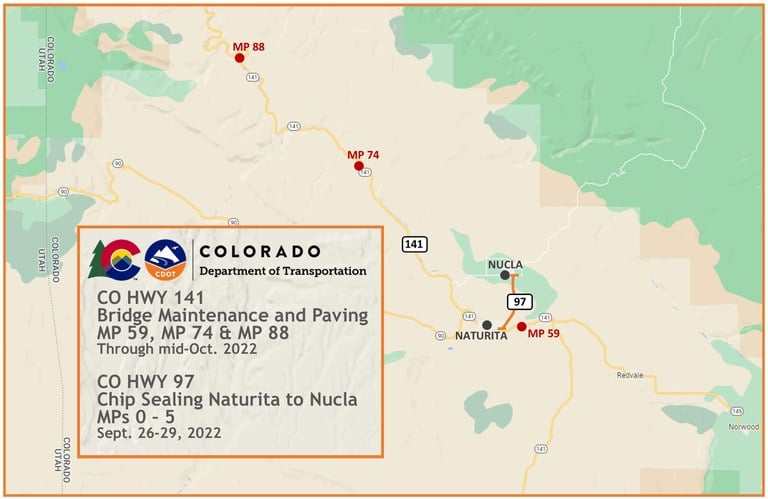 Travel Impacts
For all project locations, vehicles will encounter single-lane, alternating traffic intermittently in either direction. Motorists will be guided by flagging personnel or by portable light signals. Lane closures may have up to 15-minute delays. The speed limit will be reduced to 40 mph through the work zones.
Project Information
For additional information about this project:
Know Before You Go
Travelers are urged to "know before you go." Gather information about weather forecasts and anticipated travel impacts and current road conditions prior to hitting the road. CDOT resources include:
Remember: Slow For The Cone Zone
The following tips are to help you stay safe while traveling through maintenance and construction work zones.
Do not speed in work zones. Obey the posted speed limits.
Stay Alert! Expect the unexpected.
Watch for workers. Drive with caution.
Don't change lanes unnecessarily.
Avoid using mobile devices such as phones while driving in work zones.
Turn on headlights so that workers and other drivers can see you.
Be especially alert at night while driving in work zones.
Expect delays, especially during peak travel times.
Allow ample space between you and the car in front of you.
Anticipate lane shifts and merge when directed to do so.
Be patient!
Download the COtrip App!
The new FREE COtrip Planner mobile app was designed to meet the growing trend of information on mobile and tablet devices for the traveling public. The COtrip Planner app provides statewide, real-time traffic information, and works on mobile devices that operate on the iOS and Android platforms. Visit the Google Play Store (Android devices) or the Apple Store (iOS devices) to download!