Resurfacing improvement work to begin on 41 miles of CO 149 in Mineral, Hinsdale and Gunnison counties
March 16, 2022 - Southwestern Colorado - Construction to begin March 28
Mineral, Hinsdale & Gunnison Counties — The Colorado Department of Transportation will begin a surface treatment and safety improvement project on Colorado Highway 149 on March 28. The work will take place north of Lake City and north of Creede with an anticipated completion date of late October.
The highway will be resurfaced in two separate locations:
near Lake City - from about 10 miles north of Lake City, continuing south through the community, and ending just south of town. This 22 mile stretch lies within Hinsdale and Gunnison counties, between Mile Points 70 and 92.
near Creede - from the west side of Creede and continuing north to the Mineral-Hinsdale county line for 19 miles, between MPs 23 and 42
CDOT resurfaced the segment between these two work zones over Slumgullion pass, MP 56 - 70, in 2016.
Infrastructure and Safety Improvements
Included in the project are the following safety and infrastructure upgrades:
Resurfacing and restriping of the roadway
Deep patch repair of the existing asphalt in some areas, if needed
Installation of two new *wheelchair-accessible ramps in Creede, on the northeast and northwest corners of 7th and
South Main Street (*Compliant with the Americans with Disabilities Act)
Installation of new bridge rail at MP 86.7 (13 miles north of Lake City)
Removal and replacement of existing guardrail with new guardrail
"The project will improve and prolong the life of the road surface, as well as increase motorists' safety," explained CDOT Southwest Regional Transportation Director, Julie Constan. "The asphalt recycling process is designed to correct surface cracks and ruts, while any necessary deep-patch repairs will address more severe roadway damage. The new ADA ramps in Creede will improve safety and accessibility for all pedestrians, including those with special needs."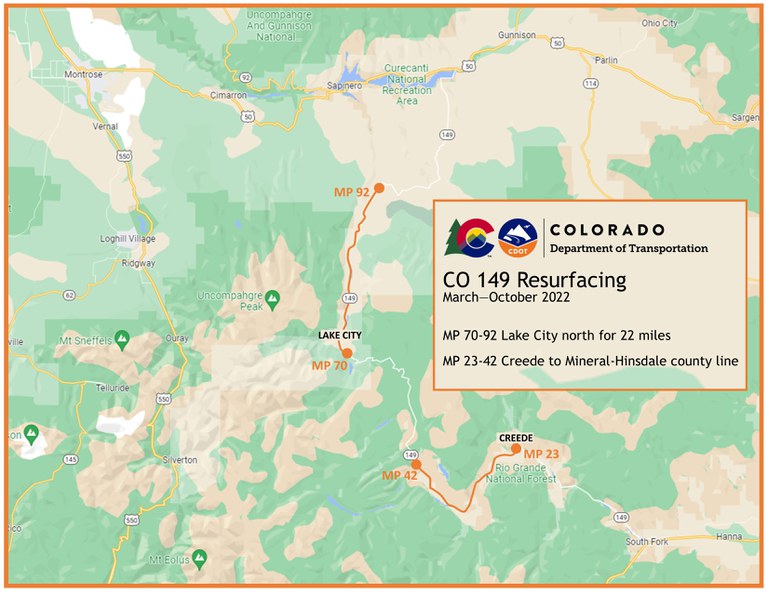 Work Schedule
The project is expected to begin with guardrail replacement starting in late March and will likely last through mid-May. In early May, weather permitting, pavement recycling and resurfacing will begin at the north end of the project, MP 92, and progress south towards Lake City. When the asphalt recycling is completed in this northern segment, crews will move the recycling operation south to Creede (MP 23) and progress north. The project is expected to last until the end October.
Travel Impacts
Daytime work hours will initially be from 7 a.m. to 7 p.m., Monday through Friday, and will likely change with available sunlight. Saturday work is possible. Motorists will encounter single-lane, alternating traffic guided by flagging personnel. It is possible that up to four separate work zones will be active, two work zones within each 20-mile stretch north of Creede and north of Lake City. These lane closures may cause up to a 15-minute delay at each site. The speed limit will be reduced to 40 mph through the work zones. For weekly updates on specific traveler impacts, please see www.cotrip.org and choose the "construction" layer on the interactive map. Travelers may also sign up for project alerts. (See project contact information below.)
Project Contact Information
The public is encouraged to contact the project team to request weekly email project updates. For additional information about this project, contact the project team.
Nearby Projects
Commercial truck drivers and other travelers should be aware of potential major closures due to the US 50 Little Blue Creek Canyon project, located west of Gunnison. Typical travel time from Lake City to the CO 149-US 50 intersection is approximately one hour, but motorists should add additional time due to the CO 149 resurfacing work. Travelers are urged to plan ahead to reach closure points in time of desired travel through the canyon. Visit the project website for more information about the US 50 Little Blue Creek Canyon Project: us50info.com; email [email protected]; and phone: 970-340-4333.