Culvert improvements start June 20 on CO 91 in Lake County
June 16, 2022 - Northwestern Colorado - Motorists can expect delays
Lake County – The Colorado Department of Transportation and American West Construction, LLC will begin work on Monday, June 20 on Colorado Highway 91 to rehabilitate culverts. The culvert at Mile Point 10.52 will be cleaned out and lined and a headwall will also be installed at the outlet structure. The existing pipe at Mile Point 10.70 will be plugged and a new pipe will be installed under CO 91.
The project is located north of Leadville and near the Climax mine. Culvert improvements and replacement are necessary to protect roadways from heavy rainfall and maintain safe driving conditions if there is flooding. During normal business hours, lane and shoulder closures will be in place with alternating traffic. Delays are anticipated to be no more than 15 minutes. Work is scheduled to begin June 20 and be completed by mid-September 2022.
"This intersection improvement project will ensure motorists can move safely and reliably travel through this intersection for years to come," said CDOT Regional Transportation Director Julie Constan. "The addition of dedicated turn lanes will allow vehicles to slow down and turn without affecting the flow of through traffic. This will greatly reduce the risk of rear-end crashes."
Traffic Impacts
Beginning Monday, June 20 motorists may encounter shoulder closures or single lane closures beginning at Mile Point 10 and ending at Mile Point 11.
Shoulder closures will be during work periods.
Lane and shoulder closures will be during normal business hours with alternating traffic. Delays are anticipated to be no more than 15 minutes.
12' width restrictions through the working area.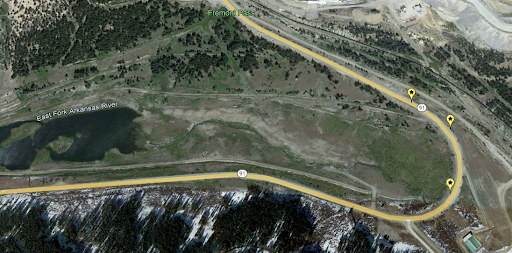 Project Information
For additional information about this project:
Know Before You Go
Travelers are urged to "know before you go." Gather information about weather forecasts and anticipated travel impacts and current road conditions prior to hitting the road. CDOT resources include:
Remember: Slow For The Cone Zone
The following tips are to help you stay safe while traveling through maintenance and construction work zones.
Do not speed in work zones. Obey the posted speed limits.
Stay Alert! Expect the unexpected.
Watch for workers. Drive with caution.
Don't change lanes unnecessarily.
Avoid using mobile devices such as phones while driving in work zones.
Turn on headlights so that workers and other drivers can see you.
Be especially alert at night while driving in work zones.
Expect delays, especially during peak travel times.
Allow ample space between you and the car in front of you.
Anticipate lane shifts and merge when directed to do so.
Be patient!
Download the COtrip App!
The new FREE COtrip Planner mobile app was designed to meet the growing trend of information on mobile and tablet devices for the traveling public. The COtrip Planner app provides statewide, real-time traffic information, and works on mobile devices that operate on the iOS and Android platforms. Visit the Google Play Store (Android devices) or the Apple Store (iOS devices) to download!