Agencies celebrate start of CO 13 project in Garfield County
June 7, 2022 - Northwestern Colorado - Event highlighted the CO 13 Garfield County Rio Blanco Hill widening project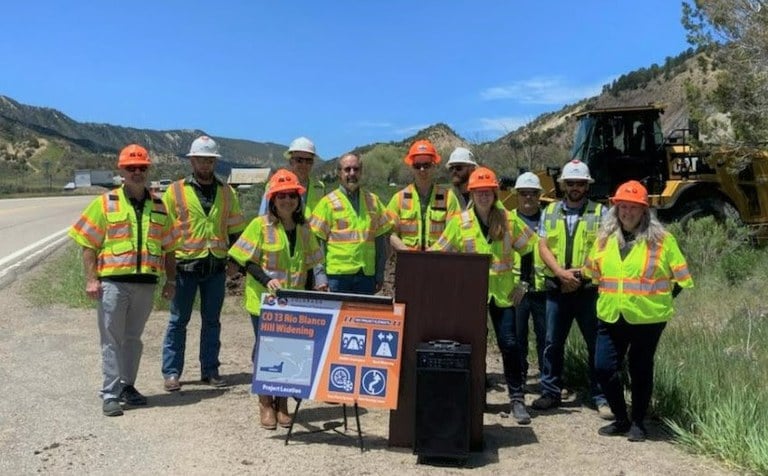 Garfield County - Representatives from the Colorado Department of Transportation, Federal Highway Administration and contractor IHC Scott gathered on Thursday, June 2 to celebrate the beginning of the Colorado Highway 13 Rio Blanco Hill widening project. Agency representatives spoke of benefits of the multiyear project and the teamwork necessary for it to be completed. The project is part of CDOT's statewide 10-year plan to improve highways across Colorado. Photos and video of the event can be found here.
"This project will significantly improve safety on this key corridor connecting the Western Slope with Interstate 70 in Colorado and Interstate 80 in Wyoming," said CDOT Executive Director Shoshana Lew. "It is a connection for the greater freight and roadway network Colorado Highway 13, but this roadway also serves as a critical link to goods and services for local municipalities."
Currently CO 13 has a high incidence of single vehicle run-off crashes, head-on crashes and wildlife collisions. "These high crash rates are directly related to the substandard roadway geometry, lack of shoulders and adequate recoverable slopes, and lack of wildlife fencing," said John Cater, Colorado Division Administrator for Federal Highway Administration.
With the project underway, crews will reconstruct the roadway to build wider lanes, pull-outs and wildlife underpass. Widening the roadway will improve traffic flow and the resurfacing will create smoother pavement and improved driving conditions. To help with the flow of traffic, new passing lanes will be created from 26' to 40', as well as new safety pull-outs will be beneficial for slower traffic. A wildlife underpass will help reduce wildlife-vehicle collisions and a new chain up location will provide a safer pull off for travelers to put on and take off chains in inclement weather.
The project will be completed in two phases.
"During the first phase of the project, the team will work on culverts, drainage, embankment and widening of slopes," said Resident Engineer Andrew Knapp, "as well as the start of the wildlife underpass."
The project anticipated winter shutdown will be November 1, 2022 – April 1, 2023, weather depending.
The location of the project is on CO 13, about 11 miles north of Rifle. Work will take place from approximately Mile Points 13 to 16. Construction on the project started May 9 and is anticipated to be complete by November 2023.
Motorists should plan for reduced speeds and intermittent single-lane, alternating traffic. Both directions of traffic will be affected. There may be up to 15-minute delays, and motorists must follow directions from flaggers and pilot cars. Saturday work may occur if necessary.
The project team will stay in close contact with CDOT maintenance crews in the event of Interstate 70 closures in Glenwood Canyon. This coordination will help the project team prepare for detour traffic during I-70 closures.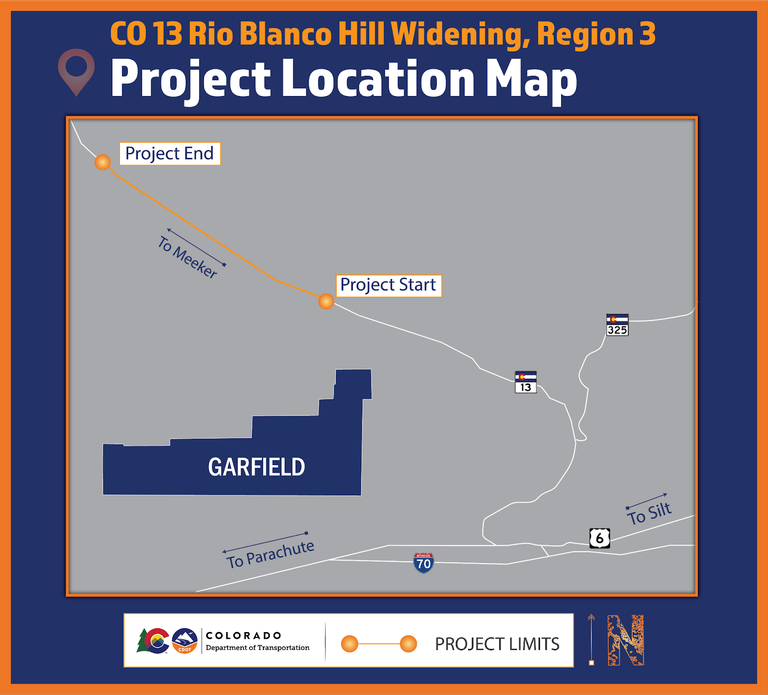 Project Information
For additional information about this project:
Travelers are urged to "know before you go." Gather information about weather forecasts and anticipated travel impacts and current road conditions prior to hitting the road. CDOT resources include:
Remember: Slow For The Cone Zone
The following tips are to help you stay safe while traveling through maintenance and construction work zones.
Do not speed in work zones. Obey the posted speed limits.
Stay Alert! Expect the unexpected.
Watch for workers. Drive with caution.
Don't change lanes unnecessarily.
Avoid using mobile devices such as phones while driving in work zones.
Turn on headlights so that workers and other drivers can see you.
Be especially alert at night while driving in work zones.
Expect delays, especially during peak travel times.
Allow ample space between you and the car in front of you.
Anticipate lane shifts and merge when directed to do so.
Be patient!