CDOT will begin a repaving project on I-70 from Wadsworth to Pecos after the July 4th holiday weekend
June 30, 2022 - Central/Eastern Colorado
Denver & Jefferson Counties - Following the July 4th holiday weekend, the Colorado Department of Transportation and contractor partner Brannan Sand and Gravel will begin a repaving project on both directions Interstate 70 between Wadsworth Boulevard and Pecos Street (Mile Point 269.0 to MP 273.5). Crews will use a mill and overlay process to repave this four and a half mile stretch of highway, including repaving the portions of the on and off ramps in this stretch that are asphalt only. Please note, the I-70 bridges over Harlan Street will not be repaved as these bridges will be replaced during a project starting later in the summer.
Paving operations will occur during nighttime hours throughout the duration of the project, which is expected to last through the end of October 2022. Crews will primarily be working west to east from Wadsworth Boulevard toward Pecos Street. Both eastbound and westbound lanes will be impacted during working hours. When the repaving portion is completed, striping operations will follow.
This project will upgrade and prolong the life of the road surface, offering a higher quality driving experience and improved safety for travelers along this highly traveled stretch of I-70.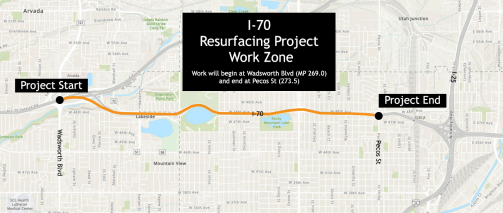 Traffic Impacts
Work will take place during overnight hours from 7 p.m. to 6 a.m., Sunday night through Friday morning.
Single lane closures will begin on I-70 starting at 7 p.m.
Double lane closures will begin later in the evening, between 9 and 11 p.m.
Drivers should also expect:
Traffic shifts
Lane width reductions which may slow traffic, but are not anticipated to cause major delays
Grooved pavement during milling work and until paving operations take place
Occasional overnight ramp closures when on and off ramps are being repaved
Motorists are encouraged to allow for extra travel time when driving through the project work zone. Due to the milling and overlay process taking place at night, please use extreme caution driving on grooved pavement, especially motorcyclists. Please do not speed, and please watch for workers present throughout the work zone.
Project Information
For additional information about this project:
Other Projects Nearby:
Drivers, cyclists, and pedestrians should be aware of other projects and potential travel impacts nearby on I-70:
I-70 Over 32nd Avenue Bridge Replacement project which began in March of 2022 I-70
Noise Wall Replacement between Tennyson and Lowell which has been ongoing since early 2022 and is anticipated to be complete later in the summer
I-70 Sign Structure Replacements between Kipling and I-25
I-70 Over Harlan Street Bridge Replacement project which has not started construction yet, but is anticipated to later begin later in the summer
Know Before You Go
Travelers are urged to "know before you go." Gather information about weather forecasts and anticipated travel impacts and current road conditions prior to hitting the road. CDOT resources include:
Remember: Slow For The Cone Zone
The following tips are to help you stay safe while traveling through maintenance and construction work zones.
Do not speed in work zones. Obey the posted speed limits.
Stay Alert! Expect the unexpected.
Watch for workers. Drive with caution.
Don't change lanes unnecessarily.
Avoid using mobile devices such as phones while driving in work zones.
Turn on headlights so that workers and other drivers can see you.
Be especially alert at night while driving in work zones.
Expect delays, especially during peak travel times.
Allow ample space between you and the car in front of you.
Anticipate lane shifts and merge when directed to do so.
Be patient!
Download the COtrip App!
The new FREE COtrip Planner mobile app was designed to meet the growing trend of information on mobile and tablet devices for the traveling public. The COtrip Planner app provides statewide, real-time traffic information, and works on mobile devices that operate on the iOS and Android platforms. Visit the Google Play Store (Android devices) or the Apple Store (iOS devices) to download!