CDOT to begin resurfacing CO 1 in Larimer County July 18
July 11, 2022 - Northeastern Colorado - Resurfacing project will happen over a three-month period on CO 1 from First Street in Wellington to US 287 and continue south toward Fort Collins
Larimer County — The Colorado Department of Transportation will begin resurfacing work on July 18 along Colorado Highway 1, between Wellington and Fort Collins.
The resurfacing project will happen over a three-month period on CO 1 from First St. in Wellington to US 287. Work will begin in Wellington and continue south toward Fort Collins. There will be a 2.3-mile "No Work" zone from mile marker 0.9 to mile marker 3.2 which will not be resurfaced. Coulson Excavating, of Loveland, CO, is the prime contractor for this project. Work is expected to be complete by November 2022.
Work will primarily consist of resurfacing this 9.35-mile stretch of CO 1, which will improve and prolong the life of the road surface. A smooth road or highway has many important benefits, including safety and improved quality for driving experience.
Travel Impacts
Daytime work hours range from 7 a.m. to 7 p.m. Monday through Friday. Motorists should expect single lane closures during working hours with intermittent traffic stops and alternating single-lane traffic guided by flaggers. These traffic stops may have up to 15-minute delays. There will be an anticipated 11 foot lane restriction during the working hours of 7 a.m. to 7 p.m. Monday through Friday. The speed limit will be reduced to 40 mph through the work zone.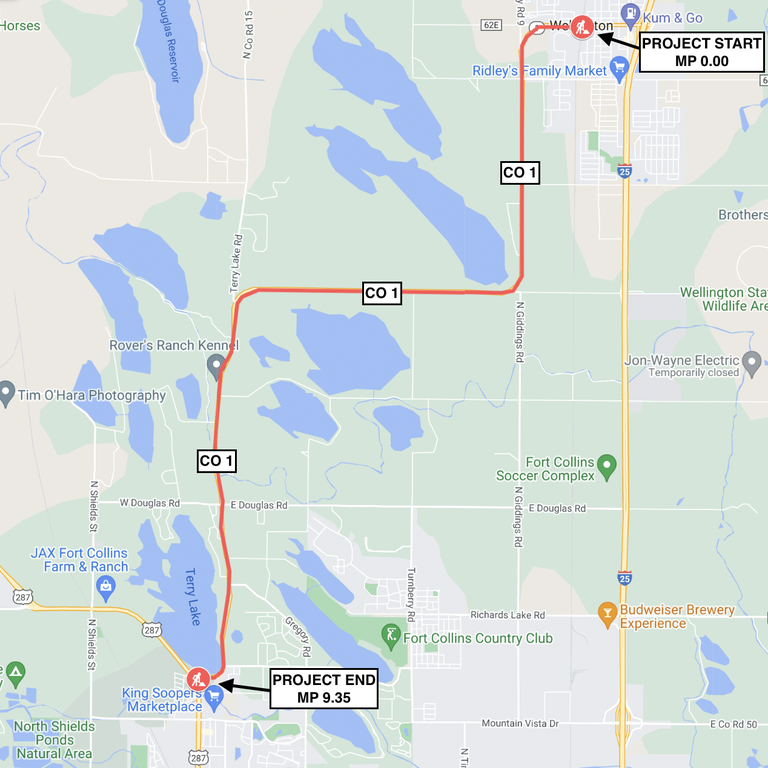 Project Contact Information
For additional information about this project, contact the project team.