Sturgis Rally DUI enforcement begins today 82 Colorado motorcycle fatalities this year
August 4, 2022 - Statewide - The enforcement aims to keep motorcyclists safe by removing impaired drivers and riders from the road
Consulte la versión en español.
Statewide — As motorcyclists across the country enjoy the ride to the annual Sturgis Motorcycle Rally, the Colorado Department of Transportation, Colorado State Patrol (CSP) and local law enforcement urge Colorado motorcyclists and drivers to travel safe and sober during the Sturgis Rally high-visibility enforcement period from Aug. 4–15. The enforcement aims to keep motorcyclists safe by removing impaired drivers and riders from the road.
To date in 2022, there have been 82 motorcycle fatalities on Colorado roadways, compared to 78 fatalities this time last year, which is a 5% increase. Also this year there have been 140 deaths involving an impaired driver in Colorado, up 3% from this time last year.
The rally, which returns for its 82nd year, invites thousands of bike enthusiasts to ride to Sturgis, South Dakota. With music festivals, pub crawls, contests and more, attendees can expect a 10-day joyride — as long as they do so safely. The 2020 Sturgis DUI enforcement resulted in 392 arrests, posing a stark reminder to always be sober behind the wheel or on the bike.
"From 2019 to 2021, we investigated more than 1,750 crashes that resulted in injuries or deaths likely caused by impaired drivers," Col. Matthew C, Packard, chief of the Colorado State Patrol. "These numbers increase during warmer months, with July seeing the most impaired crashes. We may be past the July spike, but the choice to drive under the influence occurs 365 days a year. It's up to you to follow the law and drive sober."
The latest Summer Strikeout DUI enforcement period resulted in 127 arrests across 71 participating agencies. The agencies with the highest number of arrests throughout the enforcement period were Colorado Springs Police Department (24), Denver Police Department (15) and Lakewood Police Department (10).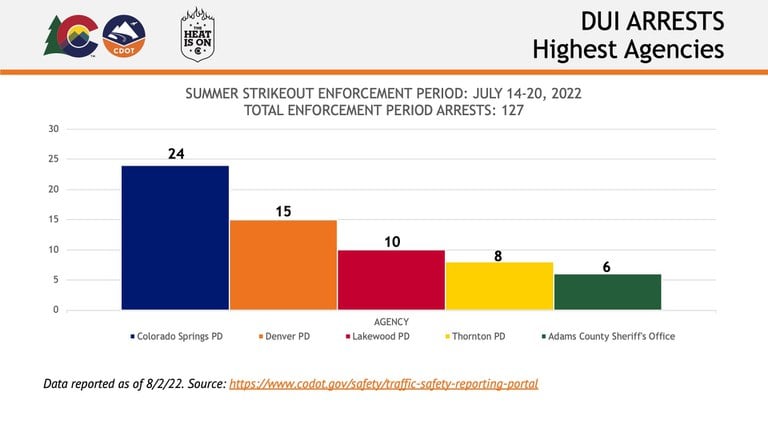 "With more motorcycles on the road, everyone has to take precautions and ensure they're riding and driving safely," said CDOT's Office of Transportation Safety Director Darrell Lingk. "We encourage riders to have fun, but to be smart. Motorcyclists are already vulnerable road users; don't compound your risk by consuming alcohol or cannabis."
During high visibility enforcement periods, motorists may see saturation patrols, along with sobriety checkpoints and additional law enforcement on duty. Local law enforcement agency plans can be found at https://www.codot.gov/safety/traffic-safety-reporting-portal.
Local law enforcement and agency plans can be found at codot.gov/safety/traffic-safety-reporting-portal. For yearly impaired-driving crash and fatality data in Colorado, visit codot.gov/safety/traffic-safety/crash-data-management/fatal-crash-data. For trends involving impaired driving court cases, drug toxicology results and other impaired driving data, visit the Colorado Driving Under the Influence dashboard at ors.colorado.gov/ors-dui.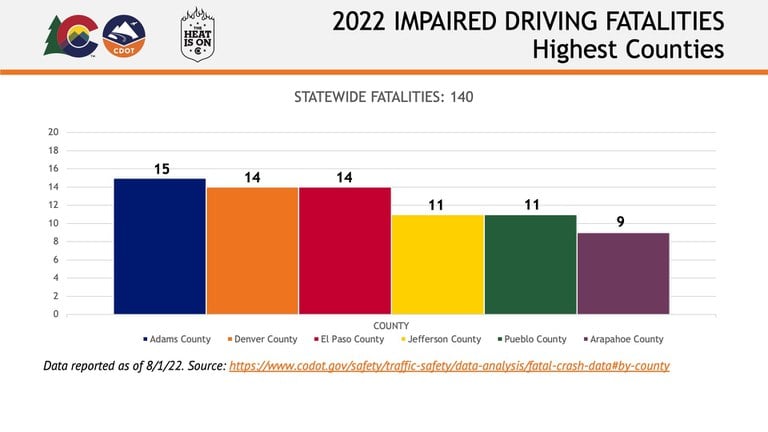 ABOUT THE HEAT IS ON
The CDOT Highway Safety Office provides funding to Colorado law enforcement for impaired driving enforcement, education and awareness campaigns. The Heat Is On campaign runs throughout the year, with 16 specific high-visibility impaired driving enforcement periods centered on national holidays and large public events. Enforcement periods can include sobriety checkpoints, saturation patrols and additional law enforcement on duty dedicated to impaired driving enforcement. Find more details about the campaign, including impaired driving enforcement plans, arrest totals and safety tips at HeatIsOnColorado.com. More information about DUI laws in Colorado can be found at NoDUIColorado.org. Learn more about CDOT's dedication to keeping Colorado roads safe, including impaired driving enforcement objectives, arrest data and safety information at codot.gov/safety.