CDOT to begin resurfacing seven miles of CO 14 west of Sterling in mid-April
April 15, 2022 - Northeastern Colorado
Logan County — Starting in mid-April, the Colorado Department of Transportation will begin a resurfacing and safety improvement project on a seven-mile section of Colorado Highway 14 just west of Sterling in northeastern Colorado.
Work includes full-depth reclamation of portions of the highway and adding up to six inches of new asphalt along the project corridor. Simon Contractors of Cheyenne, Wyo., has been selected as the prime contractor for the project.
This federally funded project is designed to restore the highway and bridge surface to optimal condition for structural integrity and longevity. Besides performing full-depth reclamation and repaving seven miles of highway, crews will remove and replace deteriorating portions of a concrete bridge deck and add new safety guardrail. Other work includes installing new signs, restriping the roadway and adding pavement delineators and rumble strips. Full-depth reclamation of asphalt pavement is a process that recycles and rejuvenates the existing asphalt surface, base, and even subgrade, providing an improved underlying foundation for the new asphalt pavement. Crews will mobilize equipment to a site near the work zone to perform the reclamation and testing during the project's duration.
The project is located on CO 14 Pawnee Pass to just west of Sterling, a rural two-lane highway in Logan County. The work zone extends for seven miles from Mile Point 227.15 to MP 234.15 (see map). Work is expected to last for approximately four months with an anticipated completion date of late August.
"Improvements in this area are critical for communities along this important rural section of CO 14," said CDOT Executive Director Shoshana Lew. "This is an excellent example of how CDOT works to make sure all parts of the state receive a fair share of improvements for essential roadways."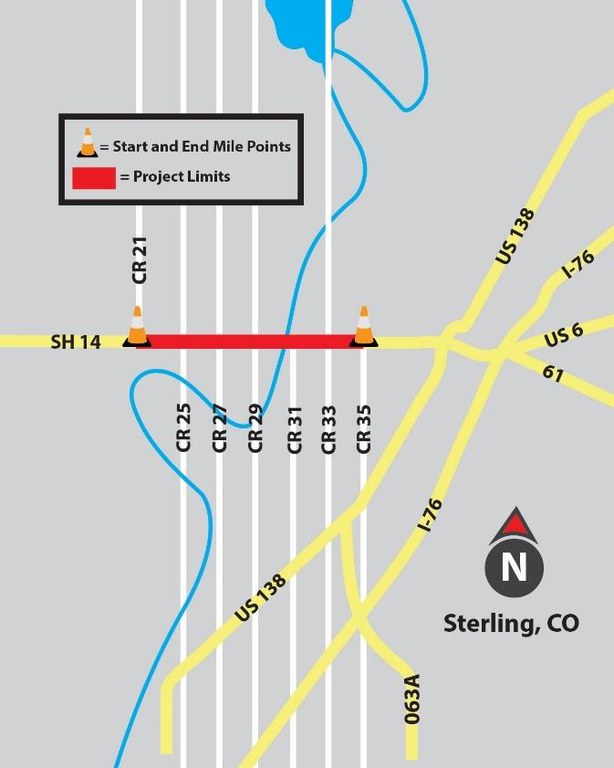 "This project will address much-needed upgrades for one of the area's most-used highways," said CDOT Regional Transportation Director Heather Paddock. "The repairs will not only create a smoother driving surface for motorists but add important and much needed safety features."
Travel Impacts
CO 14 will be reduced to a single lane at various mile points within the project limits during construction
Alternating eastbound/westbound traffic will be directed by automated signals and/or flaggers within the single lane configuration
Some closures with restricted access to local traffic may be in place at various intersections along the 7-mile work zone from County Road 21 to CR 35
Construction signs, cones and devices will be present 24/7
Width restriction of 12 feet will exist in the work zone
All construction schedules are weather dependent and subject to change.
Lane closures and other traffic notices are posted weekly on COTrip.org.
Project Contact Information
For additional information about this project, please refer to the following.