CDOT begins I-70 noise wall replacement
December 7, 2021 - Central/Eastern Colorado -
DENVER COUNTY — In early December, the Colorado Department of Transportation and Kraemer North America, LLC., will begin work on the Interstate 70 Noise Wall Replacement Project between Tennyson Street and Lowell Boulevard. The project will remove the existing timber noise wall, which is significantly degraded, and replace it with a series of new precast concrete wall panels. The project will improve the overall look of the highway as well as continue noise reduction by blocking the direct travel of sound waves from the highway to the adjacent homes. Work on this phase is expected to be completed by July of 2022. Media will be invited to a future opportunity to see what the new wall panels look like in early 2022.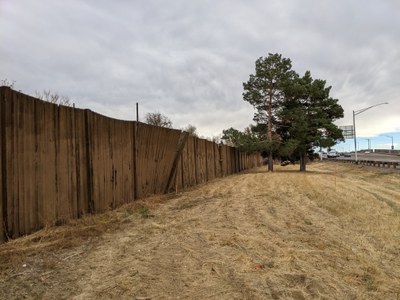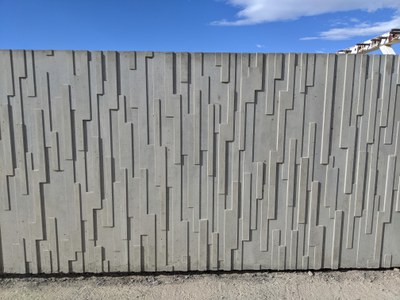 Left: Current timber noise wall along I-70 between Tennyson and Lowell
Right: What the precast concrete wall panels will look like
Project Timeline
Estimated project schedule, dependent on weather and material availability:
Late October-December 2021: Preliminary work began, such as utility location and offsite fabrication of the new wall panels, prior to construction. This planning and preliminary work will greatly minimize the duration in which the neighborhood is without a noise barrier.
Mid-January—March 2022: Demolition of existing timber walls on the north side of I-70 starting at Tennyson Street moving east to Lowell Boulevard. Installation of wall foundation and posts, followed by placing new concrete wall panels on the north side of I-70 moving west to east.
March—May 2022: Demolition of existing timber walls on the south side of I-70 starting at Lowell Boulevard moving west to Tennyson Street. Installation of wall foundation and posts, followed by placing new concrete wall panels on the south side of I-70 moving east to west.
June—July 2022: Landscaping restoration to reseed and plant trees in the area.
This project is the first of two phases to replace the existing timber walls within the area. The second phase of the noise wall replacement, which will include all other existing noise walls along I-70 between I-76 and Pecos St, has received design and construction funds and the design process is in the preliminary stages. A schedule for Phase 2 is currently under development.
Traffic Impacts
Motorists and nearby residents should expect:
Right shoulder closures on east and westbound I-70 between Lowell Boulevard and Tennyson Street.
Single lane closures on West 48th Avenue North and West 48th Avenue South.
Periodic daytime full closures of West 48th Avenue North and West 48th Avenue South will occur during installation of the new concrete wall panels (see estimated project timeline above). Motorists are encouraged to use an alternate route during these closures.
Variable message sign boards will be placed in the neighborhoods in advance of lane closures.
Residents near I-70 should expect typical construction noise during working hours.
Daytime work hours are Monday through Friday from 7 a.m. to 5 p.m. Potential nighttime work could take place.
Project Information
For additional information about this project:
Know Before You Go
Travelers are urged to "know before you go." Gather information about weather forecasts and anticipated travel impacts and current road conditions prior to hitting the road. CDOT resources include:
Road conditions and travel information: COtrip.org
Download the COtrip Planner app: bit.ly/3DYCDOH
Sign up for project or travel alerts: bit.ly/COalerts
See scheduled construction lane closures: bit.ly/3n9ZAI1
Connect with @ColoradoDOT on social media: Twitter, Facebook, Instagram and YouTube.
Remember: Slow For The Cone Zone
The following tips are to help you stay safe while traveling through maintenance and construction work zones.
Do not speed in work zones. Obey the posted speed limits.
Stay Alert! Expect the unexpected.
Watch for workers. Drive with caution.
Don't change lanes unnecessarily.
Avoid using mobile devices such as phones while driving in work zones.
Turn on headlights so that workers and other drivers can see you.
Be especially alert at night while driving in work zones.
Expect delays, especially during peak travel times.
Allow ample space between you and the car in front of you.
Anticipate lane shifts and merge when directed to do so.
Be patient!