Evans Avenue bridge ramp closures on Santa Fe Drive resurfacing project
September 11, 2020 - Detour will be in place
ARAPAHOE & DENVER COUNTIES — Motorists can expect various ramp closures from Santa Fe Drive to the Evans Avenue bridge September through early November. The ramp closures are a part of the US 85 Santa Fe resurfacing project, and will allow crews to efficiently replace damaged concrete panels, bridge expansion joints, and curb ramps. These upgrades will create enhanced driving conditions, which in turn will improve safety on the Evans Avenue bridge. The ramp closure schedule is as follows:
RAMP CLOSURE SCHEDULE
Each ramp mentioned below will be closed 24/7 during the timeframes listed: 
Northwest Evans Avenue bridge ramp closure will take place Sept. 8 through Sept. 21

Southwest Evans Avenue bridge ramp closure will take place Sept. 22 through Oct. 5

Southeast Evans Avenue bridge ramp closure will take place Oct. 6 through Oct. 19

Northeast Evans Avenue bridge ramp closure will take place Oct. 20 through Nov. 2
The ramps must remain closed 24/7 during the timeframes listed because the asphalt will be removed and expansion joints will be replaced. Thus, the nature of the work does not allow for the traffic to safely travel over the ramps until the work is completed.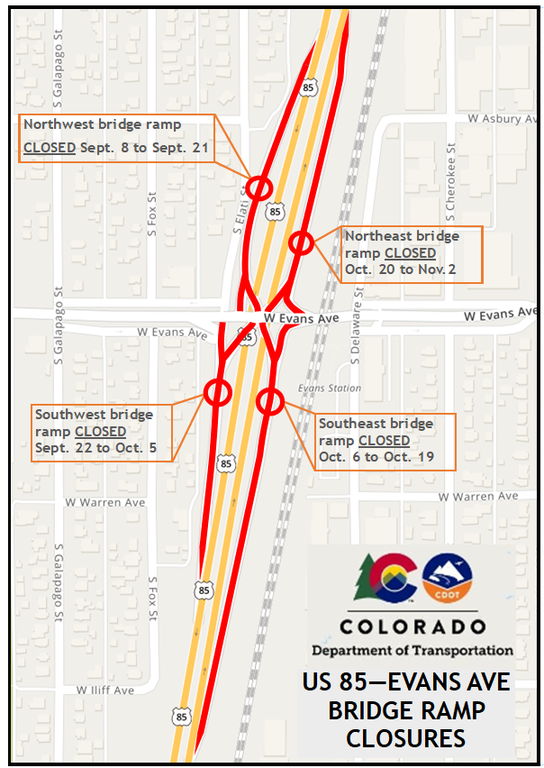 DETOUR ROUTE & IMPACTS  
24/7 ramp closures will occur on the ramps from Santa Fe Drive to Evans Avenue. 

Traffic will be detoured to Iowa and Dartmouth avenues and then to Broadway to get onto Evans Avenue.

Evans Ave will encounter intermittent single lane closures near the closed Santa Fe Drive ramps.

Motorists may encounter reduced speeds within the project limits. 

Traffic fines will be doubled in the work zone. Motorists should slow down as they approach the work zones, drive with caution, allow extra space between vehicles, and give themselves extra travel time.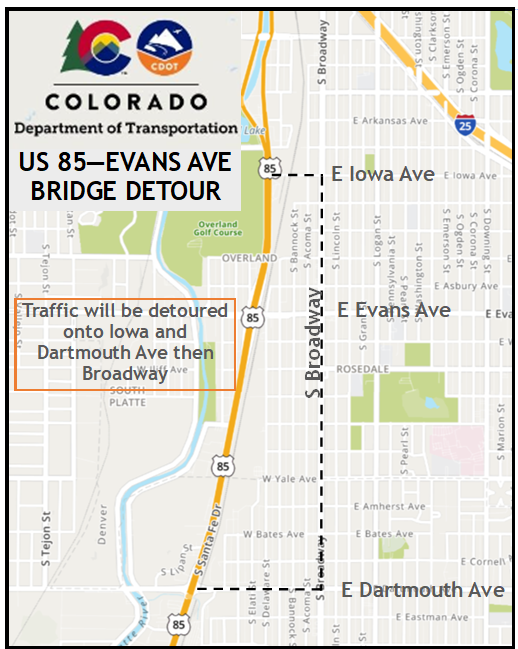 Travelers driving through resurfacing projects are urged to: 
Slow down ― Higher speeds can cause loose stones to scatter and damage vehicle paint and windshields.

Increase distance between vehicles ― Space between you and other vehicles will help reduce vehicle damage caused by loose stones.

Follow work zone signage ― Consider the safety of other motorists and the safety of the work crew when traveling through the project construction zone.

Use caution ― Bicyclists and motorcyclists should use extreme caution during construction operations.
PROJECT INFORMATION 
For additional information about this project: 
●       Call the project information line at 720-477-2737
●       Email the project team at: [email protected]
COVID-19  
Safe transportation infrastructure is essential for all of us, particularly for emergency first responders and freight drivers as Colorado navigates the COVID-19 pandemic. With that in mind, CDOT maintenance and construction crews  follow social distancing and other health safety measures to reduce COVID-19 exposure on the worksite. The Colorado Department of Public Health and Environment announced guidelines for construction activities. The public is urged to join the campaign for #DoingMyPartCO by practicing social distancing and wearing face masks.  As traffic returns to normal levels, motorists must drive cautiously and heed the speed limit so all of us can return home safely.