I-25 North Express Lanes Project celebrates progress
September 3, 2020 - Northeastern Colorado - Major milestones between Berthoud and Fort Collins completed, additional activities well underway
As Coloradans across the state find ways to make the most of summer, there's no time off for crews on the I-25 North Express Lanes Project. Crews are taking advantage of the warm weather and long days to continue highway improvements and build Express Lanes between Berthoud and Fort Collins.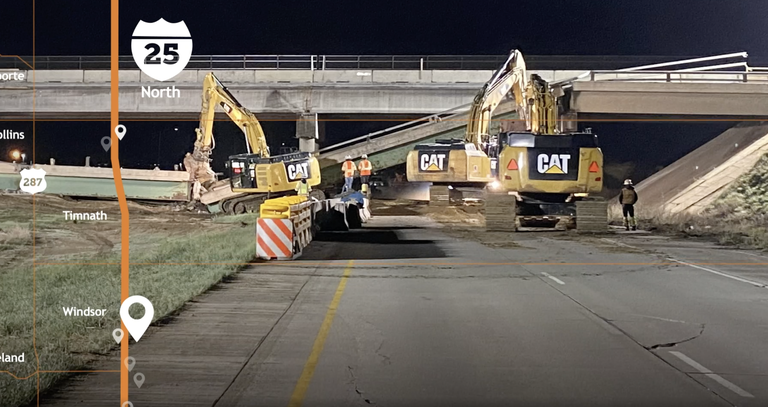 Right now, 25 crews are working in 10 different areas of the North I-25 corridor and have already completed many major milestones. In lieu of outreach events this summer due to COVID-19, the project team produced this video to highlight the progress.
The video is here: https://youtu.be/KTLhj_HIYMg
Here's a summary of what's been accomplished so far in 2020:
The I-25 bridge over the Little Thompson River was reconstructed to accommodate new lanes on the highway. 

The I-25 frontage road between Colorado Highway 56/Weld County Road 44 and Weld County Road 46 is now permanently closed. This closure is the first phase of a larger frontage road closure and reconstruction plan.

Crews completed construction of the sound wall near the Mountain Range Shadows neighborhood.

The old Prospect Road bridge over I-25 was demolished, and a new bridge is now nearly halfway complete. The new interchange will allow for highway expansion and improved pedestrian access. 

The first phase of the mobility hub is complete at Kendall Parkway in Loveland. The mobility hub includes center access ramps for Bustang and expanded Park-n-Ride lots.

The interchange at Colorado Highway 402 and I-25 is nearly complete, and crews have opened the lanes under the new overpass. Finishing touches will be complete this summer. 
"While 2020 has been a difficult year in general, we know our commuters are counting on us to continue improving our state's transportation infrastructure. It's been a very productive year for this project. CDOT is proud of the work accomplished so far and looks forward to continued progress," said Heather Paddock, CDOT Region 4 Transportation Director. Over the next few months, travelers can expect to see more changes to the corridor as the project approaches new milestones.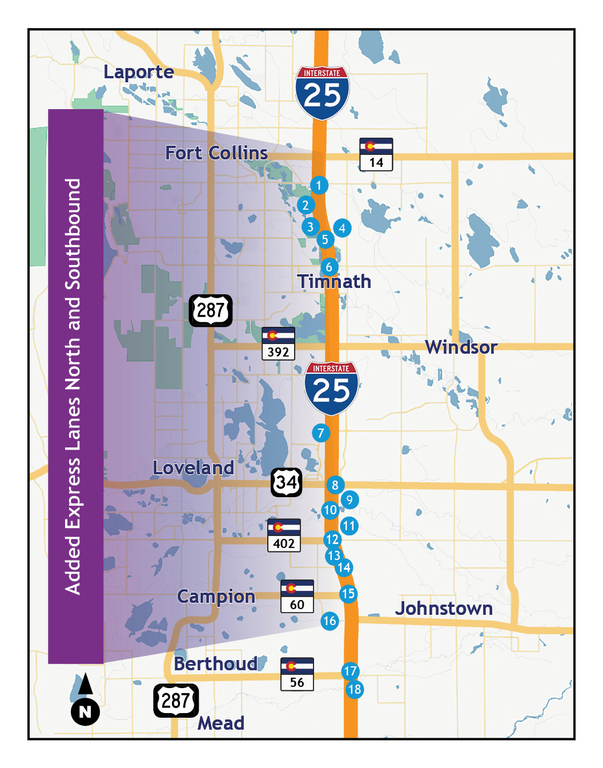 At Colorado Highway 56, crews will begin utility, paving and wall work in preparation for moving the highway under I-25 instead of over it. 

At US 34, crews will continue rebuilding the bridge and ramps at the interchange to accommodate the new Express Lanes.

At Prospect Road, crews are adding additional pedestrian lanes and extending the new bridge to accommodate the additional lanes of I-25. Crews will complete the new bridge by November.  

Reconstruction of the bridge over I-25 at Larimer County Road 20 will be complete by late summer.

Reconstruction of the Southeast Frontage Road and the Frontage Road Bridge over the Big Thompson River will also be complete later this summer. 
As the I-25 North Project nears the end of summer, the team looks forward to continuing outreach efforts and completing milestones. CDOT would like to thank the residents, commuters and business owners for their support and patience throughout this project.
When the I-25 North Project Berthoud to Johnstown is complete in 2023, it will add an Express Lane in each direction of I-25, replace aging bridges, make interchanges safer and more efficient, and improve infrastructure for bus transit along the I-25 corridor. The nearly $300 million project will also add carpool and transit facilities, create new pedestrian and bicycle access under I-25 at Kendall Parkway, improve drainage systems and improve the alignment of I-25 for safer travel as part of CDOT's Whole System – Whole Safety initiative. The section of I-25 from Mead to Berthoud will start in the future, once funding is identified and becomes available. 
PROJECT CONTACT INFORMATION
Project phone line - (720) 593-1996

Project email – [email protected]

Project web site - www.codot.gov/projects/north-i-25

Sign up for weekly project updates by logging onto the project website and filling out the right-side form to "Subscribe to Project Updates."
REMEMBER: SLOW FOR THE CONE ZONE
The following tips are to help you stay safe while traveling through maintenance and construction work zones.
● Do not speed in work zones. Obey the posted speed limits.
● Stay Alert! Expect the unexpected.
● Watch for workers. Drive with caution.
● Don't change lanes unnecessarily.
● Avoid using mobile devices such as phones while driving in work zones.
● Turn on headlights so that workers and other drivers can see you.
● Be especially alert at night while driving in work zones.
● Expect delays, especially during peak travel times.
● Allow ample space between you and the car in front of you.
● Anticipate lane shifts and merge when directed to do so.
● Be patient!
WHOLE SYSTEM. WHOLE SAFETY. 
In early 2019, CDOT announced its Whole System — Whole Safety initiative to heighten safety awareness. This initiative takes a systematic, statewide approach to safety combining the benefits of CDOT's programs that address driving behaviors, our built environment and the organization's operations. The goal is to improve the safety of Colorado's transportation network by reducing the rate and severity of crashes and improving the safety of all transportation modes. The program has one simple mission—to get everyone home safely.     
ABOUT CDOT
CDOT has approximately 3,000 employees located throughout Colorado and manages more than 23,000 lane miles of highway and 3,429 bridges. CDOT also manages grant partnerships with a range of other agencies, including metropolitan planning organizations, local governments and airports. It also administers Bustang, the state-owned and operated interregional express service. Gov. Polis has charged CDOT to further build on the state's intermodal mobility options.  
COVID-19
Safe transportation infrastructure is essential for emergency first responders and freight drivers as Colorado navigates the COVID-19 pandemic. With that in mind, construction continues on CDOT projects with social distancing and other measures to reduce COVID-19 exposure on the worksite. The Colorado Department of Public Health and the Environment has promulgated guidelines for construction activities. Gov. Polis announced an emergency, temporary stay-at-home order for all of Colorado, which went into effect Thursday, March 26. With this order, the public is urged to #DoYourPartCO and avoid all nonessential travel. With fewer vehicles on the roads, CDOT crews will be able to work more efficiently and safely.