Highway improvements are completed on CO 145 near Telluride
September 1, 2020 - Southwestern Colorado - CDOT, contractor complete resurfacing, safety and drainage improvements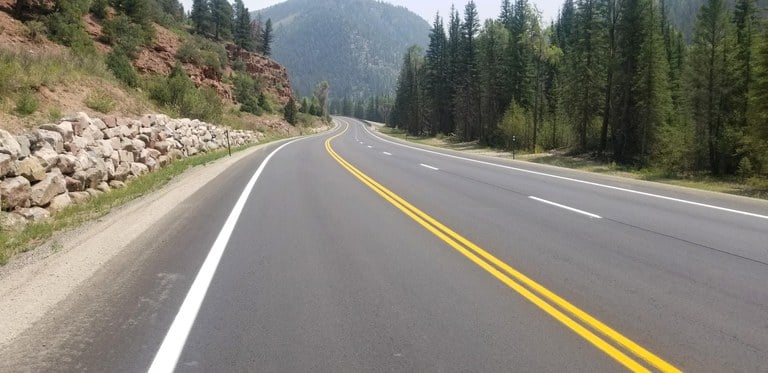 CO Highway 145 looking southeast toward Telluride. The road surface received a new asphalt overlay and four culverts were upgraded for better drainage. 
SAN MIGUEL COUNTY — The Colorado Department of Transportation and contractor Oldcastle SW Group, Inc., completed work to improve the surface, drainage and safety of 12.75 miles of CO Highway 145 between Telluride and Placerville. The completion date originally set by the project team was August 21, however work was actually wrapped up on August 19, upon installation of final signing.
The project, between Society Turn in Telluride, at mile point (MP) 71.51, and the junction of CO 62 at Placerville, at MP 84.24 has completed the following:
Nearly 13 miles of asphalt overlay along the full project length, including a thin layer applied for surface 'leveling' along the new passing lane project section (MP 73.9 to 75.1) completed in 2019

Extensive drainage work to mitigate flooding through the area; crews upgraded four additional culverts (see culvert location map, below) to improve debris flow (11 structures were upgraded during the 2019 passing lane project)

Intersection improvements at CR 58P in Sawpit that included shoulder widening on CO 145 for safer turning

Guardrail replacement and/or adjustments along the full project length

New pavement markings, signage
PROJECT CONTACT INFORMATION 
Information about other projects and road conditions can be found at:  
COVID-19  
Safe transportation infrastructure is essential for all of us, particularly for emergency first responders and freight drivers as Colorado navigates the COVID-19 pandemic. With that in mind, CDOT maintenance and construction crews follow social distancing and other health safety measures to reduce COVID-19 exposure on the worksite. The Colorado Department of Public Health and Environment announced guidelines for construction activities. The public is urged to join the campaign for #DoingMyPartCO by practicing social distancing and wearing face masks. As traffic returns to normal levels, motorists must drive cautiously and heed the speed limit so all of us can return home safely. 
WHOLE SYSTEM. WHOLE SAFETY.  
In early 2019, CDOT announced its Whole System — Whole Safety initiative to heighten safety awareness. This initiative takes a systematic statewide approach to safety combining the benefits of CDOT's programs that address driving behaviors, our built environment and the organization's operations. The goal is to improve the safety of Colorado's transportation network by reducing the rate and severity of crashes and improving the safety of all transportation modes. The program has one simple mission—to get everyone home safely.
ABOUT CDOT  
CDOT has approximately 3,000 employees located throughout Colorado, and manages more than 23,000 lane miles of highway and 3,429 bridges. CDOT also manages grant partnerships with a range of other agencies, including metropolitan planning organizations, local governments and airports. It also administers Bustang, the state-owned and operated inter-regional express service. Governor Jared Polis has charged CDOT to further build on the state's multimodal mobility options.