First bridge complete near Larkspur, marking progress on I-25 South Gap construction
November 18, 2020 - Denver Metro Area
DOUGLAS COUNTY — A new 250-foot long bridge is providing safer access to Interstate 25 for drivers near Larkspur. The Spruce Mountain Road bridge is the first of five new bridges to open as part of the Colorado Department of Transportation's (CDOT) I-25 South Gap: Monument to Castle Rock project with general contractor Kraemer North America. 
View a time-lapse video of the bridge's demolition and reconstruction, which took just over a year to complete.
Originally constructed in 1964, the Spruce Mountain Road bridge was rebuilt due to its age, inability to meet minimum height requirements for commercial vehicles traveling I-25, and to make room for new Express Lanes and wider shoulders on I-25. Ramps were lengthened to improve merging distance.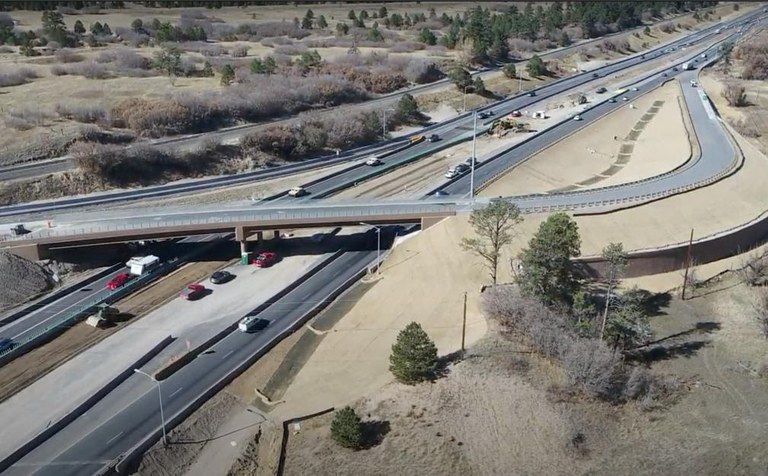 Other I-25 South Gap milestones achieved in 2020 include:
Construction of the northern five miles between Sky View Lane/Tomah Road and Plum Creek Parkway is complete. The roadway will operate with wider shoulders for emergency response until Express Lanes open with the entire project in 2022. View lane configuration.


Paving: In all, the project will require more than 850,000 tons of asphalt. More than 40% of that was placed in 2020.


Greenland Road: Crews finished the eastern half of the bridge earlier this year and expect to complete the western half near the end of the year. Additional work will occur along mainline I-25 in 2021.


Climbing Lane: A new southbound climbing lane from just south of Greenland Road over Monument Hill is complete and currently being used as part of the traffic shift to safely accommodate construction in the area.


Wildlife: 27 miles of new deer fencing will be installed as part of the project; about 16 miles have been installed so far. This fencing will lead wildlife to the four wildlife underpasses currently under construction, which are collectively about 70% complete. Building these wildlife crossings are similar to building bridges, which can be quite involved. Learn more here. 

Bridges: Four additional bridges will be reconstructed as part of this project: Upper Lake Gulch, Plum Creek, Greenland Road and County Line Road. All are under construction except County Line, which will begin in spring 2021. 
TRAVEL IMPACTS 
With the Spruce Mountain Road on-ramp to northbound I-25 open, crews have closed the northbound I-25 on-ramp from Upper Lake Gulch Road to safely continue work on two other bridges (Upper Lake Gulch Road and Plum Creek) and a wildlife crossing in the area. This closure is expected to last more than a year. The southbound off-ramp to Upper Lake Gulch also remains closed. View graphic to see how to access Larkspur.
Throughout the winter, crews will continue construction on bridges and walls. Drivers can continue to expect overnight lane closures on northbound and southbound I-25 between Larkspur and Monument nightly from 8 p.m. to 5 a.m. Sundays through Fridays. Additional closures may be necessary for safety-critical work. 
STAY INFORMED: 
Project hotline: 720-745-5434
Web: i25gap.codot.gov
Sign up for email updates: [email protected]
Text alerts: Text I25GAP to 21000
Project Facebook page: Facebook.com/I25SouthGapProject
Travelers are urged to "know before you go." Gather information about weather forecasts and anticipated travel impacts and current road conditions prior to hitting the road. CDOT resources include:

ABOUT THE PROJECT
CDOT is improving 18 miles of I-25 between Monument and Castle Rock by widening the highway from two to three lanes in each direction. The new lane will operate as an Express Lane, allowing motorists the choice of taking the Express Lane for a faster, more reliable travel time in exchange for a toll. Express Lanes will be free to vehicles with three or more people and motorcycles. All travelers will have the choice of taking the general-purpose lanes for free.
The project also includes shoulder widening, rebuilding bridges, new wildlife crossings, resurfacing with new pavement and modernizing technology. Project completion is scheduled for 2022.
REMEMBER: SLOW FOR THE CONE ZONE
The following tips are to help you stay safe while traveling through maintenance and construction work zones.
Do not speed in work zones. Obey the posted speed limits.

Stay Alert! Expect the unexpected.

Watch for workers. Drive with caution.

Anticipate lane shifts and merge when directed to do so.

Expect delays, especially during peak travel times.

Allow ample space between you and the car in front of you.

Avoid using mobile devices such as phones while driving in work zones.

Turn on headlights so that workers and other drivers can see you.

Be especially alert at night while driving in work zones.

Be patient!
COVID-19  
Safe transportation infrastructure is essential for all of us, particularly for emergency first responders and freight drivers as Colorado navigates the COVID-19 pandemic. With that in mind, CDOT maintenance and construction crews follow social distancing and other health safety measures to reduce COVID-19 exposure on the worksite. The Colorado Department of Public Health and Environment announced guidelines for construction activities. The public is urged to join the campaign for #DoingMyPartCO by practicing social distancing and wearing face masks.