CSP and CDOT unite to increase enforcement, safe driving in the I-25 South Gap
March 11, 2020 - Following too closely is leading cause of crashes; motorists urged to drive the speed limit and leave plenty of room behind the vehicle ahead!
CENTENNIAL —The Colorado Department of Transportation and Colorado State Patrol are joining forces to promote safe driving along the 18-mile Interstate 25 South Gap corridor between Monument and Castle Rock. High speeds and following too closely are the leading causes of crashes along this stretch of roadway, requiring increased education and enforcement—both on the ground and by aircraft.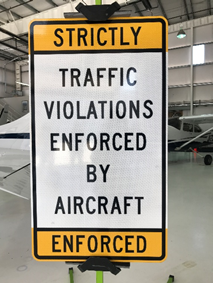 "We're all responsible for safety in the Gap—the engineers who design and plan the work, construction workers who build it,  our crews who plow the snow and maintain the road, first responders who address incidents and drivers who use the roadway daily," said CDOT Chief Engineer Steve Harelson. "While we are increasing safety measures and enforcement, motorists must do their part and drive with extra vigilance in the Gap.  If we can get one message out today, it would be heed the speed limit and give yourself extra space behind the vehicle ahead. Your safety depends on driving with caution through the Gap."   
In our ongoing efforts to improve safety, beginning tomorrow, the speed limit will be reduced from 60 mph to 55 mph during peak travel times in both directions of I-25 between Castle Rock and Monument. This will include the morning and afternoon commuting hours and during good portions of the day on weekends, when traffic is heavy as well. Motorists can expect that speeds will be further reduced during inclement weather and traffic incidents along the corridor. Ultimately, drivers must pay attention to the speed limit signs any time they drive through the Gap and heed the posted speed limit. 
Six new additional signs placed along the Gap
Since the I-25 South Gap project began in September 2018, CDOT has funded increased enforcement along the corridor. But with crashes rising 60% over the past year, mainly due to unsafe driver behavior, additional enforcement will take place seven days a week. Motorists can expect increased CSP enforcement by aircraft. During air enforcement, two troopers in a plane circle an area with a camera attached to the aircraft. One trooper performs the radio traffic monitoring, alerting to a situation on the ground while the aircraft follows the vehicle. Once the ground patrol car makes contact, they handle the situation safely off the interstate, if possible, while the aircraft begins monitoring again.
"On land or in air, our job is to ensure everyone is as safe as possible when traveling on Colorado roadways," says CSP Major Tim Keeton. "But we cannot do it alone. We need every driver to make it their personal responsibility to keep themselves, and others, safe when behind the wheel. And then drive accordingly."  
Motorists should note that fines are doubled in construction zones. For example, traveling at a speed 10 to 19 mph over the speed limit is a Class A infraction and can result in a fine and surcharge of $323 in a construction zone. You can also get ticketed for following too closely with a fine of over $221, and four points assessed against your driving record. 
CDOT key safety efforts:
Funding increased law enforcement to seven days a week

Installed portable variable speed limit signs, providing the ability to lower the speed limit during peak travel hours, inclement weather and incidents on the roadway

Implemented a Project Operations Center, which monitors incidents through closed caption TVs, helping to cut response time by half from 40 minutes to 20 minutes

Frequent restriping to help with delineation, including solid striping at curves

Hold biweekly meetings with first responders to discuss and improve incident response

Decrease single occupancy vehicles through Bustang, vanpools and carpools

Provide accurate and timely information to motorists through texts, e-blasts and Facebook

Here's what motorists should know and do:

Leave plenty of room between your vehicle and the one ahead—you are more likely to get into a crash if you follow too closely.

66% of crashes on the Gap are caused by rear-end collisions resulting in nearly 80 % of injury-related crashes.

Be extra cautious and vigilant when driving through the work zone. 

By the nature of the work zone, lanes and shoulders will be narrower and more difficult to drive through. Motorists should also anticipate changing roadway conditions, with frequent traffic shifts required for construction.

Heed the signs, drive the speed limit and for the conditions of the work zone.

If possible, avoid driving on the Gap in bad weather. During past storms, motorists heeded CDOT's warnings and limited travel, which helped greatly to reduce crashes and prevent closures.

If there are no injuries or impairment suspected, please move your crash off the interstate to the nearest exit away from traffic.

Always slow down for emergency first responders.

Take advantage of information sources to get the latest info work zones. Text I25GAP to 21000 for alerts

.
Project Contact Information
Project Hotline: 720-745-5435
Web: i25gap.codot.gov
Sign up for email updates: [email protected]
Text alerts: Text I25GAP to 21000
Project Facebook Page: Facebook.com/I25SouthGapProject
About the Project
CDOT is improving 18 miles of I-25 between Monument and Castle Rock by widening the highway from two to three lanes in each direction. The new lane will operate as an Express Lane, allowing motorists the choice of taking the Express Lane for a faster, more reliable travel time in exchange for a toll. Express Lanes will be free to vehicles with three or more people and motorcycles. All travelers will have the choice of taking the general-purpose lanes for free.
The $350 million project also includes shoulder widening, rebuilding bridges, new wildlife crossings, resurfacing with new pavement and modernizing technology. Project completion is scheduled for 2022.
Travel options to improve commutes are available during construction. Some of the services include a new roundtrip Bustang route between Colorado Springs and the Denver Tech Center. CDOT is partnering with the Denver Regional Council of Governments' Way to Go program to provide more commuting options, such as incentives to vanpool and carpool. Visit i25myway.org to learn more.
Remember to Slow for the Cone Zone
The following tips are to help you stay safe while traveling through maintenance and construction work zones.
·   Do not speed in work zones; obey the posted speed limits.
·   Stay Alert! Expect the unexpected.
·   Watch for workers; drive with caution.
·   Don't change lanes unnecessarily.
·   Avoid using mobile devices such as phones while driving in work zones.
·   Turn on headlights so that workers and other drivers can see you.
·   Be especially alert at night while driving in work zones.
·   Expect delays, especially during peak travel times.
·   Allow ample space between you and the car in front of you.
·   Anticipate lane shifts, and merge when directed to do so.
·   Be Patient!
Whole System. Whole Safety.  
To heighten safety awareness, CDOT recently announced its Whole System Whole Safety initiative. This project takes a systematic statewide approach to safety combining the benefits of CDOT's programs that address driving behaviors, our built environment and the organization's operations. The goal is to improve the safety of Colorado's transportation network by reducing the rate and severity of crashes and improving safety conditions for those traveling by all transportation modes. The program has one simple mission - to get everyone home safely.