CDOT to address needed truck parking enhancements at two rest areas in southwest Colorado
March 31, 2020 - Southwestern Colorado
MONTEZUMA AND RIO GRANDE COUNTY ― Starting on Mon., April 6, 2020, the Colorado Department of Transportation and contract partner Four Corners Materials will begin rest area truck parking enhancements at two locations on U.S. Highway 160. The Sleeping Ute Rest Area at mile point 46.46, east of Cortez, will increase parking from three commercial motor vehicle (CMV) parking spaces to six and the Shaw Creek Rest area at MP 191.40, east of South Fork, will increase from four CMV spaces to 10.     
As part of CDOT's Whole System - Whole Safety initiative, this project will focus on safety enhancements to the Sleeping Ute Rest Area and Shaw Creek Rest Area to provide clearly defined locations for CMV parking. When Wolf Creek Pass is impassible or closed due to either weather, crashes, rockfalls, avalanches or other emergencies that arise. The expansion at Shaw Creek Rest Area will provide parking off the highway for CMVs and will reduce truck traffic in city limits, on local streets, or in areas that are difficult to maneuver.  The additional CMV parking spaces in the Sleeping Ute Rest Area will also allow for clearly defined CMV parking, providing passenger vehicles to flow through the rest area preventing potential encounters with the parked trucks. 
Additional work for this $1.23 million project will include: erosion control, widening of the existing truck parking areas, asphalt patching, chip seal, striping, and lighting upgrades that consist of new poles and luminaries with improved technology and lower energy use.  
TRAVEL IMPACTS 
Motorists can expect construction crews present and working at the rest areas beginning March 6. The project will be in operation Monday through Friday from 7 a.m. to 7 p.m. Parking and facilities will remain open until the last two weeks of the project when the rest areas will need to be closed for paving. The anticipated completion date is expected at the end of June 2020.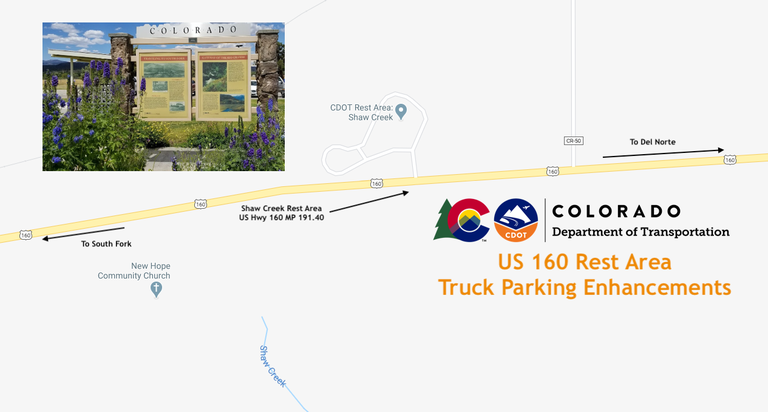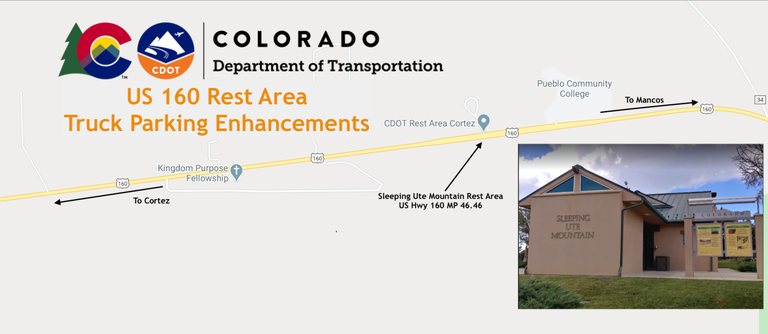 PROJECT INFORMATION
Those seeking more information about this project, or with questions or comments, can reach the project team at: 
WHOLE SYSTEM. WHOLE SAFETY.  
Last year, CDOT launched its Whole System — Whole Safety initiative to heighten safety awareness. This initiative takes a systematic statewide approach to safety combining the benefits of CDOT's programs that address driving behaviors, our built environment and the organization's operations. The goal is to improve the safety of Colorado's transportation network by reducing the rate and severity of crashes and improving the safety of all transportation modes. The program has one simple mission—to get everyone home safely.