CDOT Repairing Large Sinkhole on CO 133 in Carbondale
CARBONDALE — The Colorado Department of Transportation is continuing to assess and repair a large sinkhole on Colorado Highway 133 in Carbondale. The sinkhole is located just south of the intersection of CO 133 and Main Street, near Mile Point 68. CDOT identified the issue this afternoon and implemented a short safety detour for northbound traffic. Southbound traffic on CO 133 is not affected at this time.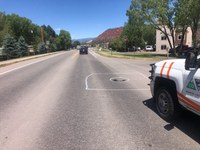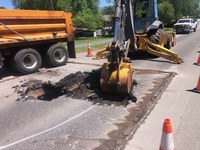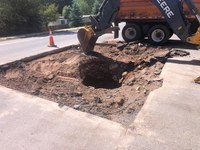 CDOT will monitor the sinkhole overnight Wednesday, June 17, and into Thursday, June 18. It measures approximately 15 feet in diameter by 12 feet deep. If the sinkhole expands overnight, southbound traffic on CO 133 will also be detoured, to maintain safety for the traveling public. CDOT crews will fill and tamp down the hole on Thursday, followed by paving. The goal is to reopen that section of northbound CO 133 by Friday, if not sooner. 
CDOT crews worked quickly this afternoon to determine the size and cause for the sinkhole. At this time a cause is unclear, and CDOT will continue to work with internal and external experts to determine the source.
---
REMEMBER: SLOW FOR THE CONE ZONE
The following tips are to help you stay safe while traveling through maintenance and construction work zones.
Do not speed in work zones. Obey the posted speed limits.

Stay Alert! Expect the unexpected.

Watch for workers. Drive with caution.

Anticipate lane shifts and merge when directed to do so

Expect delays, especially during peak travel times.

Allow ample space between you and the car in front of you.

Avoid using mobile devices such as phones while driving in work zones.

Turn on headlights so that workers and other drivers can see you.

Be especially alert at night while driving in work zones.

Be patient!
COVID-19  
Safe transportation infrastructure is essential for emergency first responders and freight drivers as Colorado navigates the COVID-19 pandemic. With that in mind, construction continues on CDOT projects with social distancing and other health safety measures to reduce COVID-19 exposure on the worksite. The Colorado Department of Public Health and Environment announced guidelines for construction activities. The public is urged to join the campaign for #DoingMyPartCO and practice social distancing, wear face masks, stay at home when possible, and avoid nonessential travel. With fewer vehicles on the roads, CDOT crews will be able to work more efficiently and safely.
WHOLE SYSTEM. WHOLE SAFETY.
In early 2019, CDOT announced its Whole System — Whole Safety initiative to heighten safety awareness. This initiative takes a systematic statewide approach to safety combining the benefits of CDOT's programs that address driving behaviors, our built environment and the organization's operations. The goal is to improve the safety of Colorado's transportation network by reducing the rate and severity of crashes and improving the safety of all transportation modes. The program has one simple mission—to get everyone home safely.