CDOT completes emergency paving work on Interstate-25
December 16, 2020 - Southeastern Colorado
COLORADO SPRINGS — The Colorado Department of Transportation Maintenance Department is pleased to announce completion of the emergency paving work on Interstate 25, as part of the I-25 Safety and Efficiency Improvements Component of the Military Access, Mobility and Safety Improvement Program (MAMSIP). Paving work took place over the past two months as weather allowed on I-25 between Santa Fe Boulevard (MP 128) and South Academy Boulevard (MP 135). This work was intended to address the immediate paving needs until the I-25-Safety and Efficiency Improvements project gets underway.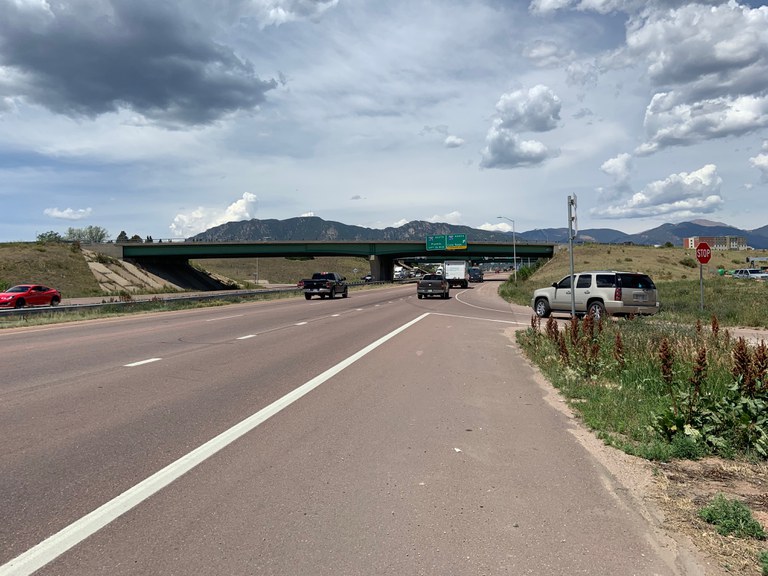 i-25 & S. Academy Blvd. Resurfacing Project
Since paving work is temperature-sensitive crews had to work quickly to complete the majority of the paving before winter. Hot-mix asphalt can only be laid in winter when temperatures are above 55 degrees and rising.  CDOT maintenance crews were able to lay approximately 2,700 tons of asphalt. "The crew persevered through plant shutdowns, short time windows to minimize traffic impacts, fall snow storms, and dropping temperatures, to complete the paving for improved ride-ability in that area," said Richard Zamora, CDOT Region 2 Transportation Director. 
The traveling public will continue to see CDOT crews on I-25 working to complete surveying and filling potholes with hot pour asphalt as needed and as temperatures allow. The public can expect work on I-25 in late Spring as construction begins on the I-25 Safety and Efficiency Improvements Project. Undertaking the improvements to I-25 will effectively improve mobility and safety outcomes along one of the state's busiest interstate corridors while concurrently ensuring economic vitality provided by this crucial north to south route is maintained. 
Stay Connected
Website:  https://www.codot.gov/projects/military-access-safety-improvements-in-se-colorado
Email: [email protected]
Hotline:  719-800-2162
About Military Access, Mobility and Safety Improvement Program Build Grant
Colorado Department of Transportation (CDOT) has initiated a program to deliver more efficient and safer mobility along I-25, Colorado Highway 94, South Academy Boulevard, and Charter Oak Ranch Road, enabling economic stability and development. The Military Access, Mobility & Safety Improvement program is partially funded through an $18 million BUILD grant award from the US Department of Transportation. The delivery of these improvements will strengthen and enhance the redundancy of strategic movement between the nationally significant El Paso County military installations of Fort Carson, Peterson Air Force Base, Cheyenne Mountain Station, and Schriever Air Force Base. 
Remember: Slow for the Cone Zone
The following tips are to help you stay safe while traveling through maintenance and 
construction work zones.
Do not speed in work zones. Obey the posted speed limits.

Stay Alert! Expect the unexpected.

Watch for workers. Drive with caution.

Don't change lanes unnecessarily.

Avoid using mobile devices such as phones while driving in work zones.

Turn on headlights so that workers and other drivers can see you.

Be especially alert at night while driving in work zones.

Expect delays, especially during peak travel times.

Allow ample space between you and the car in front of you.

Anticipate lane shifts and merge when directed to do so.

Be patient!
Whole System. Whole Safety
The CDOT Whole System — Whole Safety initiative is designed to heighten safety awareness by taking a systematic statewide approach to safety combining the benefits of CDOT's operations, programs addressing driving behaviors, and  our built environment. The goal is to improve the safety of Colorado's transportation network by reducing the rate and severity of crashes and improving the safety of all transportation modes. The program has one simple mission—to get everyone home safely.
Covid-19
Safe transportation infrastructure is essential for emergency first responders and freight drivers as Colorado navigates the COVID-19 pandemic. With that in mind, construction continues on CDOT projects with social distancing and other measures to reduce COVID-19 exposure on the worksite. The Colorado Department of Public Health and the Environment has promulgated guidelines for construction activities. Gov. Polis announced an emergency, temporary stay-at-home order for all of Colorado, which went into effect Thursday March 26. With this order, the public is urged to #DoYourPartCO and avoid all nonessential travel. With fewer vehicles on the roads, CDOT crews will be able to work more efficiently and safely.