CDOT urges safe riding and driving in southwest Colorado, as motorcyclists make their way to the Four Corners Motorcycle Rally
August 31, 2020 - Southwestern Colorado Traffic Safety - 84 motorcycle deaths in Colorado in 2020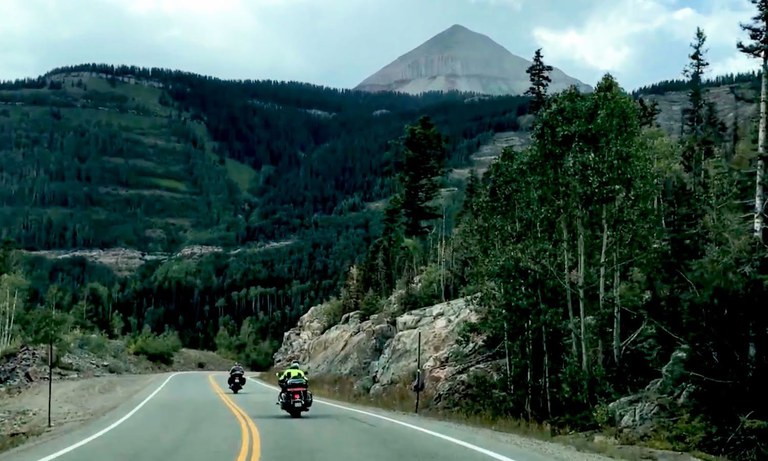 CDOT PHOTO: Motorcyclists round a curve on US Highway 550 Coal Bank Pass, north of Durango. 
SOUTHWEST COLORADO — Motorcyclists from neighboring states will make their way to southwest Colorado for the annual Four Corners Motorcycle Rally over Labor Day weekend. The Colorado Department of Transportation urges caution and safety of motorcyclists and vehicle drivers alike. CDOT reminds drivers and riders to plan ahead before getting behind the wheel — or handlebars.
In 2020, there have been 84 motorcycle-related fatalities on Colorado's roadways, a 10% increase from this time last year. These fatalities tend to peak during the summer months with more motorcycles on the road. All drivers have the responsibility to watch for motorcycles just as motorcyclists need to ride safely and obey speed limits.
CDOT's statewide motorcycle safety campaign aims to raise awareness of safe riding and driving practices. Motorcyclists should be diligent to follow the laws of the road, obey speed limits and be aware of their surroundings at all times. Head injuries are the leading cause of death in motorcycle crashes. CDOT encourages all riders to wear helmets and other protective gear.
Meanwhile, drivers who may often miss seeing motorcyclists on our roadways, are advised to check blind spots and look for motorcyclists, especially when turning left. Motorcycle crashes also often happen when a vehicle driver turns left in front of an approaching motorcycle. Always remember to look twice before making left-hand turns.
TIPS FOR RIDERS & DRIVERS
MOTORCYCLE RIDER SAFETY: 
Always wear protective gear. Durable clothing, gloves, boots and eye goggles will keep you protected from road debris, insects and weather.

Always wear a helmet. Head injuries are the leading cause of motorcyclist deaths. 

Obey speed limits.

Ride sober and plan ahead.

Get trained. Find a motorcycle safety class at csp.colorado.gov.
VEHICLE DRIVER SAFETY: 
Always check blind spots for motorcycles - they can be hard to see.

Always look twice when pulling onto the roadway.

Avoid distracting driving. 

Never follow motorcycles too closely - they can brake suddenly. 
For more information on CDOT's motorcycle safety efforts, visit www.codot.gov/safety/motorcycle. 
COVID-19
Safe transportation infrastructure is essential for all of us, particularly for emergency first responders and freight drivers as Colorado navigates the COVID-19 pandemic. With that in mind, CDOT maintenance and construction crews follow social distancing and other health safety measures to reduce COVID-19 exposure on the worksite. The Colorado Department of Public Health and Environment announced guidelines for construction activities. The public is urged to join the campaign for #DoingMyPartCO by practicing social distancing and wearing face masks. As traffic returns to normal levels, motorists must drive cautiously and heed the speed limit so all of us can return home safely. 
WHOLE SYSTEM. WHOLE SAFETY.  
In early 2019, CDOT announced its Whole System — Whole Safety initiative to heighten safety awareness. This initiative takes a systematic, statewide approach to safety combining the benefits of CDOT's programs that address driving behaviors, our built environment and the organization's operations. The goal is to improve the safety of Colorado's transportation network by reducing the rate and severity of crashes and improving the safety of all transportation modes. The program has one simple mission—to get everyone home safely.
ABOUT CDOT
CDOT has approximately 3,000 employees located at its Denver headquarters and in regional offices throughout Colorado, and manages more than 23,000 lane miles of highway and 3,429 bridges. CDOT also manages grant partnerships with a range of other agencies, including metropolitan planning organizations, local governments and airports. It also administers Bustang, the state-owned and operated interregional express service. Gov. Polis has charged CDOT to further build on the state's intermodal mobility options.