CDOT to begin CO 131 Oak Creek Canyon resurfacing project
August 4, 2020 - Northwestern Colorado - Speed limits to be strictly enforced
ROUTT COUNTY- The Colorado Department of Transportation and contract partner Elam Construction will begin surface treatment work on August 10. Work will take place along Colorado  Highway 131 near the town of Oak Creek. The surface treatment project will begin on CO 131 at Mile Point 51.95, north of Oak Creek, and will continue for approximately 4 miles north to MP 55.73.
As part of CDOT's Whole System — Whole Safety initiative, this project will focus on a 1.5" hot mix asphalt overlay and installing guardrail that will meet the new safety standard requirements.  The HMA will add approximately 10 years of life to the highway, a smoother road surface and will eliminate ruts and road damage.  The new guardrail will be 31" high instead of 27" high to help vehicles remain on the road more effectively, making the highway safer for the traveling public.  
Additional work will consist of shoulder work, striping and delineators.   
Travel Impacts
Motorists can expect one-lane alternating traffic, 20 minute delays, 25 MPH speed limit and 10 ft. width restriction.  The project will be in operation Monday through Friday from 7 a.m. to 7 p.m. The project is expected to last until mid-October.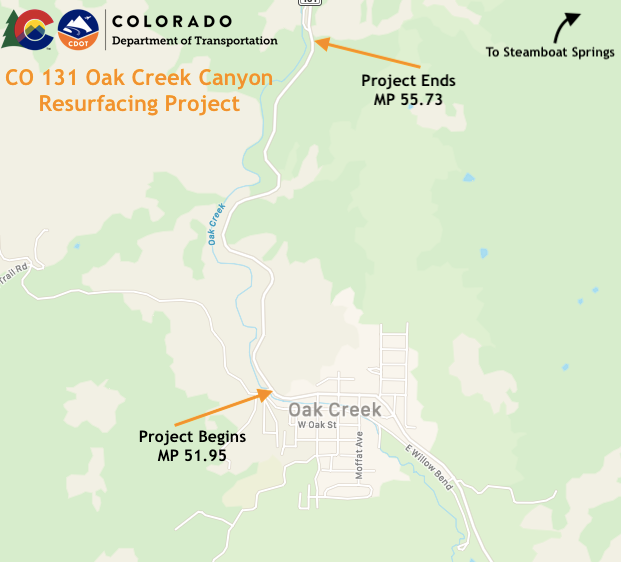 Stay Informed
More information is available at: 
Travelers are urged to "know before you go." Gather information about weather forecasts and anticipated travel impacts and current road conditions prior to hitting the road. CDOT resources include:
Remember: Slow for the Cone Zone
The following tips are to help you stay safe while traveling through maintenance and construction work zones.
Do not speed in work zones. Obey the posted speed limits.

Stay Alert! Expect the unexpected.

Watch for workers. Drive with caution.

Anticipate lane shifts and merge when directed to do so

Expect delays, especially during peak travel times.

Allow ample space between you and the car in front of you.

Avoid using mobile devices such as phones while driving in work zones.

Turn on headlights so that workers and other drivers can see you.

Be especially alert at night while driving in work zones.

Be patient!



COVID-19  
Safe transportation infrastructure is essential for emergency first responders and freight drivers as Colorado navigates the COVID-19 pandemic. With that in mind, construction continues on CDOT projects with social distancing and other health safety measures to reduce COVID-19 exposure on the worksite. The Colorado Department of Public Health and Environment announced guidelines for construction activities. The public is urged to join the campaign for #DoingMyPartCO and practice social distancing, wear face masks, stay at home when possible, and avoid nonessential travel. With fewer vehicles on the roads, CDOT crews will be able to work more efficiently and safely.
Whole System. Whole Safety.
In early 2019, CDOT announced its Whole System — Whole Safety initiative to heighten safety awareness. This initiative takes a systematic statewide approach to safety combining the benefits of CDOT's programs that address driving behaviors, our built environment and the organization's operations. The goal is to improve the safety of Colorado's transportation network by reducing the rate and severity of crashes and improving the safety of all transportation modes. The program has one simple mission—to get everyone home safely.