CDOT, United Companies have completed project to improve nearly 50 intersections in Montrose and Olathe
April 23, 2020 - Northwestern Colorado - Wheelchair accessible ramps, sidewalks, curbs & gutters upgraded on  US 50, US 550, CO 90 and CO 348
MONTROSE/OLATHE, CO - The Colorado Department of Transportation and contractor United Companies have completed the project to bring existing curb ramps into compliance with PROWAG** requirements at nearly 50 intersections along U.S. 50, U.S. 550, CO Highway 90 and CO 348. The work has improved curb ramps, sections of adjacent sidewalks, curbs and gutters through Montrose and Olathe. (Please refer to the project website for intersection locations; not every corner at each intersection received upgrades.)
**Public Rights of Way Accessibility Guidelines. The Access Board is an independent federal agency that promotes equality for people with disabilities through leadership in accessible design and the development of accessibility guidelines and standards.
As part of its 2017 ADA (American's with Disabilities Act) Transition Plan, CDOT completed an inventory of intersections and identified pedestrian ramps statewide that do not comply with current ADA specifications to meet Public Rights of Way Accessibility Guidelines. In an effort to improve the mobility of the disabled community, the State Transportation Commission approved $85 million in funding focused on achieving full curb-ramp accessibility in five years. More information can be found on CDOT's website at: https://www.codot.gov/business/civilrights/ada/transition-plan.
QUESTIONS  Please contact the project public information manager at (970) 901-7459 or [email protected]. 
Project web site: www.codot.gov/projects/us-550-Montrose-ADA-ramps
Information about other projects and road conditions: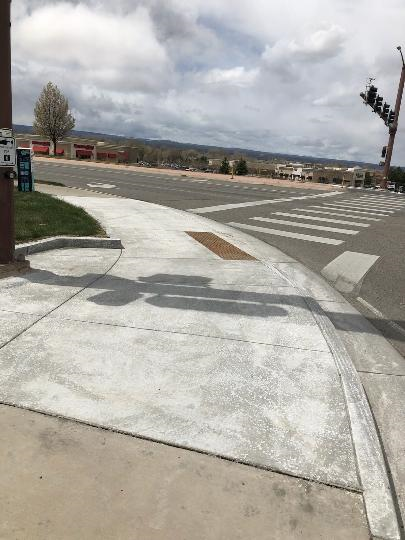 Left, US 550 (Townsend Ave.) at Rio Grande; right, US 550 at S. 12th Street
COVID-19
Safe transportation infrastructure is essential for emergency first responders and freight drivers as Colorado navigates the COVID-19 pandemic. With that in mind, road maintenance and construction continues on CDOT projects with social distancing and other health safety measures to reduce COVID-19 exposure on the worksite. The Colorado Department of Public Health and Environment announced guidelines for construction activities. The public is urged to join the campaign for #DoingMyPartCO by practicing social distancing, wearing face masks, staying at home when possible, and avoiding nonessential travel. With fewer vehicles on the roads, CDOT crews will be able to work more efficiently and safely.  
WHOLE SYSTEM. WHOLE SAFETY.  
In early 2019, CDOT announced its Whole System—Whole Safety initiative to heighten safety awareness. This initiative takes a systematic, statewide approach to safety combining the benefits of CDOT's programs that address driving behaviors, our built environment and the organization's operations. The goal is to improve the safety of Colorado's transportation network by reducing the rate and severity of crashes and improving the safety of all transportation modes. The program has one simple mission — to get everyone home safely
ABOUT CDOT
CDOT has approximately 3,000 employees located throughout Colorado, and manages more than 23,000 lane miles of highway and 3,429 bridges. CDOT also manages grant partnerships with a range of other agencies, including metropolitan planning organizations, local governments and airports. It also administers Bustang, the state-owned and operated interregional express service. Governor Polis has charged CDOT to further build on the state's intermodal mobility options.