Reminder: Crews to Shift Northbound Lanes of I-25 Between Garden of the Gods & Woodmen Roads
Oct. 2, 2018 - Crews to add Right-Turn Lane From Northbound I-25 to Woodmen Road

COLORADO SPRINGS—At 5 a.m. Wednesday, Oct. 3, crews will temporarily shift the northbound I-25 lanes between Garden of the Gods and Woodmen Roads.
This same configuration was in place for two months on southbound I-25 until crews removed it on Monday, Oct. 1.
Other Impacts:
The outside and middle northbound I-25 lane crossover to the median will use the existing southbound I-25 lanes.
The outside northbound I-25 lane will use a temporary lane constructed on northbound I-25.
Concrete barrier will separate the split.
Expect a somewhat rougher ride in the right two lanes of northbound I-25, which will be converted into a shoulder, due to traffic-rated inlets.
All three lanes will be open in each direction.
Please remain in one lane as you travel through the project.
Overnight Lane Restrictions
Expect restrictions in both directions of I-25 between Garden of the Gods Road and Woodmen Road as crews stripe and set temporary barrier before they remove the southbound traffic shift and put in place the northbound split traffic shift.

From 8 p.m. Tuesday, Oct. 2 through 5 a.m. Wednesday, Oct. 3, expect double-lane restrictions (left and right lanes).
Caution: There may only be one through lane in this area.
From 8 p.m. to 5 a.m. Wednesday, Oct. 3 and Thursday, Oct. 4,, expect a restriction in the right lane of the I-25 off-ramp at Woodmen Road.
There will be one more phase to complete the ride improvements on the northbound I-25 lanes. The project's anticipated completion date is late December 2018.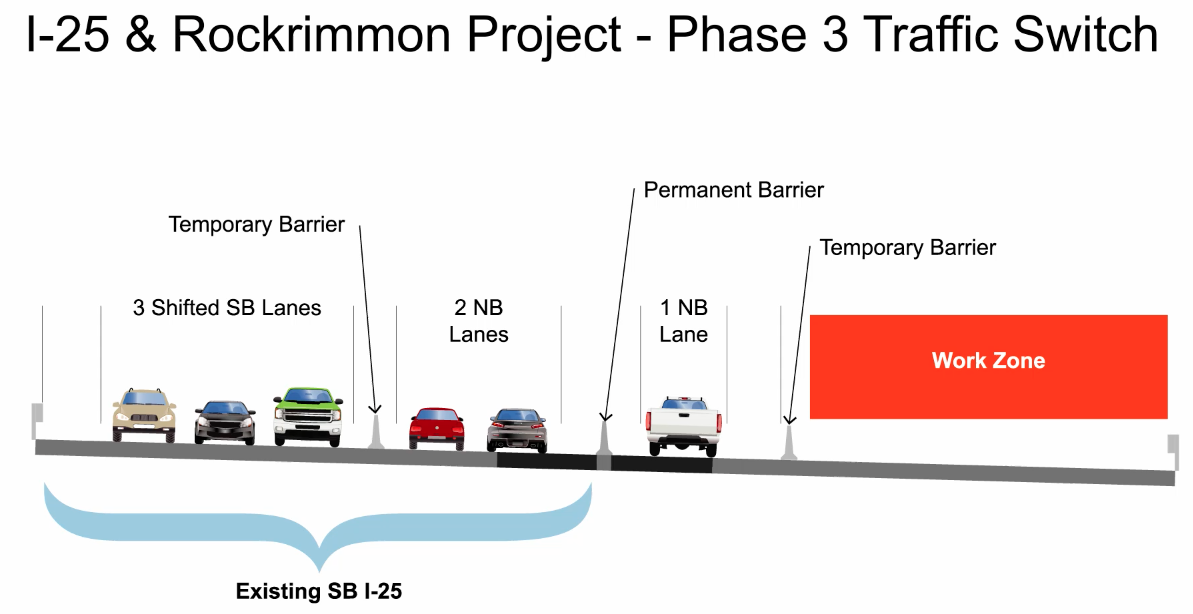 Project Info
CDOT has undertaken this bridge- and driving-surface preventative maintenance project on 10 bare concrete bridges near the I-25 Rockrimmon interchange to improve safety and ride quality. This project is part of the ongoing CDOT Asset Management/Bridge Preventative Maintenance Program that began approximately 10 years ago to extend the life of the state's bridge structures to 75 years.