US 550/416 FIRE UPDATE ― CDOT Asks for Public's Help: DO NOT PARK ALONG THE HIGHWAY
June 12, 2018 - Southwestern Colorado/CDOT Region 5 - US 550 north of Durango remains closed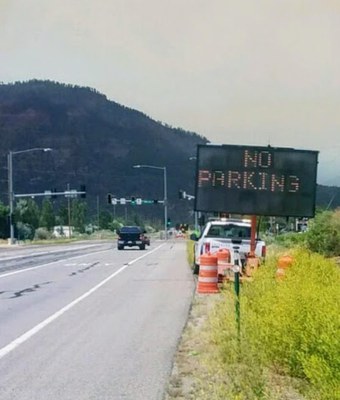 CDOT is urging drivers to not stop or get out of their cars near the south closure point on US Hwy 550. Stopped vehicles and people standing on the side of the highway are creating a hazard for emergency vehicles and equipment going to and coming from the fire area. The highway blockade is in place because of the 416 Fire burning north of Durango.   
SOUTHWEST COLORADO ― Colorado Department of Transportation is urging the public to steer clear of the south closure point on US Highway (US) 550 in Hermosa. Motorists should be aware there is no stopping, parking, or standing outside of vehicles along the highway shoulder near the highway checkpoint from Trimble Lane to Cometti/Mead Lane. The speed limit has also been reduced to 35 miles per hour along this stretch of US 550 just south of the closure.
"We understand the public is very curious about the fire," said CDOT Maintenance Supervisor, Kent Baxstrom. "But when we have vehicles stopped on the side of the road and people getting out of their cars, it is creating a hazard for fire and emergency personnel and equipment moving about in this area. This area must be kept clear and open for emergency traffic."      
US 550 will remain closed until further notice. The closure is in place for both northbound and southbound traffic from Cometti Lane, in Hermosa at mile point (MP) 32.2, to the summit of Molas Pass, MP 70.
Travelers may want to consider the westerly alternate route through Colorado Highway 145, Lizard Head Pass. (alt route map attached)
The "416 Fire" continues to burn on the west side of US 550, about 10 miles north of Durango. The fire has grown to more than 22,100 acres and is 10% contained. More than 800 firefighters are battling the blaze on the ground and with aircraft.
416 FIRE INFORMATION RESOURCES:  
CDOT ROAD INFORMATION RESOURCES: